Gilead Sciences' (NASDAQ:GILD) shareholders have had little to cheer about over the past year even as the company managed to raise its earnings some six fold from FY2013 through FY2015. After exploding since the blockbuster hepatitis C drugs Sovaldi & Harvoni first hit the market in the first half of 2014; revenues are expected to be slightly down in 2016.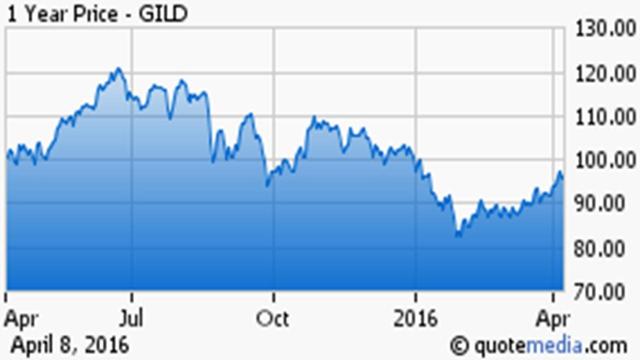 Click to enlarge
Gilead will continue to dominate both the HIV & HCV markets for years to come. These core franchises provided over 90% of the company's over $32 billion in sales in FY2015. The main concern around Gilead is its lack of products outside of its core HIV & HCV focus areas. This is why the stock trades at less than eight times earnings and less than half the overall market multiple.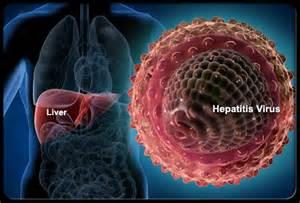 The company has a couple of core areas it is focusing on to be that "third leg" of its stool as it relates to its product portfolio including oncology and inflammatory diseases. The former took a major hit recently as the company had to pull its blood cancer drug Zydelig from trials for six additional indications. The company expanded its reach into inflammatory disease with a large collaboration deal with Galapagos (NASDAQ:GLPG) earlier in the year.
One of the most promising areas Gilead is exploring is that for Non-alcoholic steatohepatitis ('NASH') is the most extreme form of NAFLD or Non-alcoholic fatty liver disease, and is regarded as a major cause of cirrhosis of the liver of unknown cause. It is the leading cause of cirrhosis outside alcoholism. A study using the National Health and Nutrition Examination Survey found a 30% rate of NAFLD in the United States between 2011 and 2012. Up to 80% of the obese population has NAFLD.

Click to enlarge
There is no current effective treatment for NASH although there are myriad firms focusing on development treatments and/or a cure. Given that analysts believe this will be an over $30 billion market in a decade, it is a rich vein to mine. The company has a monoclonal antibody called Simtuzumab in Phase II development as a treatment against NASH. Gilead is also testing GS-4997 an ASK-1 inhibitor against the disease in Phase II. GS-9674, a FXR agonist is in Phase I development.
Last week, Gilead acquired Nimbus Apollo, Inc., a wholly-owned subsidiary of privately held Nimbus Therapeutics for $400 million upfront and another $800 million in potential milestones upon successful development. The company's main asset is its Acetyl-CoA Carboxylase inhibitor program targeted at NASH as well the potential treatment of liver cancer and other diseases. The primary drug candidate in this program has been fast tracked and Phase 1 data will be presented next month at The International Liver Congress 2016 in Barcelona, Spain.
Obviously this expands Gilead's NASH efforts and I don't think they would have anted up to purchase Nimbus Apollo if these results will not be encouraging. This sent a rash of other NASH related stocks up the day this purchase was announced especially Galmed Pharmaceuticals (NASDAQ:GLMD), a small cap with less than a $100 million market capitalization that was up over 30% on this news.
I am not going to speculate on which NASH plays Gilead may or may not look at in the future to purchase or strike collaboration deals with. The company is a slow and prudent player and buying a small cap on the hope it will be the recipient of a larger concern's affection is a fool's game. I also will not state that Gilead will ultimately be successful in developing a treatment for NASH. I will say the company is putting together a lot of "shots on goal" in the area and is likely continue to do so given its potential to be as big as market as HIV & HCV.
It is also a luxury Gilead can easily afford given it will throw off some $15 billion in free cash flow this year, one of the few companies in the S&P 500 that has a free cash flow yield of better than 10% at its current stock levels. I will say to shareholders that are willing to be patient is I think the company is doing the right thing by expanding its efforts incrementally in this arena instead of overpaying for a larger acquisition.
I will also say I see little downside to the stock given its valuation. In addition, I believe consensus earnings estimates are too low for FY2016. After earning $12.61 a share in FY2015, the current analyst consensus has Gilead earning around $12.30 a share in FY2016. This seems unlikely. The company has blown through expectations consistently since it rolled out its blockbuster hepatitis C in early 2014. Last quarter the company reported earnings of $3.32 a share, significantly above expectations of $3.00 a share. Revenues should be flat to down five percent this year. However, at its current pace the company will buy back over 10% of its float this year thanks to a massive buyback program. Given this, earnings are likely to come in around $13.00 a share. Solid comfort to long term investors as Gilead tries to develop its next blockbuster business.
Disclosure: I am/we are long GILD.
I wrote this article myself, and it expresses my own opinions. I am not receiving compensation for it (other than from Seeking Alpha). I have no business relationship with any company whose stock is mentioned in this article.