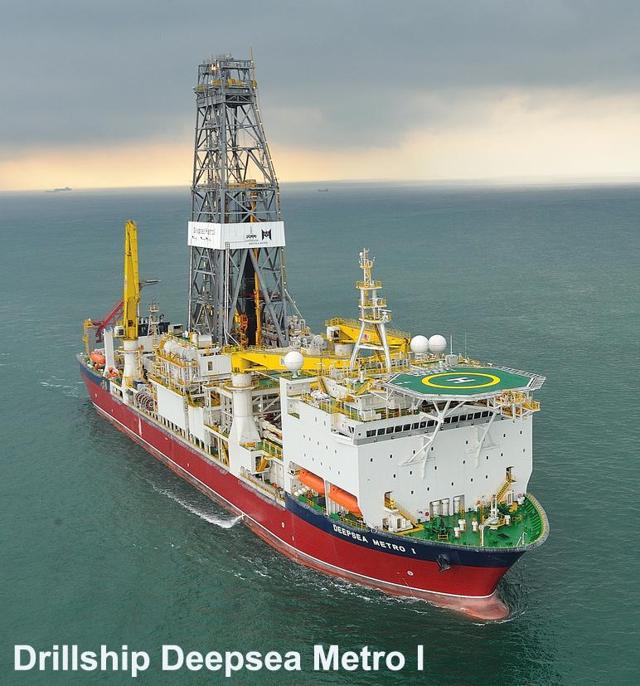 Source: Flickriver (Modified)
This article is an update of my preceding article on Seadrill (NYSE:SDRL) published on March 23, 2016.
Today, April 11, 2016, Odfjell Drilling announced the following:
Offshore drilling contractor Odfjell Drilling has secured new employment for the ultra deepwater drillship, Deepsea Metro I, through the signing of a conditional letter of award (LoA) with Petronas in Malaysia.

According to Odfjell Drilling, the contract is for one firm well plus four optional wells, subject to successful completion of acceptance test. The area of operation is offshore Malaysia.

The contract is expected to take place late 2Q 2016. The contract duration for the drilling of the 1 well is approximately 60-70 days with an estimated contract value of $11-13 million.

Including the optional wells, the total contract duration could extend up to 245 days with an estimated total contract value of $46 million, the offshore driller explained.

Deepsea Metro I is owned by Golden Close Maritime Corp., a company owned by Deep Sea Metro, which is a joint venture between Metro Exploration (60%) and Odfjell Drilling (40%).
The day-rate is approximately $184.6K/d which is quite a record low.
The UDW Deepsea Metro I (2011) Specification:
| | |
| --- | --- |
| Rated Water Depth: | 12,000 ft |
| Rated Drilling Depth: | 40,000 ft |
The precedent contract was already concluded at a discount rate at the time or approximately $285.7K/d.
Hamilton, Bermuda 16 May 2015: The area of operation is in blocks 130 and 131 offshore Vietnam. Contract commencement is expected to take place mid Q3 2015.

The contract duration is approximately 20 weeks with an estimated contract value of USD 40 million.
Also, on March 15, 2016, The UDW Deepsea Metro II (2Q'11 Gusto P10000 design) was sold at auction for $210 million.
The drilling rig Deepsea Metro II was auctioned and sold for USD 210mln on 15 March. The vessel was anchored in Curacao waters. The Court of First Instance of Curacao granted the order for the auction at the request of the executing party, DVB Bank America NV. DVB was assisted by partner and maritime law expert Mayesi Hammoud.
The judicial sale was covered by Antilliaans Dagblad (Antilian Daily); the clipping can be downloaded here (in Dutch).
From the Chloe Marine Corp. in 2011 we learned that the cost was approximately $630 million.
In November 2011...After securing external financing of USD 550 million Chloe is close to being fully financed. The remaining funding requirement is approximately USD 80 million.
Commentary:
This is a perfect example of the day rate situation, that are facing offshore drillers such as Transocean (NYSE:RIG) or Seadrill since the beginning of the year.
Petrobras (NYSE:PBR) has awarded an 18-month contract extension for the drillship West Tellus, commencing in April 2018 and ending October 2019.
I was a contract extension called a "blend and extend" deal where SDRL secured an extension, but agreed to reduce the day rate from $467k/d to $300k/d. In fact, the net effect of this agreement was a $32 million increase in backlog, for an extension of 550-day:
Backlog Calculation:
West Tellus

2/26/16 - 4/31/18

Days

4/31/18-10/31/19

Days

Old D-rate in $K/d

New D-rate

in $K/d

Backlog

In $million

Old backlog correction
790
-
467
300
-132
New added backlog
790
550
300
300
164
Total added
32
Some investors have criticized erroneously the deal, in my opinion, as a day rate of $60k/d for the extension only, which is not the way it should be interpreted at all. The contract must be considered in its entirety from 2/26/2016 to 10/31/2019 at $300k/d, which was still a good deal all considered, and probably around 15% above the breakeven price.
In fact, Seadrill had not much choice in this "renegotiation", and it was certainly not between keeping the old deal at $467k/d or not. It was whether by keeping the West Tellus contracted by accepting the new "blend & extend" or lose the entire contract. Seadrill was faced with an ultimatum, and it was to reduce the day rate, period. Petrobras gave a small bonus, but could have just forced Seadrill to reduce the initial contract. Worse, it is notorious in the industry that National Oil Co. Are immune to compensate companies, when it comes to early termination.
This contract signed for a 1-well at $184.6K/d for 65/245-day contract, is another example of the harsh conditions which are facing the offshore driller industry. This situation will eventually change when the rig oversupply will be less pronounced and when oil prices will be above $55-$60 a barrel.
However, it may take a year or even two, which is the reason why I believe the West Tellus which roll off contract in 2019 is still an excellent deal for SDRL?
Disclosure: I am/we are long RIG, SDRL.
I wrote this article myself, and it expresses my own opinions. I am not receiving compensation for it (other than from Seeking Alpha). I have no business relationship with any company whose stock is mentioned in this article.
Additional disclosure: I have been trading both stocks actively recently.