Shell (NYSE:RDS.A) (NYSE:RDS.B) is trading at 1x tangible book value which is a considerable discount to peers. The stock got hammered all the way up to its merger with BG. It's also cheap on a historic basis. Shell rarely trades so close to tangible book and I'd argue it is even cheap on an absolute basis. Don't get me wrong there is a lot to dislike at Shell. The firm invested heavily into shale gas when it's expensive than sold it off during times of oversupply. It never seems to be able to achieve the RoIC its U.S. competitors achieve, the Alaska bet didn't pan out and the list of failed projects goes on. You are probably thinking; this guy doesn't sound like a Shell bull. I'm not. I've written both bullish and bearish articles when I like either side better.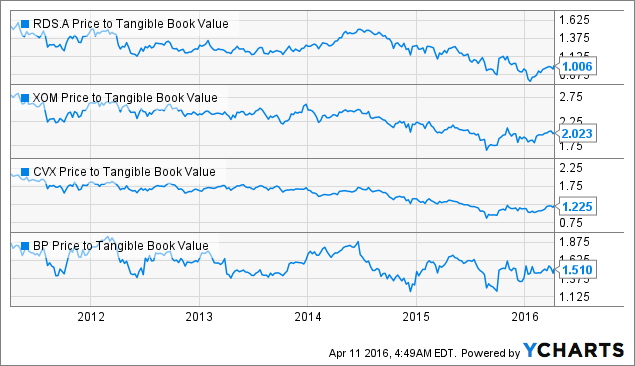 RDS.A Price to Tangible Book Value data by YCharts
Right now it looks like a good time to buy some Shell. The merger process is ongoing. There is a lot of uncertainty how things will look after potential synergies have been captured and investors don't like it. There is a lot of talk among Dutch pension funds ($1 trillion assets under management) about carbon footprint reductions of their portfolio. Shell is in the process of aggressive cost cuts and dialing back on investments. Both areas where there is room for tremendous improvement. All of these things add to uncertainty and investors are shying away from Shell as evidenced by its share price.
Meanwhile, I have never liked the plans and attitude of management better than I do right now. Ok, I am not yet convinced the BG merger is such a great idea but the stock already sold off sharply on that, so that burden isn't as great for those buying in now.
An important part of tangible book are the reserves. Pro forma the merger Shell will have something like 18 billion of BOE in reserves. Below you'll see a chart of its reserves before the merger.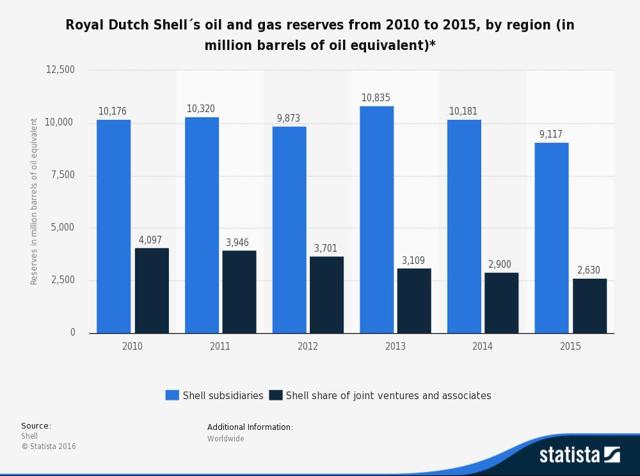 Find more statistics at Statista
The reserves have gone down since 2014. Part of it is due to production but that's not the whole story. Quite a bit of reserves had to be written off because they aren't profitable at $30 - $40 oil prices. At oil under $40 the reserves are a bit understated realistically speaking. That would suggest Shell's price to tangible book is a bit understated. At some point reserves turn into cash flow. Shell usually does so in a rather inefficient manner when compared to Exxon (NYSE:XOM) or Chevron (NYSE:CVX) but we are getting compensated for that inefficiency by picking up the operations and reserves at a lower multiple. Management is also for the first time really focused on cost cutting and lean operations. Since 2014 management compensation isn't tied any longer tied to exploration. Compensation is now tied to return on capital. It wouldn't surprise me if that is the catalyst for Royal Dutch to close the gap between it and it's better run U.S. peers on that metric. Meanwhile, it's a lot cheaper on a price/book basis and offers a dividend yield of 7%+.
Disclosure: I/we have no positions in any stocks mentioned, and no plans to initiate any positions within the next 72 hours.
I wrote this article myself, and it expresses my own opinions. I am not receiving compensation for it (other than from Seeking Alpha). I have no business relationship with any company whose stock is mentioned in this article.