Icon Plc (NASDAQ:ICLR) is one of the global leaders in the growing CRO industry. In recent years, CRO businesses have been thriving as more large and mid-size pharmaceutical companies found it beneficial to outsource their research operations in order to keep up with the rapidly-evolving healthcare sector environment. The main motivations of these intensified outsourcing activities were predominantly cost savings, although a few other reasons can be recognized. Given that market pressures to focus on core operations are very likely to continue, we can anticipate CROs to remain integral strategic partners of most drug makers.
According to a report produced by Zion Research, global contract research organization market is expected to grow from 2014's $34 billion to $59.4 billion by 2020, at a CAGR of 9.8% between 2015 and 2020. Geographically, global CRO market is dominated by the Americas region, which accounts for roughly half of the whole market. Europe, where Icon is based (Ireland), is the second largest market segment and can attribute its share primarily to ample tax benefits offered to CROs. Icon's effective tax rate in the last quarter equaled to just 13.5%, which is approximately half of the average effective tax rate of its publicly-traded peers.
Despite hefty consolidation efforts from the side of dominant players, CRO market persists to be considerably fragmented. The dynamics of this market can be evidenced by the fact that every year several CROs go out of business, are taken private or try to go public. Among those recently cashing in on Wall Street, we can find names such as PRA Health Sciences (NASDAQ:PRAH) or INC Research Holdings (NASDAQ:INCR). At the opposite end of the spectrum, WuXi PharmaTech (NYSE:WX) can be a good example of a company taken private, and Covance (NYSE:CVD) of a company acquired by a competitor - LabCorp (NYSE:LH).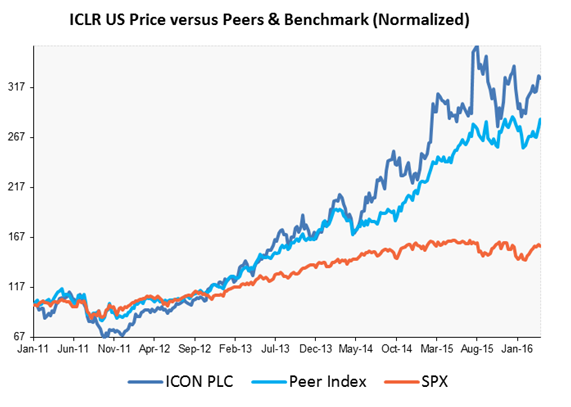 M&A was a big part of Icon's story as well. Just in the past five years, Icon took nine companies under its wings. In 2011, Icon acquired Oxford Outcomes Ltd., an international health outcomes consultancy, and fellow Irish company Firecrest Clinical Ltd. In the following year, Icon stretched its international presence by purchasing Chinese CRO BeijingWits. In 2014, the company's portfolio was extended by Aptiv Solutions, and last year, ICLR announced an acquisition of PMG Research, Inc., an integrated network of clinical research sites in the US. A full list of acquired companies and historical milestones can be found on the company's website.
Impressive track record of efficiency improvements
What I believe that really sets Icon apart from its peers is high-quality management. After Peter Gray retired in 2011 from the position of CEO, which he held for 14 years, current CEO Ciaran Murray was named by the board to take the lead. Before the election, Mr. Murray served in the company as CFO for six years. Even though Mr. Murray is also a member of the company's board and presumably knows the board's chairman well as they both graduated with a Bachelor of Commerce Degree from the University College Dublin and worked for PricewaterhouseCoopers in the early years of their careers, I believe that this fact does not impair the ability to act in the shareholders' long-term interest. The average tenure of Icon's board members is 8.8 years, which is almost double than the average tenure of the board members of the peer companies (4.8y) and may also be perceived as a sign of a strong relationship between the board of directors and executive management.
Nevertheless, looking at the company financials since Murray's appointment, Icon recorded significant growth and efficiency improvements. In the last five years, Icon's revenue grew at a CAGR of 10.7% and five-year EPS growth reached an astonishing CAGR of 50.8%. What have been the primary drivers of such profitability growth? Well, common-size income statements can give a hint.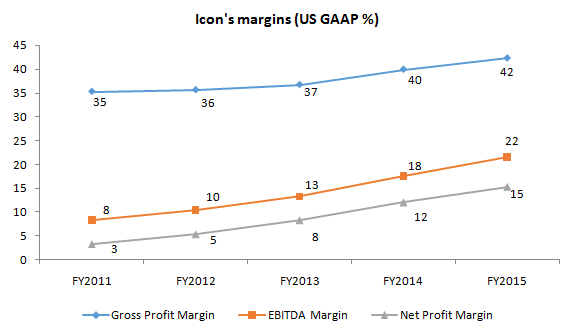 Based on the profit margins displayed above, it is obvious that the growth has come from all major sections of income statement and primarily from positive trends in selling, general & administrative expenses.
The superior rise in profitability is also clearly observable in the expansion of ROE. Between the years 2011 and 2015, adj. ROE increased from 4.6% to 28%. Decomposing ROE using DuPont analysis, we reveal that an introduction of leverage contributed to the results to a certain extent as well.
Relationship with Pfizer
The biggest risks for the business stem from customer concentration. As a consequence of high use of strategic partnership arrangements, a large portion of Icon's revenue comes from a relatively limited number of customers. During the last financial year, nearly 50% of the company's net revenue was derived from top five customers. Among them, the most important is Pfizer (NYSE:PFE), which contributed to 31% of Icon's total revenue. Currently, the greatest concern is that the actual contract with Pfizer will expire at the end of May.
Around this time last year, CEO Murray addressed the issue with words:
The contract expires in the middle of next year and we will discuss it seriously with them at the end of this year, but I would expect it to be renewed in the first half of next year.
Moreover, recent merger appetite among big pharma companies is posing additional risk to the sustainability of revenue from key strategic partnerships in the near term. Even though the Pfizer/Allergan (NYSE:AGN) deal was eventually scrapped, it is likely that the focus on big acquisitions at the expense of attention to strategic partnerships with CROs will continue.
The loss of or a considerable decrease in revenue stream from any of the top customers would have a material negative impact on Icon's financial results in the upcoming quarters.
Valuation
Based on my quick DCF valuation model with several assumptions and estimates from Bloomberg Terminal, Icon's shares are currently trading at a substantial discount. Assuming WACC of 6.7% as a discount rate and 2% nominal growth rate of FCFF in terminal value calculation, the value per share to the end of this year is $96, which implies roughly 28% upside potential from the last closing price. The default Bloomberg DCF valuation spreadsheet suggests even greater margin of safety. The perpetuity growth version arrives at $129.47 value per share (73% upside), and the EBITDA multiple method provides a result of $106.11 value per share (42% upside).
Investment thesis
In light of the current interest rate environment and trends in the healthcare sector, CROs seem to be a good long-term investment opportunity. Together with Quintiles (NYSE:Q) and PAREXEL (NASDAQ:PRXL), Icon is a dominant player in the growing pharmaceutical research outsourcing industry. The experienced management has significantly improved the efficiency of the company's operations and can now boast with best margins among publicly-traded CROs. With a PEG ratio of 1.17, Icon is a clear buy stock for the long term. However, more conservative investors should avoid the stock in the near term as there is a lot of uncertainty around Pfizer's future partnership.
Disclosure: I am/we are long ICLR.
I wrote this article myself, and it expresses my own opinions. I am not receiving compensation for it (other than from Seeking Alpha). I have no business relationship with any company whose stock is mentioned in this article.