For those investors relying on dividends to at least partially fund their retirement the question often posed is whether a higher initial yield/slower growth or the prospects of higher future growth, and sacrificing initial yield, is optimal.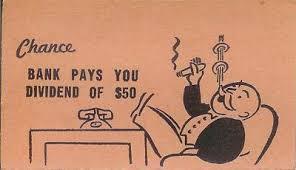 The dividend growth investor, or DGI, might argue that a lower yield is ok as long as consistent, annual increases occur, for example by choosing a portfolio of stalwarts such as Johnson & Johnson (NYSE:JNJ), Procter & Gamble (NYSE:PG), and The Coca-Cola Company (NYSE:KO), which have been paying and increasing the dividend for many decades. I wrote a series of articles on creating the optimal dividend growth portfolio that contains those type of stocks. The latest installment is here.
Others argue for a higher yield (but not too high) offered by such stocks as AT&T (NYSE:T), Verizon Communications (NYSE:VZ), and American Realty Capital Healthcare Trust, Inc. (NASDAQ:HCT). Each of those companies currently is yielding more than 5%, but typically boost the dividend at slower rates than the lower yielding stocks. For example, AT&T and Verizon have averaged annual increases of about 2.5% over the past half-decade.
Over the really long term it may not matter if the DGI or the (moderate) yield chaser is right. For shorter time periods it may make a difference. I'll illustrate with an example.
Table 1 contains the results of a simulation for a $100,000 portfolio based upon the following parameters:
A. Higher yield: Yield = 5% and compounded annual average dividend growth rate = 2%
B. Faster dividend growth: Yield = 3.0% and dividend growth rate = 6% per year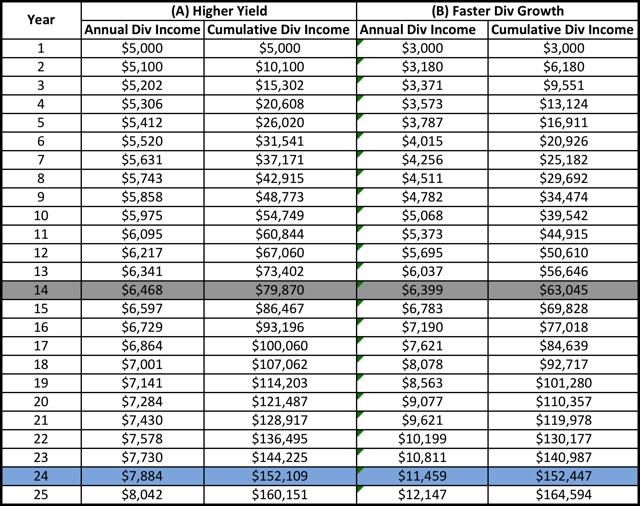 Table I
Simulated dividend income
You can observe that up to and including year 14 there is more annual income using a higher yield strategy and it isn't until year 24 that the cumulative total of dividends received balances out.
Notice also that no matter which strategy was chosen after 10 to 12 years half of the original investment was returned to investors in the form of dividends without having to sell any shares.
I assumed that dividends were not reinvested and were used for current consumption. If dividends are reinvested the annual and cumulative incomes would be higher and the breakeven period would be different.
Taxes, if any, and capital gains are not factored into the analysis.
Fundamentals still matter
Whatever approach is used setting up the portfolio will still involve taking a close look at company finances and other factors.
Paying attention to valuation, earnings growth, cash flow, dividend history, debt levels, and payout ratios are important. You don't want to overpay to receive those consistent dividend checks every quarter (or month) and you would typically look for businesses that have been, and are likely to continue, growing earnings, generate plenty of cash, have modest debt to equity ratios, and don't pay out too much of the earnings to allow for future increases.
The process that I use to pick dividend stocks is detailed in this article. I'll use the example of United Technologies Corporation (NYSE:UTX) which would be included in the lower yield category.
While the company is experiencing some headwinds due to the strong dollar and turmoil in the China building construction industry, and made some missteps over the last few years, strong fundamentals remain in place.
The stock is fairly priced right now with a P/E of 11.8 and the dividend is just 40% of earnings. United Technologies has a manageable debt level less than 70% of equity and has been growing earnings at a double-digit rate over the past five years. The current yield is 2.5% and the dividend has been increased for 22 straight years.
The company competes in two diverse markets, aerospace and building systems. Both have bright prospects over the long term. United Technologies is a major supplier of systems used in commercial aircraft, the market for which is expected to total over $5T over the next 20 years.
The company was just awarded the contract to supply the engines for the next generation Air Force bomber, the B-21, complementing its line-up of other military and commercial aircraft systems, elevators, and HVAC equipment.
I can tolerate the relatively low yield of UTX as I've held the stock for nearly 33 years and every two years I get back my original investment in the form of dividends.
Conclusion
Inquiring minds want to know. Does a strategy featuring low yield/faster growth or higher yield/slower growth stocks provide more income? Hold long enough and it may not matter.
Disclosure: I am/we are long UTX, JNJ, PG, T, VZ.
I wrote this article myself, and it expresses my own opinions. I am not receiving compensation for it (other than from Seeking Alpha). I have no business relationship with any company whose stock is mentioned in this article.