Let the games begin. Alcoa (NYSE:AA) turns in Q1 results after the bell today to mark the official onset to earnings season-that four-times-a-year period when investors get to look under the hood and kick the tires of their stock holdings. By most analyst forecasts, the expectations for profit gains cumulatively among the companies that comprise the S&P 500 index (SPX) are not only sloping downward but could be the worse overall results since 2008. But enough about Q1 already, what are they doing for us in Q2?
Grim Expectations for S&P Profits
The projections for Q1 have been trending downhill for many weeks and sit at a negative-7.4%, compared with the year-ago period, according to Thomson Reuters. Analysts blame such a drop mostly on the energy sector, which has been decimated with the steep declines in oil prices coupled with the rising value of the dollar. But Wall Street should be used to this kind of slump considering that, if predictions are on target, it will be the third straight quarterly profit descent. Analysts will be looking for some insight into what's ahead based on what's already happened so far in the Q2. Any sort of positive, forward-looking statements on conference calls by CEO's will probably be well received by the markets.
Though the forecasts are grim, analysts note that they could turn out to be less catastrophic than expected, given how companies like the "beat-the-Street" headlines when they outperform expectations. We've seen a lot of that in previous quarters as well as in the handful of companies that have already turned in earnings.
AA's Unpredictable Results
Whether we will see it in AA is still unpredictable, given their track record. In the last two quarters, AA missed expectations but outpaced them in the five quarters before those. The aluminum maker, which is in the process of splitting off what it calls its "value-added businesses" from its "upstream businesses," is expected to deliver a per-share profit of $0.03 on sales of $5.13 billion, according to the average reached by analysts reporting to Thomson Reuters. That's a white-knuckled 89% profit plunge from the same period a year ago amid a 12% drop in sales.
Analysts say they will be listening on the conference call for an update on the split of the traditional smelting business from the multi-alloy manufactured goods for the aerospace and automotive sectors, which will be called Arconic. They're also interested in whether AA's projections in January for a 6% increase in global aluminum demand are on track.
Short-term option traders have priced in a potential 8% share price move in either direction around the earnings release, according to the Market Maker Move indicator in the thinkorswim platform by TD Ameritrade.
Going into earnings the April 9 put sellers were active as were the April 11 call sellers. The implied volatility is at the 65th percentile, buttressed by twice the normal number of calls and puts. (Please remember past performance is no guarantee of future results.)
Note: Call options represent the right, but not the obligation, to buy the underlying security at a predetermined price and over a set period of time. Put options represent the right, but not the obligation, to sell the underlying security at a predetermined price over a set period of time.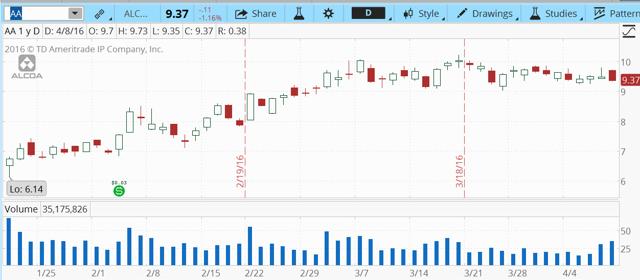 Figure 1: Good News/Bad News. Since hitting a near seven-year low in January, AA stock has skyrocketed better than 52%. But on a year-over-year basis, the stock is still languishing some 29%. Chart source: the TD Ameritrade's thinkorswim platform. Data source: Standard & Poor's. Not a recommendation. For illustrative purposes only. Past performance does not guarantee future results.
TD Ameritrade commentary for educational purposes only. Member SIPC. Options involve risks and are not suitable for all investors. Please read Characteristics and Risks of Standardized Options.
Disclosure: I/we have no positions in any stocks mentioned, and no plans to initiate any positions within the next 72 hours.
I wrote this article myself, and it expresses my own opinions. I am not receiving compensation for it. I have no business relationship with any company whose stock is mentioned in this article.