Introduction
I'm quite surprised to see I'm the only person here on Seeking Alpha who has covered Quaker Chemical (NYSE:KWR) in the past 15 months, as I definitely believe this company deserves a moment in the spotlights! In my original article in January of this year, I explained I was quite positive about the company's ability to generate a positive free cash flow and its pretty robust balance sheet as Quaker was essentially debt-free. But did the company meet my expectations? And is the company still attractive after its 20% run in the past 3 months?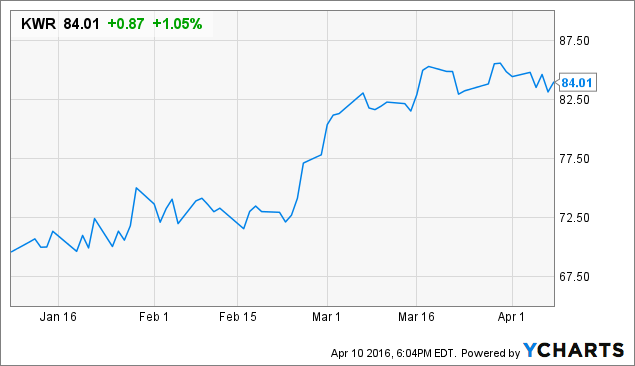 KWR data by YCharts
I was expecting a FCF/share of $4.88, so what's the verdict?
Quaker Chemical generated a total revenue of approximately $738M and this was quite a bit lower than the $766M it generated in FY 2014 but there's no reason to panic as this was almost entirely caused by the negative impact from the fluctuations in the currency exchange rate, as Quaker's top line has been hit pretty hard (the total revenue would have been $54M higher if you'd exclude the impact from the exchange rates).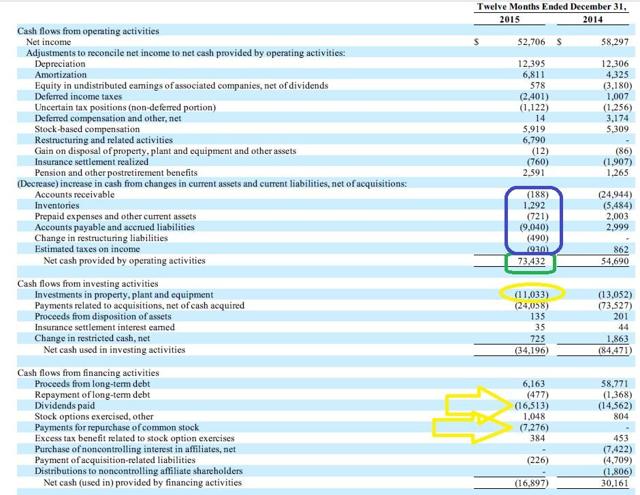 Source: SEC filings
But there's also some positive news associated with these fluctuations, as the company's COGS fell faster than its revenue, resulting in a 1.5% increase in its gross profit. The SG&A expenses were a bit higher than the previous financial year whilst Quaker also reported a $6.8M restructuring charge, so this did have an impact on the operating income which fell to $71.3M. Again, there's nothing to worry about, as the higher SG&A expenses include a $2.8M expense due to the acquisition of Verkol, whilst the $6.8M restructuring charge has been caused by Quaker's new global restructuring program. So, you see, there were some one-time and special charges that did have an impact on the financial results in 2015. That being said, the net income fell by almost 10% to $51.2M (attributable to Quaker's shareholders) for an EPS of $3.84.
That's still okayish, but if you'd only look at the company's net profit and EPS you will indeed scratch your head as the company is currently trading at almost 22 times its net income, and that's pretty expensive, even in a good market.
But an income statement usually doesn't give you the full picture and in my previous article I already noticed the company's adjusted free cash flow after the first three quarters of 2015 was substantially higher than its net income (as the depreciation and amortization rate was much higher than the effective capital expenditures). I had no reason this would be different at the end of the financial year, and in my original thesis, I was aiming for an adjusted free cash flow of $65M, or $4.88/share.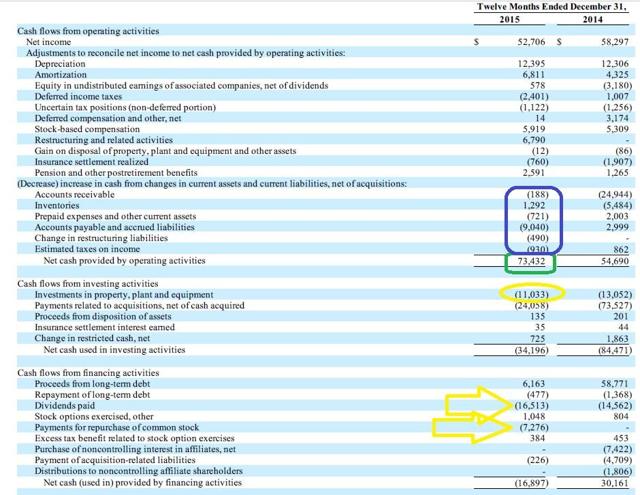 Source: SEC filings
Quaker's operating cash flow in 2015 was $73.4M, but on an adjusted basis (correcting the number for changes in Quaker's working capital position), this increased to approximately $83.4M and as the total capex number remained limited to $11M, the company's adjusted free cash flow was roughly $72M, which is approximately 10% higher than what I was anticipating!
I do think the company is pretty fairly valued right now
Of course I'm very happy with Quaker's financial results as the free cash flow was sufficient to pay some invoices (the 'accounts payable'-position on the balance sheet fell from $75M to $67.3M), its dividend ($16.5M), the $24M spent on acquisitions as well as repurchasing 87,000 shares (on a net basis).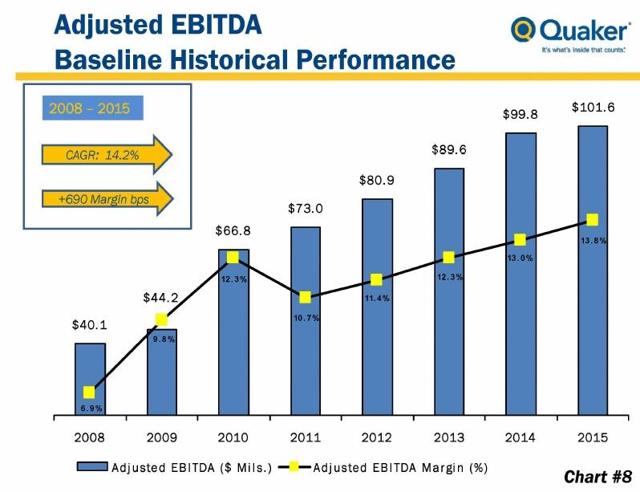 Source: SEC filings
So, Quaker has been using its adjusted free cash flow for quite a mix of purposes and approximately 1/3rd of the free cash flow was used to reward its shareholders with a dividend and a share buyback program. The acquisition of Verkol will also be very interesting in the future as Quaker bought Verkol at a price ratio of just 7.5 times its EBITDA which isn't expensive at all. So, yes, I am still quite positive about the company's future as Quaker still has some aces up its sleeve to pull the trigger on some more acquisitions, providing the price is right.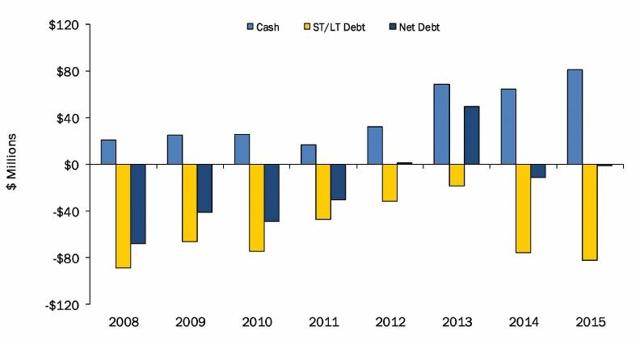 Source: SEC filings
But is Quaker still a solid investment right now? You probably already know I can be quite charmed by a robust balance sheet with a low net debt, and as Quaker has now converted its $11M net debt as of at the end of 2014 into a debt-neutral position right now (no net debt, nor net cash, but I do expect the company to start building its net cash position from this year on), it does fit the bill!
Investment thesis
But with a FCF/share of $5.41, Quaker's free cash flow yield has already decreased a bit to 6.44%. That's still nice, but not as attractive as it was back in January, so I'd prefer not to chase the stock right now. The company will remain on my radar screen as its strong balance sheet and anticipated net cash position are putting the company in a pole position to sniff around for new acquisitions that might have a positive impact on its bottom line.
Kudos to Quaker's management team for completing another successful year and I think this company will remain interesting on any (temporary) pullback.
Disclosure: I/we have no positions in any stocks mentioned, and no plans to initiate any positions within the next 72 hours.
I wrote this article myself, and it expresses my own opinions. I am not receiving compensation for it (other than from Seeking Alpha). I have no business relationship with any company whose stock is mentioned in this article.