Apple's (NASDAQ:AAPL) iPhone SE hasn't sold in the vast numbers that a new iPhone release typically does. Did anyone really expect it to? Some have called iPhone SE sales weak. Yet it's selling well enough to be back ordered in the Apple online store with a shipment delay of a week to 10 days in the U.S. The SE will probably outsell the iPhone 5s it replaces as Apple's lowest cost iPhone.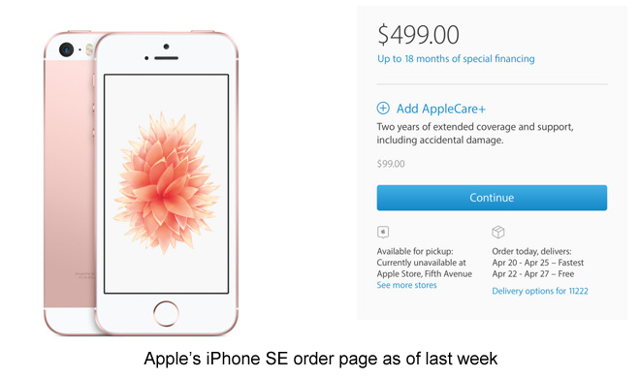 Click to enlarge
Source: Apple Insider
Making Sense of Polls
At least that's the take of RBC Capital Markets analyst Amit Daryanani, who predicts sales of 40 million units in 2016. I think that's a pretty easy prediction to make. As Apple made clear at the March Special Event, it sold over 30 million 4-inch screen iPhones in 2015. The SE offers much more value by virtue of the processor, camera and NFC/Apple Pay system from the latest generation iPhone 6s. So it should outsell its predecessor.
But it was never going to sell 10 million in a weekend, and for this to become the yardstick to measure of success of the phone is kind of silly. Nevertheless, the "weak" initial sales of the SE are being offered as more evidence of Apple's imminent decline by SA Contributor Michael Blair.
In fact, Localytics and Fiksu basically agree that first weekend sales represent about 0.1% of all current iPhones in use. As shown in the chart below, the iPhone 6 is the most widely used iPhone model currently, with 33% of all iPhones in use.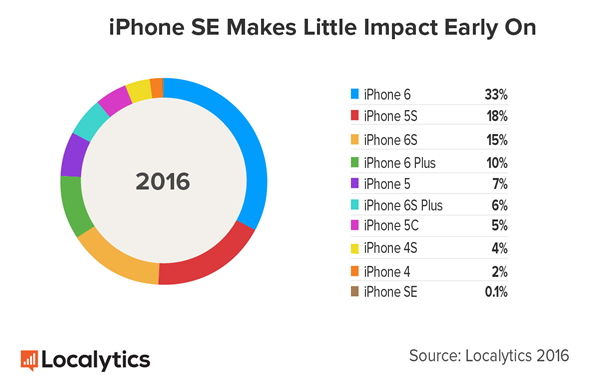 This just seems terrible, doesn't it? It's not really as bad as the above chart makes it seem. There's a factor at work here that analysts too often ignore or obscure. This is the fact that the total number of iPhones in use is steadily increasing.
The measurements of Localytics and Fiksu are polls of their user base and so can't represent anything more than a percentage of the total number of iPhones. As the overall number of iPhones increases, any new phone that is introduced will be a smaller percentage of the overall number of iPhones, even if the absolute number of sales is constant.
This is to some degree reflected in another Localytics chart, which shows the first weekend percentage achieved by new iPhone model releases for the past few years.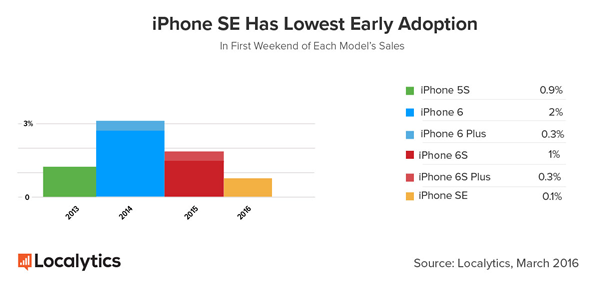 More Apparent Than Real
Once again, this seems to depict a relentless and rapid decline since 2014, but the decline is more apparent than real. In fact, we know from Apple's own sales announcements that iPhone 6/6 Plus sales were about 10 million, vs. 13 million for 6s/6s Plus in the first weekend. Localytics' percentages imply that there were 435 million iPhones in use at the end of 2014 and a whopping 1 billion in use at the end of 2015. Here, I'm using the tabulated data from the figure.
I certainly don't think there were a billion iPhones in use in September 2015, but I want to illustrate two important points. The first is that there are significant error bars on the data from companies like Localytics and Fiksu. So much so that I question their basic value.
The second point is that the data is missing the most important number, which is just the total number of iPhones in use. We know the total number of iPhones has been growing since Apple reaffirmed at the March Event that it had a total of 1 billion devices in active use. Does anyone think most of those are Macs? Or iPads? Or AppleTVs? Of course not.
But estimating the total number of iPhones in use is difficult, and apparently it's easy for analysts to insert their prejudices into the process. For instance, Blair gives an estimate range for the "installed base" of iPhones of 427-550 million, but says that he believes the lower number.
Essentially, this conforms to Blair's belief that the iPhone user base isn't growing at all. Blair believes that the only people who buy iPhones are Apple fans who keep buying the same old tired Apple products year after year. But this belief is obviously contradicted by the fact of the 1 billion devices.
My own model of iOS device population (devices currently in use, but not user population, which is somewhat less) pegs the number of iPhones at about 600 million. The model prediction is admittedly still a guesstimate.
According to the Fiksu data below, SE sales have climbed to 0.2% of the device population after 10 days, or 1.2 million, using my assumed iPhone device population.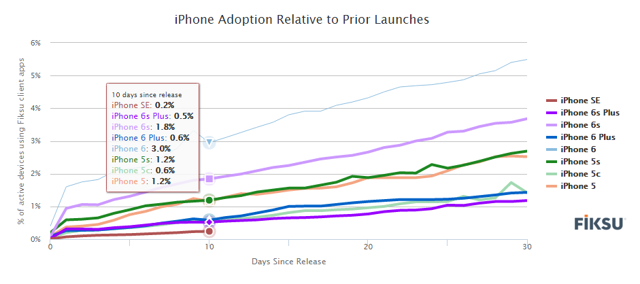 Click to enlarge
This is running ahead of the sales rate of 0.08 million per day average for 4-inch screens in 2015, using the 30 million sales figure. The SE sales rate works out to be about 40 million per year, although at this rate the SE may not sell 40 million in calendar 2016.
Investor Takeaway
Assuming a reasonable baseline for iPhone population, the data from Fiksu and Localytics seems to correlate reasonably well with Daryanani's expectations. And that's what I look for when evaluating this kind of data, because one can't expect very precise numbers to pop out of the poll data. There's just too much error baked in.
I think the news for the SE is as good as reasonably could be expected for a "new" iPhone that wasn't really that new. Although the SE arrived too late in the March quarter to be much help, it could turn around what looks to be a rather dismal fiscal Q3 for iPhone sales.
Apple is facing strong competition right now. Samsung (OTC:SSNLF) upped their game with the Galaxy S7, and LG and Xiaomi also introduced new flagship phones based on the impressive Qualcomm (NASDAQ:QCOM) Snapdragon 820 processor. The SE isn't going to change the competitive dynamics for Apple in the near term. That will have to wait for the new iPhone 7.
The significance of the SE is that Apple is deliberately becoming more price competitive. As such, it represents something of an experiment. I doubt that anyone knows for sure what the demand elasticity for iPhone is. We're about to find out.
I believe this is a long-term positive for the stock. Apple has the manufacturing and distribution scale to compete on price. The fact that Apple is even testing the waters with the SE should scare its competition. I remain long Apple and recommend it as a buy.
Disclosure: I am/we are long AAPL, QCOM.
I wrote this article myself, and it expresses my own opinions. I am not receiving compensation for it (other than from Seeking Alpha). I have no business relationship with any company whose stock is mentioned in this article.
Editor's Note: This article discusses one or more securities that do not trade on a major U.S. exchange. Please be aware of the risks associated with these stocks.