I was looking for a new addition to my No Guts No Glory portfolio, which I describe in detail in my first SA article published here.
In the month or so that has transpired since I wrote that first article I added some common shares of Northstar Realty Finance (NYSE:NRF), an REIT that I feel is a very good value at current prices. But much has been written already on NRF and that is a topic for another article. It is a small position in my portfolio (currently about 7%) but it made me realize that the portfolio is now too heavily weighted in REITs and I need to diversify. I sold a few shares of CorEnergy Infrastructure Trust (NYSE:CORR) at a small profit to reduce the size of that position and to raise some cash for this new investment.
One of my objectives was thus to find a sector that I had no exposure to (healthcare), pays a high yield (>8%), and has good potential for long term capital gains. In addition, I like the idea of adding another fund that pays monthly distributions so that I can reinvest those cash distributions using the commission-free FRIP option in my Scottrade IRA.
After searching for the best performing closed end funds (CEFs) over the past 5 years I came across Tekla Healthcare Investors (NYSE:HQH). According to the Closed End Fund Center website, which is a tool that I often use to evaluate and compare various CEFs, the market return for the past 5 years from HQH was 21.48% which represents the market leader based on the funds that they track.

Tekla Capital Management, LLC is a Boston based registered investment adviser that manages four closed end equity funds that are focused on healthcare and life sciences. The oldest of those funds is HQH which was initially created in 1987. The company was named Hambrecht & Quist Capital Management, LLC but changed their name to Tekla in 2012.
After doing some research into HQH and looking at Tekla Capital's website I discovered a new fund that commenced operations in July 2014 called Tekla Healthcare Opportunities Fund (THQ).
Fund Facts
One of the things that I like about THQ versus HQH is that the new fund focuses more on long term capital appreciation in addition to current income with monthly (as opposed to quarterly) distributions. Furthermore, THQ has more of a diversity of portfolio holdings spread across multiple sub-sectors of the healthcare industry.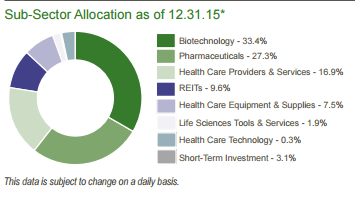 Yet the top 10 holdings are all established, profitable companies with a relatively long track record in the industry, and with excellent prospects for continued growth.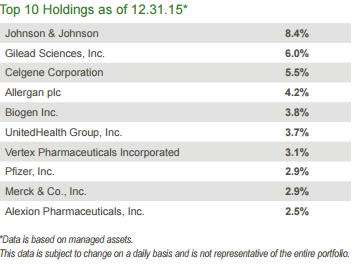 I also like the stated investment philosophy behind this fund and agree in principle with these beliefs.
Aging demographics and adoption of new medical products and services can provide long-term tailwinds for healthcare companies
Late stage biotechnology product pipeline could lead to significant increases in biotechnology sales
Investment opportunity spans 11 sub-sectors including biotechnology, healthcare technology, managed care and healthcare REITs
Robust M&A activity in healthcare may create additional investment opportunities
Adoption of Affordable Care Act will likely result in more people insured and higher aggregate levels of insurance reimbursement
Furthermore, I believe that the timing is good to initiate a new position in this fund as the healthcare sector has been in a bit of a downturn for some time now. In fact, according to another SA contributor, Bret Jensen, who is far more of an expert than me in the healthcare sector, states in a recent article that the biotech sector has been in a deep and long bear market and is just now showing signs of turning around.
As of the close of business on April 7, the fund was trading at a 9.27% discount to NAV. (NAV = 18.13, Fund Price = 16.45)
Meanwhile they just announced the latest monthly distribution of $0.1125 which is in line with previous monthly distributions and represents a current annual yield of just over 8%.
And although the fund is relatively new and does not have an established track record, the portfolio manager is Daniel Ormstead, PhD. He is also President and CEO of Tekla with 34 years experience in the healthcare industry. He also manages HQH which does have a long and excellent track record.
Portfolio Considerations
Based on my risk tolerance (I don't mind taking on some risk if I believe the rewards are worth it), investment goals for this portfolio (current income to fuel future growth), and the desire to add a new holding in a sector that I previously had no exposure to I like this fund and decided to initiate a small position.
My initial position in THQ is only about half of what I would like to own due to limited cash available to invest and it currently represents about 5% of my total portfolio value. But I intend to reinvest the dividends and grow the position over time until it reaches about 10%. In a future article I will provide an update on all the funds in my NGNG portfolio along with performance metrics.
I'm interested to read others' thoughts on this fund and the future prospects for the healthcare sector in the comments. Thanks for reading!
Disclosure: I am/we are long THQ, NRF, CORR.
I wrote this article myself, and it expresses my own opinions. I am not receiving compensation for it (other than from Seeking Alpha). I have no business relationship with any company whose stock is mentioned in this article.