So far this year, shares of FuelCell Energy (NASDAQ:FCEL) have gained impressive momentum on the market and appreciated more than 25%. However, over the past month, FuelCell Energy has run into a speed bump due to its weaker-than-expected first-quarter results. Around one month ago, FuelCell Energy had reported a huge bottom line miss, while its top line was also lower than expectations.
As a result, over the past month, FuelCell Energy shares are down almost 9%. But, in my opinion, this post-earnings drop is more of an opportunity that investors should not ignore. Let's see why.
The margins will get better
As mentioned earlier, FuelCell missed the bottom line consensus estimate by a big margin last quarter. In fact, the company posted a loss of $0.48 per share while analysts were expecting a loss of $0.35 per share. However, in the long run, it is likely that FuelCell Energy will be able to improve its bottom line performance since it is focusing on areas for margin growth by way of strategies such as a stronger revenue mix, more cost reductions, product development and by improving the supply chain.
As a part of its strategy to enhance margins, FuelCell has started selling complete power plant projects to its customers as compared to only selling components earlier. This will help the company remove third-party costs and lead to margin growth. In fact, due to such a move, FuelCell now expects its contribution margin from a 35-megawatt power plant built in the U.S. to be 10 times greater than what it would have been through the channel of kit sales.
Moreover, FuelCell plans to expand the availability of financing options that will give it the flexibility to selectively retain projects in order to maximize revenue, improve margin and bolster cash flow in the long run. As a result of this strategy, FuelCell will be able to sell its projects at a higher price, which will therefore allow it to improve both its top and bottom lines. The following chart clearly shows the expected growth of FuelCell's revenue and margins in the long run:

Source: FuelCell Energy
An improving backlog is another tailwind
Due to robust order inflows, FuelCell Energy is witnessing strong growth in its backlog. For instance, in the first quarter of 2016, its backlog increased by $22.5 million to approximately $403.9 million. More specifically, on a year-over-year basis, the backlog increased by more than $66.9 million. In fact, FuelCell has managed to increase its backlog for three quarters on the trot.
More importantly, there is a possibility that FuelCell's backlog will rise by more than $500 million on the back of a 63 MW project from Beacon Falls Energy, which is one of the biggest fuel cell parks in the world. Since FuelCell Energy is the designated supplier for the power plants that the project will use, this is a huge opportunity for the company.
Currently, the project is awaiting final approval and it is likely to add equipment sales of more than $140 million to $190 million, apart from service revenue in the range of $130 million to $285 million. Moreover, apart from this project, FuelCell has also gained new contracts, such as one from Pfizer that has added 5.6 MW to its pipeline. Now, the company expects that the revenue recognition from these projects will start flowing in from the second half of the year, which will have a positive impact on FuelCell's financials.
Why FuelCell will continue gaining more contracts
It is not surprising to see that FuelCell Energy's business is gaining strong traction since the company's offerings help customers reduce costs. For instance, under its long-term power purchase agreements (PPA) for onsite CHP projects, FuelCell Energy is able to deliver a project worth 1.4 MW in less than 9 months. More specifically, the owner of the project can generate unlevered internal rates of returns in the range of 9%-11% on revenue of around $1 million annually.
Likewise, under the utility scale concept, FuelCell delivers a project worth 19.6 MW in about 9 to 15 months, with prices ranging from $0.09 to $0.11/kWh. This helps it generate an unlevered IRR of 8% to 10% to utility & IPP investors.
As a result of the returns that FuelCell's projects generate for end users and utility investors, the company should be able to gain more projects going forward. This is the reason why FuelCell projects strong revenue opportunity for its on-site CHP projects and utility scale projects, as shown in the chart below: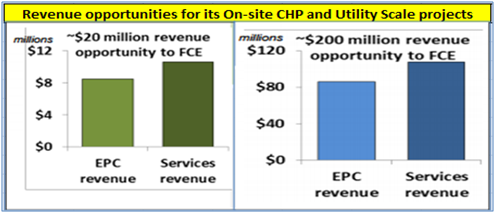 Source: FuelCell Energy
Conclusion
FuelCell Energy is making the right moves by changing its business model to improve its margin performance. In addition, the revenue opportunity for the company remains strong in the long run. As a result, investors should consider using the weakness in FuelCell's stock price in the past month as a buying opportunity since it can stage a comeback going forward.
Disclosure: I/we have no positions in any stocks mentioned, and no plans to initiate any positions within the next 72 hours.
I wrote this article myself, and it expresses my own opinions. I am not receiving compensation for it (other than from Seeking Alpha). I have no business relationship with any company whose stock is mentioned in this article.