Author's Note
Please understand, this article is not intended to recommend a candidate for President of the United States. The selection of ANY candidate is preferable [in the short-term] to "contested" conventions and the political uncertainty that translates to economic uncertainty and the negative market reactions that follow. I will assume that all investors know and agree that the market does not like uncertainty.
At the age of 58, I would characterize this election cycle as the most exciting Presidential Election that I have seen. A younger investor is not likely to be able to relate to the content in this article, but should chat with some older investors - those likely to have lived through these events.
The Democrats and the Republicans
On the Democrat side, we have a self-proclaimed Socialist battling a Clinton, challenging her in what was previously referred to by the media as the candidate likely to enjoy a Democratic National Convention "coronation." You may have noticed that this term has not been used in recent weeks.
On the Republican side, we have a billionaire, television reality star running against a freshman senator, and both are running against a very likable Governor who can only win the primary in his own state. The last is "relying" on a contested convention.
The Candidate You Favor Is Not Relevant
Again, my motivation for writing this article is not to suggest any particular candidate, but, instead, to prepare you for the market volatility that will follow any "contested" elections process.
You would not be likely to invest in any politically unstable country (e.g., North Korea, Syria, Yemen, Iran, Iraq, and so on). Similarly, to the extent that the American political process is less than stable, you must, necessarily, consider the possibility that the "world view" of a protracted, contested political process will not favor investments in (primarily) U.S.-based stocks or stocks traded on U.S. exchanges.
For this reason, it is quite likely that I will exit the majority of my equity positions pre-July 18 and "sit on the sidelines," perhaps through July 28. Events over the next few months will assist me in making this decision.
For now, simply mark your calendar. Parking economic resources in U.S. Government insured money markets, in anticipation of an overall market decline in equity securities, may represent a short-term opportunity to exit at a relatively high price, and re-enter at a relatively favorable or low price, generating higher returns for your overall portfolio. You might also choose to suspend dollar-cost-averaging for deferred compensation contributions during this period.
Remember the Hanging Chad?
During the 2000 Presidential Election, a Democratically-controlled precinct encountered a problem with their ballots, and (countless) recounts became necessary to determine whether G.W. Bush or Al Gore won the precinct, the state of Florida, and the Presidency: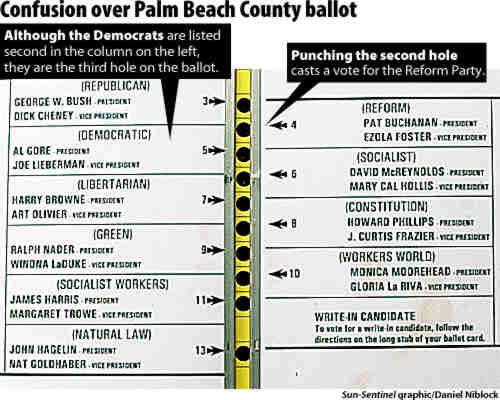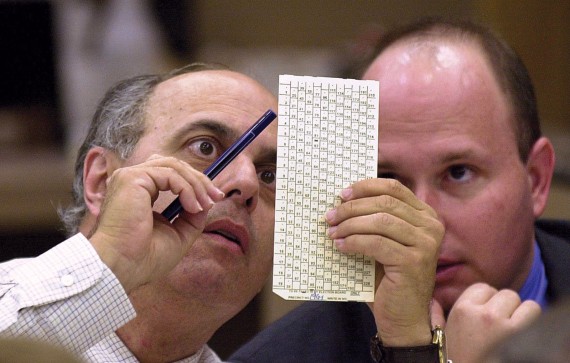 Note: I recall, quite clearly, that hostile rhetoric of lawsuits and the apparent political instability, during this period, resulted in real-time, minute-by-minute and economically significant declines in the DOW and S&P 500. Unfortunately, I have not been able to locate any archived links or videos (e.g., YouTube videos). The market reactions were quite remarkable and very clearly correlated to live broadcasts, where one station opened a window to show how a political candidate was able to "talk the market down" during the normal operating hours of the New York Stock Exchange. Older investors reading this article may recall some of these instances, as they were rebroadcast on several news media outlets… 15 years ago.
While 16-year-old news stories are not always archived or easily identified, a Google search resulted in a "hit" in a book written in 2011, and making reference to the "hanging chads" and overall market reaction, though results of concurrent events have not been isolated or statistically "teased out," as follows:

Source: Link
Some graphics of the hanging chads are identifiable when using a Google search, even when the best possible links are not always available for copy/paste, as follows: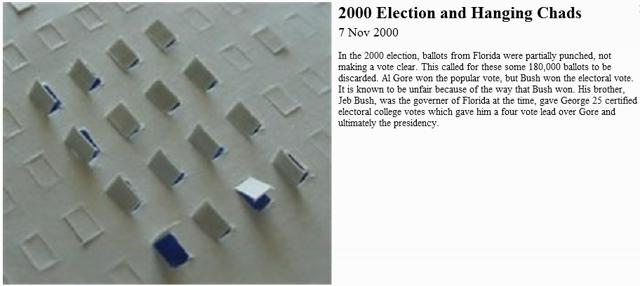 Click to enlarge
Source: Link
The S&P 500 surrounding the November 7th Event Date
While the greatest impact on the overall market occurred during intraday trading, the overall trend of the S&P 500, between the Presidential election event date of November 7th and December 7, 2000, is provided in the below table and graphic:
| | | | | |
| --- | --- | --- | --- | --- |
| Date | Open | High | Low | Close |
| 7-Nov-00 | 1,432.19 | 1,436.22 | 1,423.26 | 1,431.87 |
| 8-Nov-00 | 1,431.87 | 1,437.28 | 1,408.78 | 1,409.28 |
| 9-Nov-00 | 1,409.28 | 1,409.28 | 1,369.68 | 1,400.14 |
| 10-Nov-00 | 1,400.14 | 1,400.14 | 1,365.97 | 1,365.98 |
| 13-Nov-00 | 1,365.98 | 1,365.98 | 1,328.62 | 1,351.26 |
| 14-Nov-00 | 1,351.26 | 1,390.06 | 1,351.26 | 1,382.95 |
| 15-Nov-00 | 1,382.95 | 1,395.96 | 1,374.75 | 1,389.81 |
| 16-Nov-00 | 1,389.81 | 1,394.76 | 1,370.39 | 1,372.32 |
| 17-Nov-00 | 1,372.32 | 1,384.85 | 1,355.55 | 1,367.72 |
| 20-Nov-00 | 1,367.72 | 1,367.72 | 1,341.67 | 1,342.62 |
| 21-Nov-00 | 1,342.62 | 1,355.87 | 1,333.62 | 1,347.35 |
| 22-Nov-00 | 1,347.35 | 1,347.35 | 1,321.89 | 1,322.36 |
| 24-Nov-00 | 1,322.36 | 1,343.83 | 1,322.36 | 1,341.77 |
| 27-Nov-00 | 1,341.77 | 1,362.50 | 1,341.77 | 1,348.97 |
| 28-Nov-00 | 1,348.97 | 1,358.81 | 1,334.97 | 1,336.09 |
| 29-Nov-00 | 1,336.09 | 1,352.38 | 1,329.28 | 1,341.93 |
| 30-Nov-00 | 1,341.91 | 1,341.91 | 1,294.90 | 1,314.95 |
| 1-Dec-00 | 1,314.95 | 1,334.67 | 1,307.02 | 1,315.23 |
| 4-Dec-00 | 1,315.18 | 1,332.06 | 1,310.23 | 1,324.97 |
| 5-Dec-00 | 1,324.97 | 1,376.56 | 1,324.97 | 1,376.54 |
| 6-Dec-00 | 1,376.54 | 1,376.54 | 1,346.15 | 1,351.46 |
| 7-Dec-00 | 1,351.46 | 1,353.50 | 1,339.26 | 1,343.55 |
Source: Link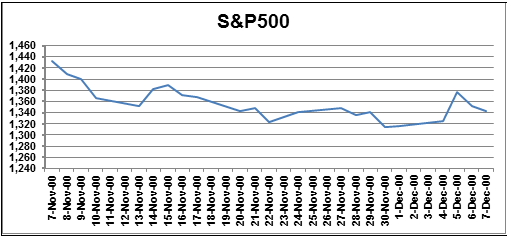 The 2016 Democratic Nominee - Will Hillary "Feel the Bern"?
Bernie Sanders has won several of the most recent primary states, has taken the position that Hillary Clinton is unqualified to serve as President of the United States, he has exceeded Clinton in March 2016 fund-raising, and he is suggesting that super-delegates reconsider their support for Clinton, and, instead, support him.
The 2016 Democratic Convention will be held at the Wells Fargo Center in Philadelphia July 25th-28th, 2016. Though likely to be far less uncertain, when compared to the Republican National Convention, mark your calendar for these trading days, running from Monday through Thursday (trading days).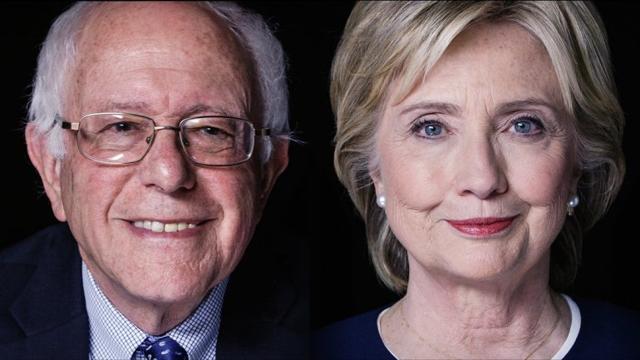 Click to enlarge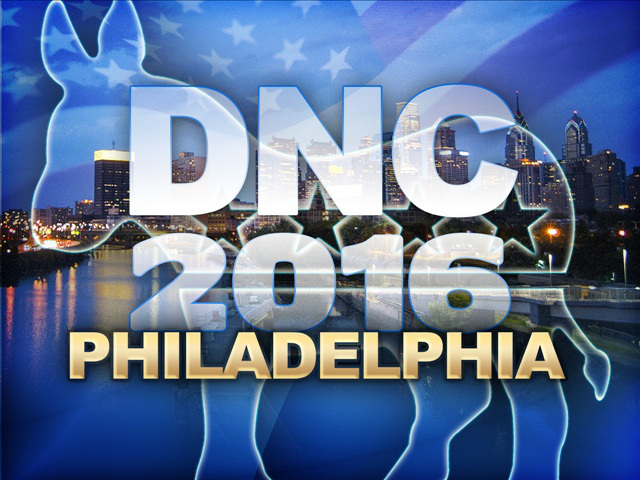 The 2016 Republican Nominee - Trump, Cruz, Kasich or Anyone But Trump
There is tremendous uncertainty, with respect to just who the Republican Presidential nominee will be in the upcoming Presidential election. It does not really matter who your favorite is, the key term is UNCERTAINTY. The market does not like UNCERTAINTY. Anticipate volatility during any contested convention trading days.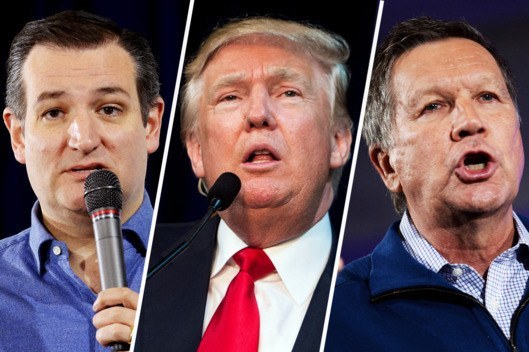 The Republican National Convention
The Republican National Convention will be held between July 18 and July 21, 2016, in Cleveland. Mark your calendar for these trading days, running from Monday through Thursday.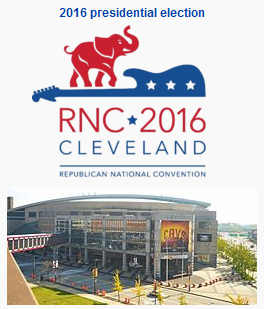 If a hotly contested convention, or if there is any reason to believe that there will be protests leading to violence, consider exiting all long positions on or before the preceding Friday close, on July 15, 2016 or earlier. [Earlier is probably better, unless rhetoric subsides, and we know, from academic research, that investors like to close positions on Fridays before weekends, when the markets are closed.] Once a candidate has been successfully selected, re-enter (or reconsider re-entry) for any desired long positions.
Summary
There are periods of volatility, where it is best to be "out of the market" or "park" economic resources. Such a period is likely to occur in the very near future, at least until "the fog of [political] war" clears and uncertainty subsides. This may represent a significant selling and buying opportunity!
If greater clarity is not achieved, it may be best to exit and be "out of the market" prior to the July 18 and July 21 Republican National Convention and the July 25-28 Democratic National Convention. The desirability of this strategy will become more apparent, as these dates approach.
Hope for the best, but plan for the worst, and be nimble during this upcoming, highly anticipated period of uncertainty and volatility. Recall that uncertainty is a negative for the market, all things remaining equal.
Disclosure: I/we have no positions in any stocks mentioned, and no plans to initiate any positions within the next 72 hours.
I wrote this article myself, and it expresses my own opinions. I am not receiving compensation for it (other than from Seeking Alpha). I have no business relationship with any company whose stock is mentioned in this article.