San Francisco is best known these days for game-changing IT companies based in nearby Silicon Valley. One of its older established companies, Charles Schwab Corp (NYSE:SCHW), has however successfully joined the trend of new market offerings to appeal to modern consumers.
In a crowded field of old-fashioned brokers and new-fangled Internet brokers, Schwab offers some advantages. It has differentiated itself from the competition and gained a reputation for high quality service.
Compared to its rivals, Schwab has a wide range of services and great financial strength. Apart from on-line broking, it administers managed funds on a fee basis, and it acts almost as a bank by offering margin loans based on investment securities accounts.
Its organic growth for the changing consumer and an environment where interest rates are set to rise are very bullish factors for the company.
The Field.
There are plenty of players in the field for Internet broking. Interactive Brokers (NASDAQ:IBKR), Options House, T D Ameritrade (NASDAQ:AMTD), Trade Station and Fidelity are just some of the more popular ones. So it is a crowded and competitive market-place.
In 2015 assets held by online brokers rose 17.8% and retail trades increased by 9.4%. It is a growing market that these companies are targeting. Various surveys have shown that customers are looking for the following:
Security.
Mobility.
Depth of Investment Tools.
Trading Capabilities.
One particular advantage Schwab has over its rivals is its suite of usually commission-free ETF's, a growing investment tool. Investors are questioning why they should pay high fees for an active manager when they can get a wide spread of managed risk simply by buying into a Schwab ETF online.
Additionally the company has pioneered ETF-based "Intelligent Portfolios": these increased 30% in 2015 in asset value. They have proved a hit with clients, offering an algorithm- based fully automated investment advisory service.
A recent well-regarded survey by J D Power handed out the plaudits to Schwab. This reinforces the feeling that they are well positioned to take advantage of what is a growth market. It is not just a growth market in on-line trading and the value of rising stock assets (if indeed that happens). It is also in a rising interest rate environment (which we are certainly in) which increases Schwab's yield on its loan business.
The Macro Picture.
The macro trends favor Schwab. The asset management business is fast-growing. It is worth US$78 trillion worldwide and this figure has been estimated to reach US$100 trillion by 2020. However this growth is expected to come at the expense of the traditional asset management model. This has been peopled, many might think, by over-paid managers who anyway fail to beat the market. For instance, a Standard & Poors survey found that 91% of active managers handling emerging market equities did not beat the index over 10 years, and 95% of active bond managers failed to do so.
In addition to technology favoring the likes of Schwab, active fund managers are also likely to come under greater Government scrutiny in the coming years. As the information provided by the likes of Schwab keeps getting more and more comprehensive, so investors who can and want to make their own decisions increases.
Additionally Schwab should be favored by new rules announced last week by the Department of Labor concerning retirement savings advice. These are due to come into force as of 1/1/2018. Though quite complicated, they will essentially make it less easy for brokers to obtain high commissions when advising clients who are transferring money from 401K's to individual accounts with brokers. This is likely to affect adversely traditional brokers while particularly benefiting Schwab with their suite of ETF's.
J D Power Survey.
Schwab topped the recent Full-Service Investor Satisfaction Study and the U.S. Self-Directed Investor Satisfaction Study. This shows both the width and the depth the company offer. They got particularly high marks in the fields of Product Offerings, Commission & Fees, Website and Account Information.
Of special interest was the finding on what the survey calls "Validators". These are described as investors who want to make their own decisions but still have recourse to advisors sometimes. This has increased to a new high of 36% and is something Schwab caters to particularly well, as the survey emphasizes. In contrast there is what the survey calls "Collaborators". These are described as investors who want a full service brokerage. These are still in the majority at 51% but have declined from 59% in 2013.
The strong television advertising campaign one sees from Interactive Brokers about how commissions from its rivals kills one's profits seems irrelevant to me.
An example would be to look at a trade on Schwab of US$10,000, which is probably the kind of minimum block the average retail investor trades on. The commission would be US$8.90, or 0.00089%. If that amount of commission is a problem, then the person probably should not be investing. Investing in shares is anyway a risky business. So an investor might focus more on the financial strength of the broker as some sign of security. According to a recent Argus report (subscription required), Schwab garnered their highest rating of 5 for financial strength. The company was cited as having US$2.9 billion of long-term debt as at end 2015 and US$13.4 billion of shareholder equity.
Conclusion.
Market conditions were not very friendly towards Schwab in 2015. The company still managed to attain revenue growth of 5% to reach US$6.4 billion. Net income grew 10%. Revenue growth in Q4 was driven by asset management, administrative fees and net interest income.
Core assets rose by 8%. Total client assets totaled US$2.51 trillion, up 2%. This reflected very well on Schwab's management, which is generally well regarded in the industry. The company has 560,000 client accounts representing over US$192 billion in assets and 9.8 million active brokerage accounts.
As pointed out in a recent report by S & P (subscription required), 2015 EBIT margins were 34.5. S & P forecast this to reach 40.2 in 2016 and to rise to 42.4 in 2017.
In 2016 Schwab should continue to increase market share as evidenced by the start to their year. Vitally, as interest rates inevitably rise, so Schwab will be able to charge fees again on money market funds. The year has begun well for them as stated in their "monthly activity highlights" of 14th March. In the month of February new net assets totaled US$10.9 billion, total client assets were flat and new brokerage accounts were up 5% on the previous year.
In the past four years, according to the Argus report Schwab has increased assets under management by over US$100 billion per annum. They have done this by taking share from others.
The company has forecasted based on a conservative estimate of just one interest rate rise in 2016 from the Fed. So if several rises eventuate, then earnings per share of Schwab stands to gain compared to current forecasts. 40% of the top line came from interest income in 2015, up from 37.5% in 2014. EPS in 2015 rose to US$1.03 from US$0.95 in 2014. Analysts are forecasting US$1.27 in 2016 and US$1.54 in 2017.
The company is set to report Q1 2016 earnings on 15th April. The downside risks from the announcement seem very limited bearing in mind the already published monthly activity figures.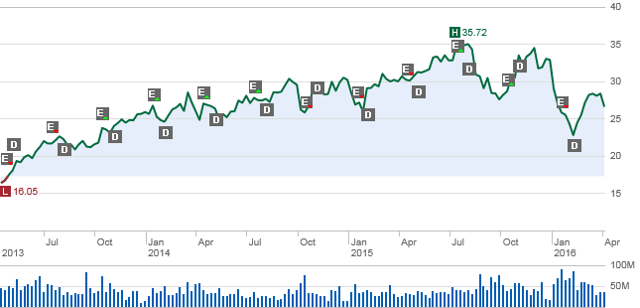 Click to enlarge
The 3 year share price reproduced above showed a steady upwards trajectory up to late last year. This is the continuation of a long trend. US$10,000 invested five years ago would now be worth US$15,445. I expect this upward march to resume in 2016 and 2017. At the time of writing the stock price was at US$26.61 within a 52 week high low range of US$21.51 to US$35.72. Of twenty analysts who track the company the average target price is US$35.08.
The PE ratio is quite high at 25.67 but justified by the strong client asset franchise and organic growth from innovation. The PEG at 1.13 would indicate that the stock is not over-valued. The company pays a regular dividend, but at 0.91% one cannot call Schwab a dividend play.
I see the only risks to Schwab coming from possible future macro trends. These might comprise equity market declines worldwide and a long-term low interest rate environment being maintained in coming years.
Notwithstanding that, market share gains should be driven by their flat commission schedule and free trading in most of their ETF's. Organic growth in the market and the trends of the individual investor as outlined above are positive. Added to that, an increasing interest rate environment should be very favorable in both the short and medium term for the company. All these factors make it a strong Buy in my opinion.
Disclosure: I am/we are long SCHW.
I wrote this article myself, and it expresses my own opinions. I am not receiving compensation for it (other than from Seeking Alpha). I have no business relationship with any company whose stock is mentioned in this article.