Tesla (NASDAQ:TSLA) short sellers back with vengeance
Click to enlarge
In the world of automobiles, Tesla's model 3 thrashed expectations as pre-order numbers came in at 325k in just the first week.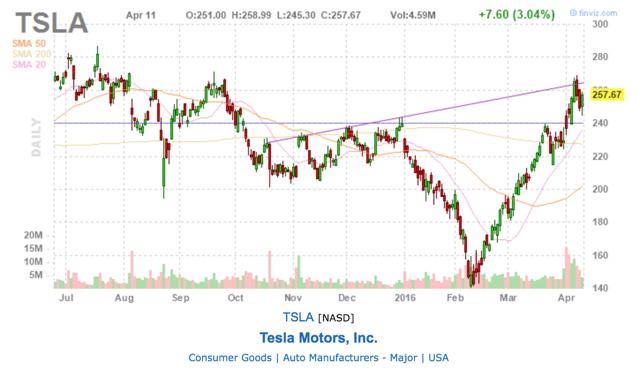 Click to enlarge
The stock price has also recovered significantly since the lows in February. Despite record volumes in pre-orders, short sellers continue to pile on Tesla, increasing over $450 million in new short sales over the last week, forcing borrow rates now over 8%.
The concern is that Tesla wouldn't be able to deliver the "record pre-order" in a timely manner.
Since the start of producing Tesla Model S, the company has produced 107,000 vehicles. That's a distant number from the 325k or so in pre-order numbers. How does Tesla plan on producing that many vehicles?
Our discussion with many of the PMs that have gone short Tesla believes that Tesla will have to issue more shares if it wants to keep pace with the current pre-orders. As one PM told us, "use shareholder money to benefit the well-being of consumers."
In addition, the tax incentives could be a problem for Model 3 buyers as the popularity of the vehicle backfires. The standard federal electric-vehicle tax credit is $7,500. Once a car manufacturer sells 200,000 cars for use in the U.S., the credits starts to shrink. Afterwards, future cars sold are only eligible for half the tax credits for the next two quarters, and 25% for the two quarters after that before vanishing. Buyers in the $35,000 price range will be more price sensitive than the Model S buyers, and this could impact sales.
Chesapeake Energy (NYSE:CHK) mortgages the farm
News came out today that Chesapeake maintained its $4 billion line of credit and the banks made no cuts.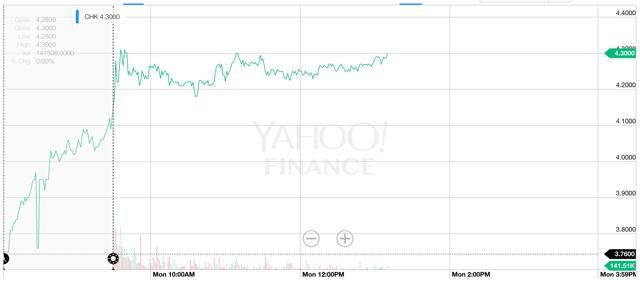 Click to enlarge
The stock price is up a nice 14%+.
Underneath the headline is a bit of concerning details that shareholders should know. The review process for line of credit is semi-annual. Twice a year, banks take the STRIP (the commodity price curve) and estimates using the company's engineering deck (cost profile, EUR, etc.) and estimate what the value of the reserve is. If commodity prices are low, the line of credit would be cut.
In CHK's case, the company pledged almost all of its assets to maintain access to the $4 billion credit line. This gives the company until June 2017 until the next review.
For CHK shareholders, this is both good and bad news. It's good because it allows the company to ride out the commodity cycle, but it's bad because shareholders would be left with nothing if commodity prices worsen.
We believe that commodity prices have bottomed and will move up in the future, so sensibly, this was a good move by CHK.
Energy News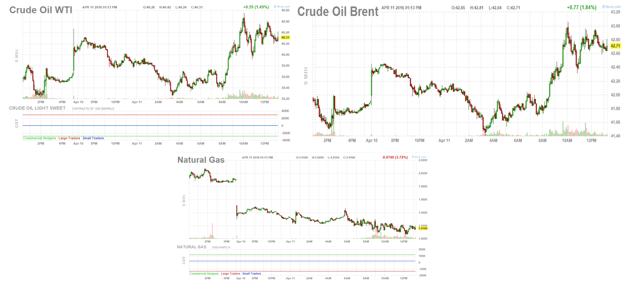 Click to enlarge
In the energy markets, WTI (NYSEARCA:USO) and Brent are both up over 1.5%, while natural gas (NYSEARCA:UNG) is lower by 3.72%.
Oil is moving up today despite bearish comments from Goldman Sachs and Barclays. Both of the investment banks warn that the Doha producer meeting isn't a guaranteed deal. Hedge Funds last week increased short positions despite oil rallying. Our discussion with traders indicates a lot of skittishness around the production freeze deal and market participants are positioned that way.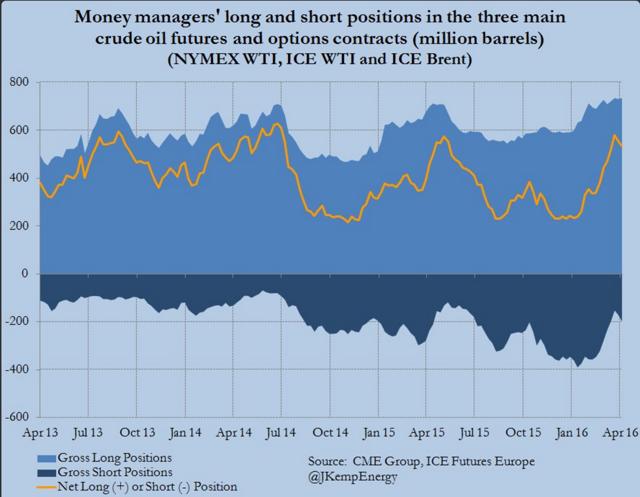 Click to enlarge
Natural gas dropped as NOAA predicts much warmer weather forecasts for the next 2 weeks and caused near-term prices to drop.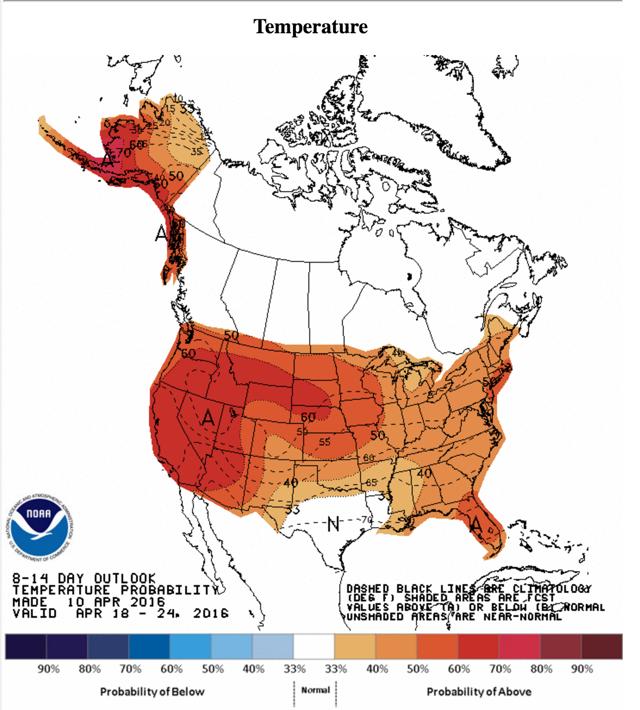 Click to enlarge
We are currently in the shoulder season of the natural gas inventory cycle, and prices are extremely sensitive to weather forecasts. One positive sign is that this summer will be much hotter than average. Forecasters believe that this summer could be 9.6% hotter than the 30-year average, which could potentially boost natural gas prices to mid-$2 range.
The bigger chunk of the gains will likely have to come from a much colder-than-expected winter alongside decreasing natural gas supplies. Prices could rebound far higher than expectation.
Wrapping it up
Tesla short sellers continue to pile on the company despite positive pre-order numbers.
Chesapeake mortgages its entire asset base for the chance to ride out the commodity down-cycle. Shareholders cheer the move as the stock price moves up 14%+.
HFI Premium Research
Our weekly energy reports:
Our latest idea write-ups:
TripAdvisor (NASDAQ: TRIP)
Gear Energy (OTC:GENGF)
Allot Communications (NASDAQ: ALLT)
Hedge Fund Insights' premium research service is where we write up detailed articles on companies that we think are undervalued. We also share with our subscribers real-time trades and portfolio tracking. Subscribers also get to join a group of like-minded value investors that take advantage of market mispricing. If you are interested, please consider joining.
Disclosure: I am/we are long GENGF.
I wrote this article myself, and it expresses my own opinions. I am not receiving compensation for it (other than from Seeking Alpha). I have no business relationship with any company whose stock is mentioned in this article.