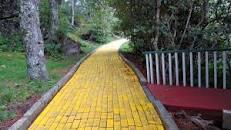 Finding The Yellow Brick Road
On March 4, 2016, I shared an article with my SA readers, where I wrote about the massive YTD drop in biotechs. Until that point, the sell-off had spared very few biotechs - both large and small-cap ones. Many had under gone as much as a 50% correction. A simple one word would describe the carnage - brutal!
The thesis for the article was also sharing my thoughts on whether this correction had run its course. My simple belief is that investing in medical/drug companies still offers the best venue for achieving the largest return on your investments - if you guess correctly on the underlying science and timing of events for such stocks. And one should understand that meshing these two requirements will not be an easy task. Therefore, it's imperative that one has a balanced portfolio in these type stocks. Never, never, never forget - don't marry a biotech stock. You will never grow broke by taking opportune profits when a stock price reaches your predetermined objective. The use of stop-loss provisions for your stocks shouldn't be a foreign concept. As Kenny Rogers reveals in one of his classic songs:
"You've got to know when to hold 'em

Know when to fold 'em

Know when to walk away

And know when to run

You never count your money

When you're sittin' at the table

There'll be time enough for countin'

When the dealin's done."
With my March article, I listed biotechs that I thought could be ready for a reversal from their downward pricing trend. The following is the list of those stocks and the percentage of change in their pricing between March 4th and the end of trading April 6th.
In order to give someone an idea relating to the magnitude for the movement in these biotechs in last week's trading, consider the following:
The NASDAQ Biotech Index - NBI - was down -18.05 YTD (vs. down -22.98 YTD 3/31/16). An improvement of 4.93%.
The smaller S&P Biotechnology Select Industry Index- SPSIBI - was down -20.61% YTD (vs. down -26.40% YTD 3/31/16). An improvement of 5.59%.
This type of movement is rarely seen in these indexes, so thankfully, they were positive numbers for those long biotechs.
Portfolio Update for Biotech Stocks:

April 6,2016

Price Start Date: March 4th, 2016

Stock

Start Price

Curr. Price

%U/D

Action Event

$7.82

$9.48

20%

$19.49

$25.92

33%

$9.16

$11.19

22%

$17.66

$19.25

9%

$11.27

$15.32

36%

$46.71

$48.62

4%

$13.71

$17.46

27%

$27.79

$24.17

-13%

SOLD/LTH

*LXRX

$12.49

$13.69

10%
*I wrote a detailed article concerning LXRX that was published on 4/1/16. I've opted to include it for the future updates. Note all the other stocks are based on the 3/4/16 starting date.
A quick perusal of the list indicates for eight of the nine stocks, the entry level was fortuitous timing for me. Ironically, Portola was the stock that I featured in my article. This was the only stock on my list that continued the downward trend, although, the downturn movement was only a modest one. In the interim, from publishing my list, Portola revealed data for one of its drugs that wasn't favorable. In reality, the data released was of the two-edged sword type. It was simply the data came up short because of the trial design that added a new element where if that element had not been added to the criteria, the data would have passed standard protocols in clinical testing.
Forbes magazine has an article that best explains this phenomenon wasn't bad, but was actually good news, with a minor caveat. Now the issue falls on the FDA as for how it will react in its review process for the drug. The FDA will be in a real conundrum over how it will consider this data. The notation I have in the chart denotes that I sold my position in the stock; however, for long-term investors, I think Portola will offer them positive results. Later this year, it will have an FDA decision for another drug that is being reviewed for approval. I felt that I could get a better return by taking the Portola funds and placing them into Bellicum's stock. With full intent, I plan on reestablishing a position in Portola's stock as we approach the next binary event.
Comment For Each Stock
1. Adaptimmune - Long term, should the CAR-T technology prove to be what is currently being seen in treating various cancers, ADAP should provide investors a nice return on their investment dollars. Adaptimmune has just submitted, and the FDA has accepted, an IND for liver cancer targeting T-cell therapy.
2. Alder - Excellent data for its migraine candidate was recently released. This could place Alder as the leader of the pack for drug companies working on migraine drugs. Alder has also filed for a secondary offering for its stock. The stock has reacted by moving well above the pricing for this offering. The good news is that maybe the funding issue with secondary offerings might be resolved, for at least the near term. The response for this offering gives one an indication this might be the case. We should expect to see more offerings from other biotechs in the future. We can only hope it receives the same reception from the underwriters and investors. This is a link for my earlier article about this company.
3. Bellicum - As mentioned with Adaptimmune, CAR-T technology is continuing to show benefits for patients suffering from cancer. At a European conference last week, Bellicum stated the following:
"In an oral presentation reviewing the preliminary outcomes from the BP-004 clinical trial in 17 high-risk pediatric patients with blood cancers, the data showed that BPX-501 cells expand in vivo and persist over time, contributing to adaptive immunity. There was no transplant-related mortality due to infections, GvHD or other transplant-related complications. Additionally, the relapse rate to date compares favorably with that of historical controls, with 16 of 17 patients in the trial with acute leukemias showing disease-free outcomes. The median follow-up period to date for these patients was approximately seven months."
This is early data and only for a small number of patients. As this data continues being collected, if we see this trend showing these same results, Bellicum should be a major player in CAR-T technology. Bellicum is doing a smart work with its drugs by developing in parallel trials in Europe, as in the United States. It is possible, but not guaranteed; Bellicum could get the European approval much sooner than the time frame for here in the United States. Management is playing it coy by not over promising, but it seems clear it has this strategy as a part of its game plan.
Not mentioned by name, but the cover story in the April 4th edition of TIME magazine is: "Inside the brutally selective, hugely expensive, lifesaving trials of immunotherapy." The expense issue is being addressed by Bellicum with the fact it is building its own manufacturing facility for its drugs. Considering such early stages for its drugs, this is in my opinion a bold action that will pay off handsomely if it gets FDA or European approval.
4. Cempra - Still on track with its new antibiotic that is desperately needed as current drugs are facing increased ineffectiveness due to overuse of current antibiotics. Major binary events are scheduled for later this year.
5. Nektar - This is the perfect example for why charting the highs and lows for a stock's trading pattern can prove to be an excellent method to catch the movement patterns that will have you out of a stock or when to buy the stock.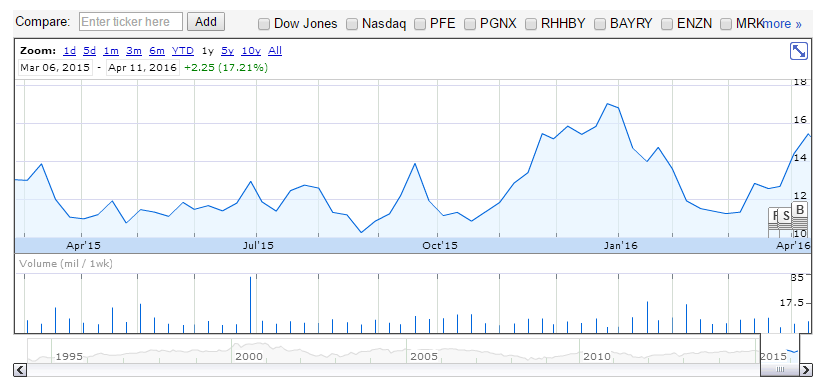 By noting the dips followed by the next uptrend, the one year chart indicates the current upward movement could take us above the 52-week high ($17.55) seen last December. By just returning to the recent interim high, this would give us a 13% movement from the current share price. Giving potential impetus for this happening, we have several binary events coming up in the near future. Those being a read-out for one of the Bayer (OTCPK:BAYZF) partnership drugs, and the other being data from its internally developed cancer drug where M.D. Anderson doctors are directing the clinical trials. It's my hope that we will take out the recent high, and with good luck, we could move upwards toward the $20.00 pricing level. I have an over-allotment with my position in Nektar's stock. This is a link for my most recent article about Nektar.
6. Ophthotech - This stock can move in multi-dollar increments on a given day. The next major event for reading out clinical data is scheduled for later this year. If the previous data maintains the excellent results, we are looking at the potential for a blockbuster status drug. Its drug is for treating wet age-related macular degeneration (AMD), and with our growing senior citizen population, the potential user list grows in accordance with this age group. As stated in my earlier article, I'm playing this drug by owning Nektar's stock. Nektar is a partner in the drug's delivery method and will garner major royalties based on revenues. As we get closer to the trial results, I plan on establishing a position in the stock. I just think now my capital can grow better with the Nektar approach for ownership.
7. Otonomy - This biotech has just received FDA approval for its first drug. In my opinion, this drug has the potential for generating a nice revenue stream. Before adding to my position, I want to see the first results for the launch of the drug in the marketplace. At this point, I plan to reevaluate whether I will add more for my position or merely hold my current position. This is a link for my recent article about this company.
8. Portola - See earlier comments. If Portola obtains approval for its drug that is under FDA review, the stock price is at a good entry point currently.
9. For Lexicon, see the article published on 4/1/16.
General Comments
Until a biotech company obtains an FDA approved product and then a steady and profitable revenue stream, the life-blood for these companies is the selling of stock, either an IPO or secondary offerings. In recent months, the ability to get someone for underwriting such offerings had been essentially placed on hold. With the Alder announcement on 4/6/16, this could be a positive sign that maybe, at least for biotechs with the best identified future potential, the dearth of interest from the investment community has been abated. Especially when you see Alder had agreed to a pricing of the new shares at $23.25. When the stock opened for trading on 4/7/16, instead of retracement to the offering price level, the stock actually moved up by nearly 16% above the secondary pricing. That is truly amazing! This gives encouragement where I think we will see more biotechs in the near future offering secondary underwriting for their stock. This certainly applies for most of the biotechs in my portfolio.
Caveats
The above comments are strictly my opinion. I'm not a professional investment advisor nor do I have plans for becoming one. I'm sharing my opinion strictly based on my interest for medical issues. One should use my comments strictly as a starting point. Should you find one of the mentioned companies of interest for investing, then you need to apply your own criteria for the issues that you deem meritorious for your due diligence process. My criteria and methodology most likely will diverge from issues you deem important. The recent gains in my stocks are gratifying, but there is no assurance such gains will be maintained going forward.
Always remember, biotech stocks move on critical events in their history. Depending on the critical interpretation of these events, the underlying stocks can have major moves - up or down! Should you opt for investing in biotechs, never have your invest funds in just one stock. Diversity across several stocks with a variety of indications for where they are developing drugs is crucial. Merely look at the companies in my list. They are diversified over cancer, ophthalmology, hematology, antibiotics, diabetes, and neurology. Some indications are more difficult in developing and receiving FDA approval. These areas can be the most rewarding - for the investors, but more importantly, the patients needing the product.
Conclusion
As mentioned, it is my belief that biotech investing offers the best place for seeing your investing dollars appreciate over time. The recent run-up has been a welcomed reprieve from the months of declines we saw, beginning in the middle of 2015. This unrelenting sell-off accelerated at the beginning of 2016. Over the last month, we have seen many biotechs bouncing off their previous 52-week lows. This turn in pricing is welcomed, however, often is the case, we need to give the market an opportunity for digesting these moves. Therefore, we probably will have some retrenchments in the biotechs - those on my portfolio list being included. Select your investments wisely, and diversify - diversify!
Long term, the trend for biotechs should produce the greatest potential for capital appreciation. However, investors should always expect the journey will not be in a straight upward line of progression. So plan accordingly!
Good luck with your investing decisions!
Disclosure: I am/we are long ADAP, ALDR, BLCM, CEMP, NKTR, OTIC, LXRX.
I wrote this article myself, and it expresses my own opinions. I am not receiving compensation for it (other than from Seeking Alpha). I have no business relationship with any company whose stock is mentioned in this article.