Click to enlarge
Source: Google Finance. Nokia stock price since selling the devices and services business.
I'm certain that people are familiar with Nokia (NYSE:NOK) as a brand and how it helped to change the world in the past two decades. These days Nokia works seamlessly in the background enabling people to connect in a new way. The turnaround from mobile phones to network solutions has transformed Nokia once again into a leader in its market by merging with Alcatel-Lucent.
Overview of the new Nokia
| | | | |
| --- | --- | --- | --- |
| 2015 annual figures | Nokia | Alcatel- Lucent | Combined |
| Revenue | 12 499 | 14 275 | 26 774 |
| Gross profit | 5449.5 | 5143 | 10 592.5 |
| in % of revenues | 43.6% | 36% | 39.5% |
| Operating profit | 1688 | 1029 | 2717 |
| in % of revenues | 13.5% | 7.2% | 10.1% |
| EPS (€) | 0.31 | 0.09 | 0.4 |
Source: Nokia IR, Alcatel Lucent IR. All figures in Million EUR expect per share items.
I combined some key figures from both companies to show roughly what sort of company will be formed. Another major factor will be the intellectual properties these companies hold. Nokia has around 10,000 individual patents and applications; however, Alcatel-Lucent has a staggering 47,000 individual patents and applications. Some of these patents are virtually in every mobile device used today.
Outlook for the combined company
The stock is trading close to 52-week lows. One of the reasons for such a steep decline in the stock price was the lack of outlook from the company. It will provide a full-year guidance for its network business, including net sales estimate and operating margin, excluding any special items, in the first quarter report. Current expectations are flattish capital expenditure for the overall addressable market, declining infrastructure market and increased competition. So there is a clear need for further details on how these will affect the company's performance.
There are some spending cycles with network operators. Generally, there are higher sales in the fourth quarter compared to the first quarter in the following year. There have been great development in the LTE network installations and the next major cycle with 5G is expected to start in 2017 and to accelerate in 2018.
New addressable market size will be EUR 141 billion and estimated CAGR for the next couple of years will be around 3.5%, according to Nokia. With an almost 50% increase in addressable market, it gives Nokia new possibilities to tackle the slower-growing market before the merger. The new combined company will be the number one vendor in the United States and number one in China, headquartered outside the country. Also, it will double its market share in Europe, the Middle-East, Africa and Latin America.
Nokia targets to achieve EUR 900 million net operating cost synergies by 2018 by streamlining the company since there are clear overlaps in organization, manufacturing and products. Other cost synergies will come from a reduction of interest expenses in 2016, estimated to be EUR 200 million.
Dividend and stock buyback
With share count close to 5.8 billion, there is clearly good reason to do some buyback. Of course, the reason for such a high number of shares is the merger. Nokia offered 0.55 pf its own shares in exchange for any Alcatel-Lucent shares and convertible debt. To tackle some of the dilution, Nokia announced in the Q3 2015 report to start a EUR 7 billion program to optimize capital structure, which includes shareholder distribution and deleveraging.
Shareholder distribution accounts for EUR 4 billion. Dividend from 2015 profits will be ordinary €0.16 (US$0.18) and €0.10 (US$0.114) special dividend, totaling €0.26 (US$0.297). Currently yielding around 5%. It even announced in advance distribution from 2016 profits to be at least €0.15 (US$0.17). Currently yielding around 3%. So for the next 12 months, it will distribute a combined 8% dividend yield. In addition to dividend, there will be a two-year share repurchase program totaling EUR 1.5 billion.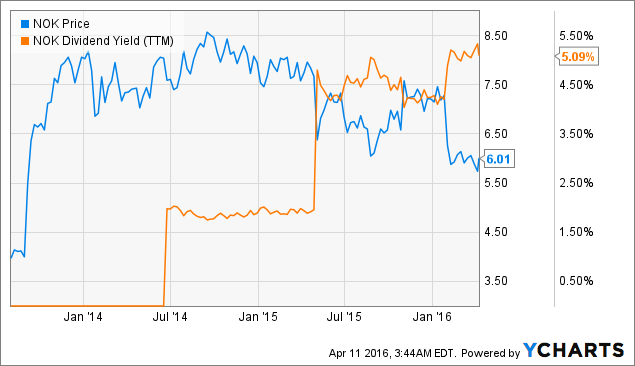 NOK data by YCharts
The company will be deleveraging accounts for EUR 3 billion. It will reduce interest-bearing liabilities of approximately EUR 2 billion and reduce debt-like items of the combined company by approximately EUR 1 billion in 2016.
Summary
I expect when the outlook comes in the first-quarter report, there will be a move higher and people will start to realize the potential of the new Nokia. During this merging period, there will be some turbulence, but with a new technology rollouts starting next year, 50% increase to addressable market size, locked in 8% yield for the next 12 months and great intellectual property portfolio, Nokia will be a great add for growth and yield. Nokia is currently trading 35% under analyst average consensus of €7.16 or $8.16, and even under the lowest price target. It really gives the idea of how badly the market is pricing this new giant at the moment.
Disclosure: I am/we are long NOK.
I wrote this article myself, and it expresses my own opinions. I am not receiving compensation for it (other than from Seeking Alpha). I have no business relationship with any company whose stock is mentioned in this article.