Back on January 18th, I recommended office REIT W.P. Carey (NYSE:WPC) for income investors, citing a low valuation and a 6.8% dividend yield. While I didn't believe there was much room for dividend growth going forward, that yield was sustainable and I felt there was a good opportunity for capital gains as well.
At the time, shares of W.P. Carey were at $56.54. Today W.P. Carey is at $61 per share, up by 8%, and on March 14th, management announced a dividend of 97.42 cents per quarter, up from 96.44 cents last quarter. That's an increase of 1%. Such a small increase in dividends was to be expected, however. Back in January, for example, I wrote the following.
Dividends, over the last ten years, have increased by 8.4% per year on average. I expect much slower dividend growth going forward, because the dividend-to-FFO ratio is already quite high. For example, over the last four quarters dividends have been 78% of AFFO. I don't believe management wants to push that ratio much higher.
This article is something of an update to the January 18th piece, and looks at what dividend investors should expect going forward. This also looks at valuation, and some of the latest comments about a potential reorganization of the company through a spin-off of one or more pieces of the business.
Let me start with the last point first. Back on March 14th, W.P. Carey attended Citi's Global Property Conference. At the conference, CEO Mark De Cesaris said that the company as it was structured right now, had a "pretty good business model," and that any change would need to bring significant improvement over the company's well-diversified business model.
In my opinion, that means management is leading towards "no" to a potential reorganization. I'm okay with that. While W.P. Carey's Europe business probably isn't as strong as its US counterpart, I don't mind the added diversification. If investors are undervaluing the whole business as a result, then I also don't mind adding more at a low valuation. As I've said before, W.P. Carey's dividend is quite sustainable, and with an occupancy ratio consistently over 98%, W.P. Carey really ought to be considered a world-class REIT.
Not much room for dividend growth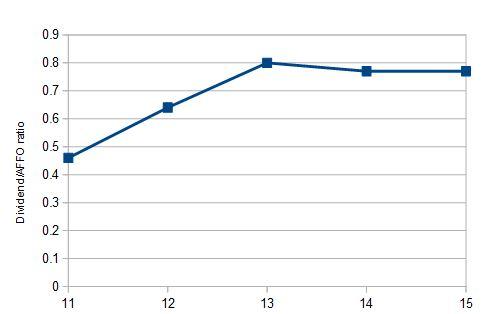 Here is W.P. Carey's dividend to AFFO ratio. It's been steadily rising over the last few years. W.P. Carey's dividend is secure, but management will not likely want to increase the dividend much beyond AFFO growth, just so they can leave some margin of safety and not let the dividend-to-AFFO ratio get too close to 100%. Therefore, the dividend will have to track AFFO growth going forward.
Consensus expectations are for AFFO to be flat over the next couple years. That's because acquisitions have lessened as management has stepped back from an increasingly crowded commercial real estate market. In the aforementioned March meeting, the management team said the acquisition environment had improved over the last six months. Perhaps acquisition activity, and AFFO growth, will pick up soon.
Still a buy?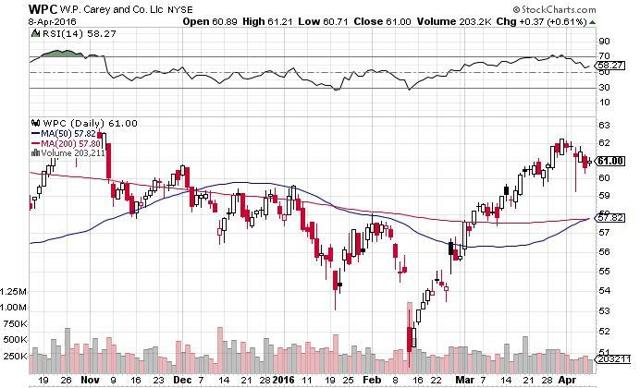 Click to enlarge
Courtesy of Sharp Charts.
W.P. Carey has appreciated since my article on January 18th (although not in a straight line). Considering the company's paltry growth prospects, is it still a buy? I would argue "yes." According to data from F.A.S.T. Graphs, W.P. Carey has averaged 14.0 times FFO over the last 10 years. Right now shares sit at 12.1 times; a discount of 13.5% to the 10-year average valuation. There's still room for capital improvement, but not as much as in mid-January. Also, W.P. Carey yields 6.4%. Even with minimal dividend growth, I'd say 6.4% is quite a good yield, especially when based on solid fundamentals, which it is.
Conclusion
In conclusion, I'm still good with W.P. Carey. I, for one, see advantages in W.P. Carey staying in its current form, not the least of which are diversification, economies of scale, and access to capital. In the meantime, W.P. Carey remains undervalued, although not as much as it was before. I continue to recommend this stock to dividend investors.
Disclosure: I am/we are long WPC.
I wrote this article myself, and it expresses my own opinions. I am not receiving compensation for it (other than from Seeking Alpha). I have no business relationship with any company whose stock is mentioned in this article.