So much is happening within the industry that 2016 will most likely be the year when cloud is catapulted into its next stage of growth. In this article, I will try and cover various aspects of how the actions of the biggest tech companies are impacting the overall trajectory of this industry.
Click to enlarge
The Winner of the Cloud War: The Business Consumer
It may sound like a strange conclusion to arrive at, but the cloud war has resulted in the average business consumer benefiting the most of all. The fight between Amazon (NASDAQ:AMZN), Microsoft (NASDAQ:MSFT), IBM (NYSE:IBM) and Google (NASDAQ:GOOG) (NASDAQ:GOOGL) has become so fierce that the industry itself is quickly shifting from an "innovative seller" market to a "discerning buyer" one.
If you've been following my earlier cloud articles, you'll already know that Amazon's AWS has slashed prices over 50 times since its launch; Microsoft is offering free Azure credits for a significant portion of its potential Office 365 customers; and Google Cloud Platform's page is chock-full of how cost effective it is and how it plans to keep passing on price reductions to its customers.
As each year passes, product pricing across the entire gamut of cloud portfolio products is becoming increasingly competitive. While that's great for the average cloud customer, it has successfully created a pricing moat around the cloud business. Not even counting new entrants, even companies like Rackspace (NYSE:RAX) and Oracle (NASDAQ:ORCL) are in the fringes fighting for a peripheral share of the core market, which is still significant enough to keep them in the game, but not enough to make them count in the ranks of prime players - namely, the elite corps of three tech giants and one retail underdog that turned out to be the house favorite.
I call this exclusive group the "Cloud Fource" or "Cloud 4ce," comprising Amazon, IBM, Microsoft and Google - and you'll see me using this term henceforth.
The gates are now officially closed to the competition, and the Cloud Fource are now in open battle mode vying for vast chunks of the cloud industry, which include infrastructure and computing, data management, analytics, applications platforms, Internet of Things (IoT) and, most importantly, developer tools.
Now for the meaty part of this article: Where, exactly, are the Cloud Fource in their respective journeys and what are the synergies that each is leveraging to help them win billions of dollars in top-line revenues.
Amazon
The biggest of the Fource has created a lot of momentum over the past six months. They are clearly at the top of the infrastructure part of the cloud business, and are doing everything they can to keep it that way.
From an efficiency perspective, AWS's operating margin has been topping 20%, so there is significant room for them to keep discounting further below the basement if need be.
But Amazon has been smart about one thing: yes, its blog post proudly announced its 51st price cut, but didn't mention the number of services and features it has been adding every year. When you have a moment, take a look at what's been happening at its AWS re: Invent conferences. In 2014, it had four or five major service introductions; in 2015, it stepped it up a notch. What's significant about these offerings is that they are premium services, and each one the company introduces serves to increase its earnings per client in the long run.
The other major market positioning aspect of AWS is the fact that it's not hard-focused on hybrid cloud solutions - an area where IBM (IBM) is the undisputed leader. It does offer the service, but it's apparent that it's merely trying to fill a gap rather than seriously address that market.
The company's first mandate seems to be to get every client to move entirely to its cloud; hybrid, for all practical purposes, is only an "if not that then" solution. Case in point, AMZN made a significant investment to develop and launch Amazon Snowball, a 50TB storage device that companies can use to upload their data and then ship it to Amazon to move that data into the cloud. Big enterprises have humongous amount of data, easily running into Petabytes (1 Petabyte = 1,000 Terabytes; 1 Terabyte = 1,000 Gigabytes).
Just to show you how much that really is, take a look at this: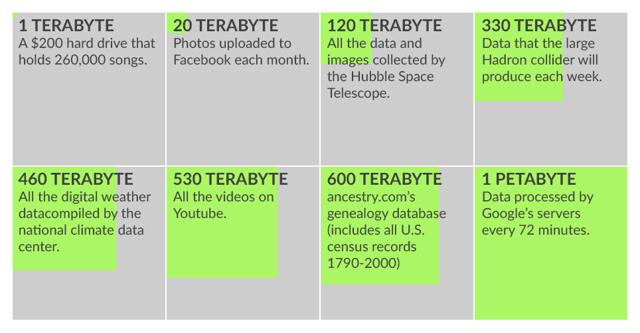 Click to enlarge
If it uses existing infrastructure - a.k.a. the Internet - to transfer its data into cloud, the data transfer alone could easily take weeks or even months.
Enter Amazon Snowball: get a hundred of them, download your data, have it shipped express and easily transfer up to 5PB of data to the cloud in a little more time than it takes to ship the robustly built data boxes to AWS.
What's significant about this product is that it isn't one that you would develop unless you were committed to getting every possible client to move completely to your cloud. What Amazon is trying to do is first get clients to start using its cloud infrastructure based on a deep-discount marketing bid, and then slowly "upsell" high-value paid services so its top-line growth is maintained at the 30% level it's been at for the past few years.
Microsoft
Microsoft recently added BMW (BAMXY) and Toyota (NYSE:TM) to its growing list of cloud clients. With its CEO going full tilt with his "mobile first, cloud first" mandate, Microsoft poses a very clear and present threat to AWS's Cloud IaaS supremacy.
The biggest change that Microsoft has undergone is the way it has started embracing the open source community. If you'd told me a few years ago that Microsoft would soon be offering Linux VMs (virtual machines - the most important unit of a cloud-based infrastructure), I would have thought you'd gone off the deep end. Today, it is reality, and in essence this is a shift of tectonic proportions for Microsoft, and it shows the extent of its willingness to be flexible in order to support the cloud component of its business.
This is a key strategic move that we have to credit Nadella for. If the company had moved in the opposite direction, it would have alienated a huge open source community, thereby handing billions over to its competitors on a golden platter. In that regard, MSFT's renewed focus on nurturing the developer community via its Xamarin acquisition and what it's done with the Universal Windows Platform (UWP) are all tied in with its cloud strategy.
The other major move by Microsoft has been value-bundling. Office 365 has been a massive hit for it, and bundling Azure in the form of free credits for signing up to Office 365 has created a huge synergistic wave of uptake. Some would argue that the uptake has been forced and is, thereby, unsustainable, but giving potential clients a free trial has been proven over and over again to be a highly successful marketing model.
Finally, its renewed focus on nurturing the developer community is great news not only for its Universal Windows Platform, but also its cloud services.
IBM
IBM's addition of SoftLayer to its homegrown IBM SmartCloud was a major move for the 105-year-old corporation in 2013. Since then, the company hasn't looked back and it has been on a buying spree designed to support its cloud business.
The latest of these strategic cloud acquisitions is Bluewolf, a salesforce CRM consultant and one of the top four in the segment along with Accenture (NYSE:ACN), Deloitte and Capgemini.
IBM's main focus is on hybrid cloud, where it allows companies to have their own datacenters but connect them to the IBM cloud, thereby extending its capabilities and adding additional functionality.
IBM's strength has always been enterprises, the kinds of companies that have humongous amount data and, almost without exception, have large data centers. The migration of this data and the legacy code is not at all an easy job, and often not required because it does not solve any basic business problem for the company nor is it cost effective to do that, in many cases.
But transferring the data is only one part of the problem; moving production environments is another major obstacle; and in a significant portion of instances, it's not even possible to get that done without the help of a consulting agency.
IBM is well aware of this weak link in the cloud migration chain, and that's exactly why it is going after hybrid cloud. In essence, IBM is telling big companies:
"Hey, keep your datacenters and your production code as exactly where they are, but connect to our cloud so you can leverage the high-value services we offer. And to make it even more attractive, we will manage the entire process for you."
Of course, IBM has long had the skill capability as well as the technology backbone to make this happen, not to mention the strong security features that reassure large companies that their data is safe from unauthorized access.
There's one other major advantage that IBM offers that none of the Cloud Fource companies can - a transparent data center network. Its 41st data center opened in Milan last year and, since then, it's added another six in the span of 12 months, bringing its footprint to a total of 47 data centers across six continents to power its cloud services.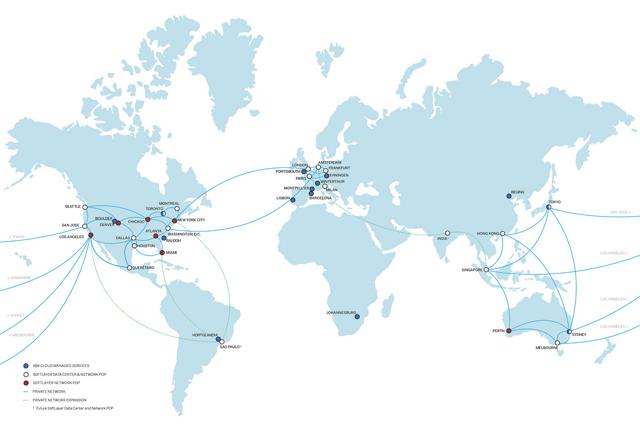 Click to enlarge
One of the biggest differentiators here is that IBM's cloud data centers are not divided into regions or availability zones. This is a significant accomplishment when you look at it from the perspective that it's practically removed the hurdle of regulatory compliance with regard to sensitive data. Once a client is on the cloud, IBM hands over all control to that client; that means the client decides where to put which data. Within the industry, this is currently the most transparent system available, and IBM is the only company that realistically offers this option. There is certainly a measure of control over data within Azure and AWS, but IBM's offering is the only one that hands over total and transparent control to the client.
For convenience, here's a quick look at the number of countries where Amazon, Microsoft and IBM have datacenters. Amazon AWS data centers are located in the United States, Brazil, Ireland, Frankfurt, Singapore, Japan, Australia and China. Microsoft Azure has facilities in the United States, Brazil, Ireland, the Netherlands, Singapore, Japan, Australia, India and China. IBM has data centers in the United States, Canada, Mexico, Brazil, the Netherlands, Germany, England, France, Italy, India, China, Australia, Japan, and now South Africa.
So clearly, in terms of a global cloud data center footprint, IBM has a significant lead, but considering the competition in the space, I don't expect this lead to last long. Google has already announced 12 new data centers to support its Google Cloud Platform, so every company is aware of the need to grow domestically within regions in order to attract local businesses.
The short-term advantages for IBM are significant, but the company needs to capitalize on this head start before the others catch up.
Google
Though late to the Cloud IaaS party, Google seems to finally be getting serious about its place in the cloud. The company has the technology talent, no doubt, and it's no noob to the cloud, having had all its core services based on cloud for several years. But it terms of Cloud Infrastructure-as-a-Service and all the other related cloud offerings the rest of the field is far ahead of it, and it needs to struggle to close the gap.
The company's current strategy seems to be a bit of hit and miss. Honestly, I am not a great fan of it. It is taking the "lowest price possible" route to get non-enterprise clients to climb aboard; and while this happens on one side, it has Silicon Valley's darling Diane Greene directly shopping for bigger clients.
It sort of makes sense, though. At one end, you use your existing contacts and relationships to catch the big fish while you throw a wide price-focused net to catch as many small fry as you can.
It's actually ironic the position it is in right now. With the kind of tech firepower it has under its belly, it should directly challenge all other competitors with its technology superiority and offer as many services and functions possible that can make a developer's job easy. That day may yet come, but only after a few years of getting knocked around because it simply doesn't have a clue as to what enterprise clients need in terms of cloud.
To make a point of that, IBM recently pulled a rabbit out of Diane Greene's hat by announcing a deal with VMware (NYSE:VMW) - the company Greene was once the CEO of. Clearly, VMware felt Google was not in a position to service its needs. It may well have signed up with AWS or Microsoft, but in this case, IBM has run away with bragging rights and a signature deal.
Investor-speak: The Cloud Fource Outlook
These four companies already control more than half the world's cloud infrastructure market, and will continue to penetrate it wider and deeper, leaving possibly a meager 10-20% for the remainder of cloud providers at the end of a few years.
I see Amazon, IBM and Microsoft running away with the market for several quarters, and Google pushing constantly until it catches up. By that time, The majority of the world's enterprises will either be on IBM's or Microsoft's hybrid cloud model, AWS's service-rich environment, or hitching a ride with GCP. The fast growth in the small- to middle-sized businesses will be where sustainable growth comes from; ironically, the other three of the Fource have a head start on Google in that space even though GOOG probably has the largest client base in that segment via its ad networks.
In the end, each company will naturally play to its strengths, so that's what we'll see reflected in the market distribution as this industry approaches adolescence. Enterprise players will naturally gravitate towards either IBM or Microsoft; a significant portion of SMBs will prefer Amazon; and Google, if it taps into its advertiser network to push GCP's agenda, can seriously rival AWS in the SMB segment.
On that front, I think we will see several key acquisitions coming along over the next few years, because, as the industry consolidates, the Cloud Fource will only look to get stronger and stronger in areas that they have identified as weak points in their defensive armor against the competition.
Finally, from an investor viewpoint, what we'll need to keep a watch over is how their cloud revenue composition changes from quarter to quarter. That will give us a clear indication of whether they are only playing to their strengths, trying to play catch up in their weak areas or attempting to find the right mix of both.
Cloud revenues that are counted in the range of 1 to 10 billion dollars now, will soon be counted in 12-digit figures as the Fource convert business after business into cloud-empowered companies.
That's why investors need to look for BUY opportunities in Cloud Fource and be ready to pounce when they spot them. The industry is growing; the Fource is growing; so why not your portfolio?
Please follow me for the most relevant studies in cloud and other technology areas - and much, much more.
Disclosure: I/we have no positions in any stocks mentioned, and no plans to initiate any positions within the next 72 hours.
I wrote this article myself, and it expresses my own opinions. I am not receiving compensation for it (other than from Seeking Alpha). I have no business relationship with any company whose stock is mentioned in this article.