Caterpillar (NYSE:CAT) has been hit hard by low prices for most basic materials and resources, which led to lower buying activity from mining companies and pressured Caterpillar's sales. The company's shares are up substantially over the last weeks nevertheless. I'll try to examine what could be the best move for Caterpillar's shareholders.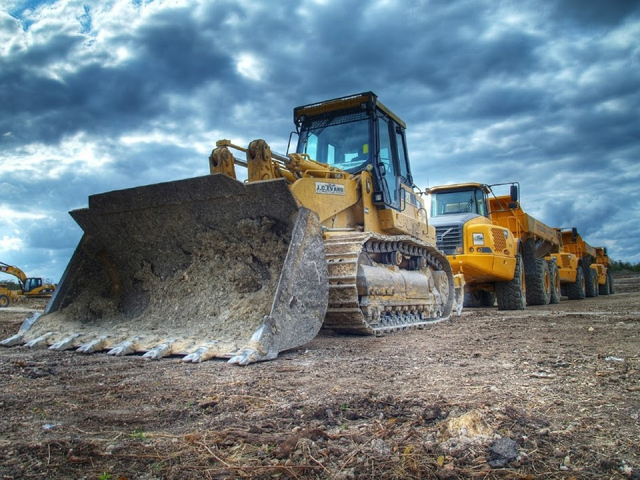 Over the last years Caterpillar has seen steadily sinking sales numbers, which not only pressures the company's top line, but also its bottom line: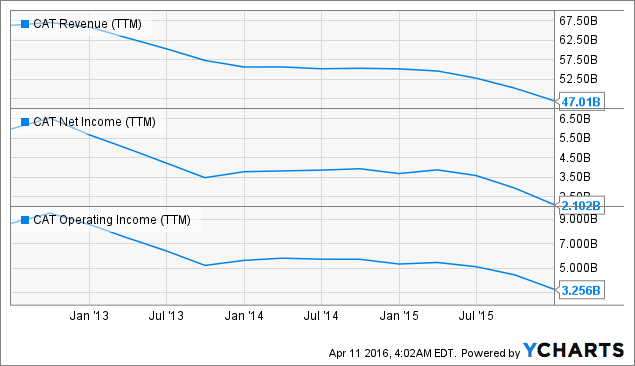 From the highs seen in 2012 Caterpillar's revenues have declined 30% to $47 billion, the company's operating and net income have declined by an even steeper 64% and 62% over the same time (to $3.3 billion and $2.1 billion, respectively). The reason is relatively easily found, Caterpillar's retail sales have dropped continuously since then: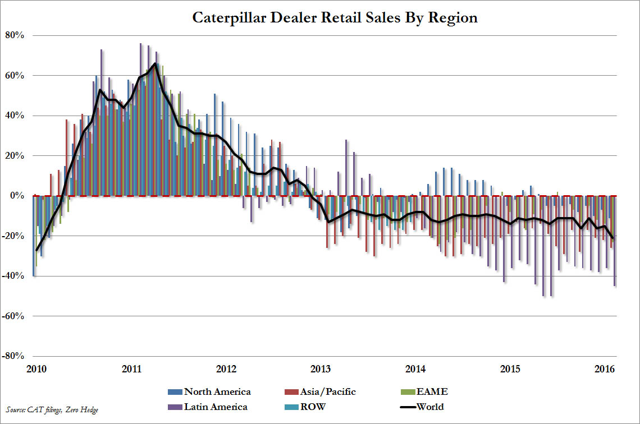 Since the end of 2012 Caterpillar has not seen one single month of positive retail sales growth, the decline rate has averaged about 10% since, and recently has dropped even lower (reaching a 21% decline in February). This obviously is not good for Caterpillar at all, since lower retail sales lead to declining revenues and net income, as we have seen over the last years.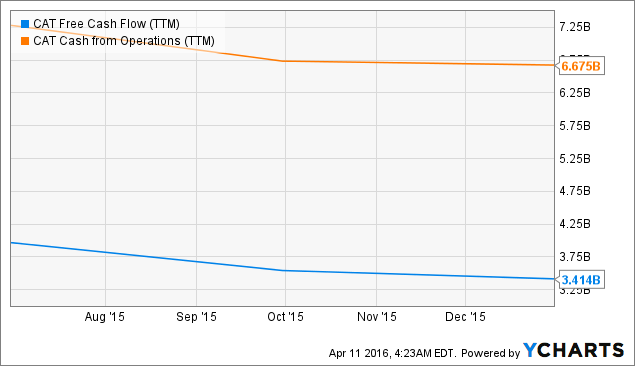 Caterpillar's cash flows have been more resilient than its earnings, with operating cash flows still coming in at $6.7 billion for the last year and free cash flows still totaling $3.4 billion for the same time (a lot higher than operating earnings and net income, respectively), but the company's cash flows are in a downwards movement as well. With annual dividend payments of $1.8 billion, Caterpillar's dividend is still well covered by the company's free cash flows, but future dividend increases are getting less likely. Caterpillar will not be able to grow its dividend by 12% annually when its cash flows continue to sink.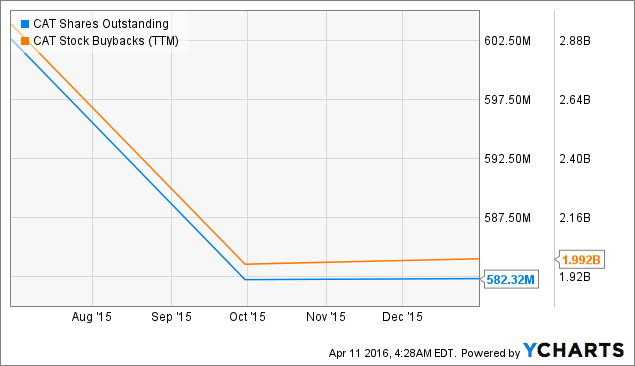 Due to free cash flows declining Caterpillar has also cut back on its share repurchases, the annual buyback pace dropped from $3 billion not long ago to $2.0 billion for the last twelve months. Since the company's share count does not decline at a high pace anymore, one of the main contributors to a high dividend growth rate is taken out of the equation, which makes it even more complicated to grow the dividend further (since it is easy to grow the dividend as long as the share count is sinking, since the two offset each other and lead to a stable total payout).
Caterpillar's dividend still looks safe, due to free cash flows still being higher than the total dividend payout and Caterpillar's sizeable cash position, but it is unlikely investors will see a lot of dividend growth anytime soon. The 4.1% dividend yield investors get right now is not bad at all, but may not be a good enough reason to hold for some, since the potential for dividend growth and capital appreciation is rather small.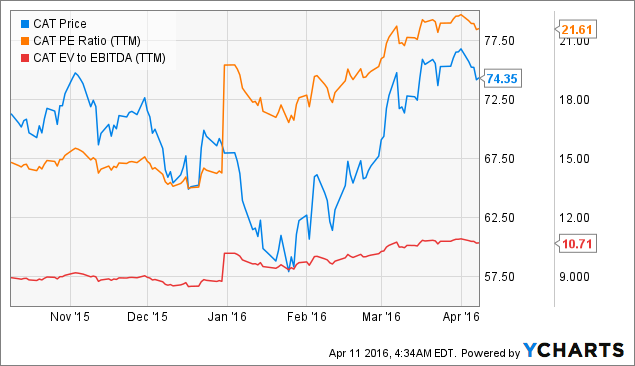 Caterpillar's shares have not performed too bad over the last six months, the company's share price is up a couple of points, but this was based on multiple expansion purely. Caterpillar now trades at 21.6 times earnings and 10.7 times EBITDA, which is a substantially higher valuation than the company was valued at six months ago (when Caterpillar's P/E ratio was 15). I don't think further multiple expansion is very likely, since it does not make a lot of sense to pay above market prices for a company whose sales and earnings keep declining for years. In January, at $60, Caterpillar's shares were attractive, but right now, more than 20% above that level I don't see a lot of reasons to enter this stock right here, especially since the operational performance has gotten even worse since Caterpillar saw its lows in January (retail sales dropping at the highest pace so far in February).
So what should investors do regarding Caterpillar? I don't think Caterpillar is a buy at the current price, but I don't think it is a short either - shorting a company with a 4.1% dividend yield is very expensive, I wouldn't do that. Depending on what you want from your investment, Caterpillar either is a hold (if you are focused on income generation and the current level of income is high enough for you, since dividend growth is unlikely over the next years), or could be sold, if you are interested in dividend growth or capital appreciation (since both are rather unlikely if Caterpillar does not see a meaningful reverse in its sales trends).
Takeaway
Caterpillar faces rough times, its income has been cut by two thirds over the last years and its revenues have dropped by 30%, but I believe the company's dividend remains safe (covered by free cash flows and a sizeable cash position). Dividend growth is less likely though, and capital appreciation will very likely be limited as well, since Caterpillar already trades at a high valuation for a company that reports declining revenues and earnings.
Disclosure: I/we have no positions in any stocks mentioned, and no plans to initiate any positions within the next 72 hours.
I wrote this article myself, and it expresses my own opinions. I am not receiving compensation for it (other than from Seeking Alpha). I have no business relationship with any company whose stock is mentioned in this article.