The S&P 500 (NYSEARCA:SPY) dropped over 20 handles last Thursday, but bounced back with a vengeance on Friday, with the marketing opening 17 handles higher. If we look at a chart, we can see that the 5-day RSI indicator still hasn't reached oversold levels, which is a requirement for a true daily cycle low. In fact, if we break above 2,064 on the S&P, the likelihood is that we will not get a true daily cycle low, which brings the odds of a runaway move definitely into play. If this is the case, valuations become far less important, as stocks which are presently overvalued (compared to historical means) will simply keep grinding higher and higher every month. In fact, runaway moves can last for at least 12 months from the moment they are detected, so risk to the downside continues to be small, in my opinion, especially considering central banks' easing measures.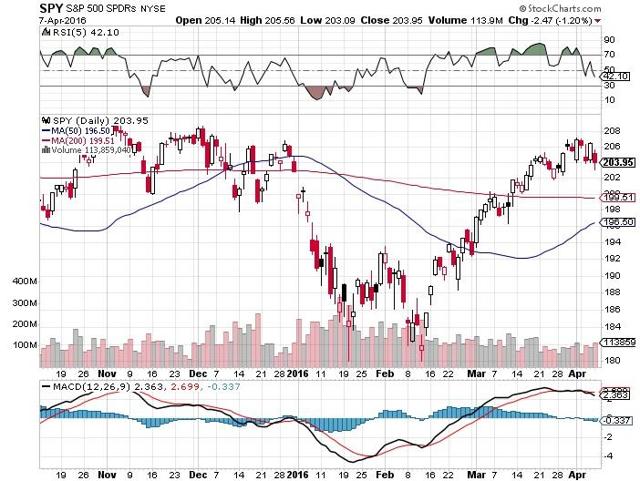 Click to enlarge
The one thing that the bears won't like is that normally, daily cycles in the stock market run for around 40-45 days. We are on day 39, so the market is running out of time to both reset sentiment and trade at oversold levels. Furthermore, crude oil prices are going to act as a major tailwind for the equity markets, as they have recently completed their own daily cycle low and are now rallying hard (trading at $39.36 per barrel of crude as I write). This is why I reiterated my call for buying the biotech sector in one of my previous articles. Hess (NYSE:HES), another pick of ours, is also rallying strongly on the back of rallying oil prices. We will hold this position for a least a month until oil's new daily cycle tops out.
If we look at our portfolio, we can see that it is now almost $108,000, but our weakest position is Mosaic Company (NYSE:MOS), which is down over $800 from our initial buy-in price. However, I would urge my followers not to sell this position, as its fundamentals and its valuation metrics are just too attractive to even entertain the idea of selling this position at this point.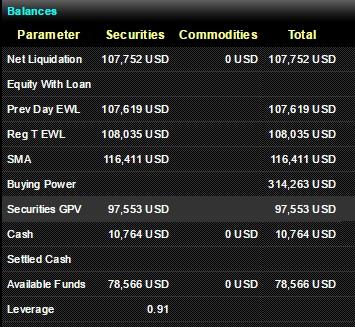 If we look at Mosaic's technical chart, we can see that the 5-day RSI indicator is approaching oversold levels. We might test the 2016 lows, but we should get a bounce here pretty quickly. Furthermore, you can also see how volume has increased over the last few weeks, as value investors seem to becoming more and more interested in a stock that is significantly oversold.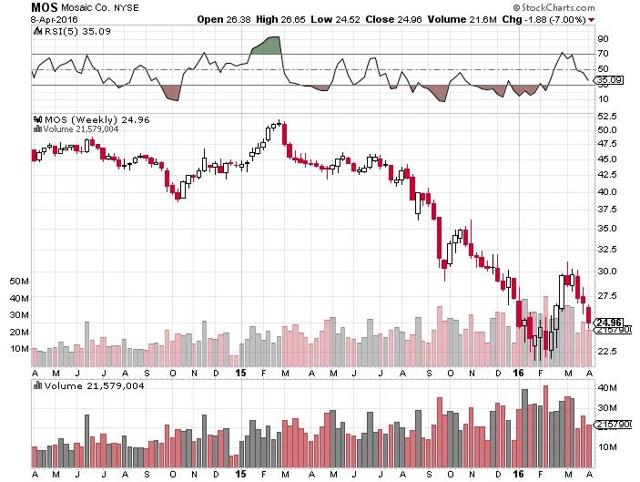 Click to enlarge
If we look at the second chart against the Global Commodity Equity ETF (NYSEARCA:CRBQ), we can see that there's a strong correlation of the stock with the CRB index over the long term. The CRB index contains a basket of commodities, with oil by far having the largest weighting. However, since the start of the year, the CRB index has outperformed Mosaic significantly, and with oil just having started a brand new cycle, commodities in general should see higher prices over the next few quarters and Mosaic should follow.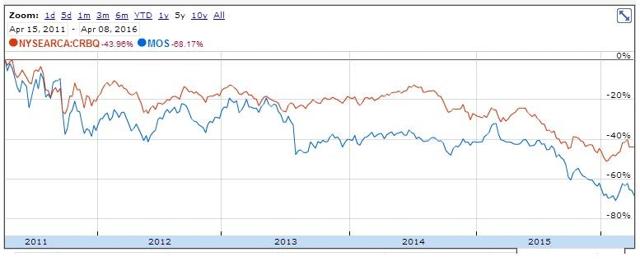 Click to enlarge
Thirdly, with the yield now having spiked to 4.41%, I would urge my followers to invest this dividend back into the stock, as the dividend has rarely been higher. Mosaic's financials shows that its dividend is ultra-safe, as the company's debt-to-equity ratio is only 0.4, and its price-to-cash flow is a very attractive 5.0. Furthermore, when you combine the company's dividend strength with its share buybacks (float has declined rapidly in recent years to 350 million), more downside in Mosaic stock is limited, in my opinion.
To sum up, I believe crude oil may be starting a brand new daily cycle, which should move the needle for commodities. I'm going to be adding a few good dividend and growth stocks to the elevation portfolio over the next several weeks, when I see value. It's imperative that they are not correlated and all don't have similar valuations, to ensure that income is brought in every month, which, over time, will increase our share count. Follow along by pressing the "Follow" button above.
Disclosure: I am/we are long MOS, WDC, WMT, IBM, SSRI, GDX, AXP, EMR, IBB, HES, CSCO, CVX.
I wrote this article myself, and it expresses my own opinions. I am not receiving compensation for it (other than from Seeking Alpha). I have no business relationship with any company whose stock is mentioned in this article.