I was looking for an investment opportunity to take advantage of the aging population (baby boomers) and here is what I found.
Background
Senior Housing Properties Trust (NYSE:SNH) owns 428 properties with 451 buildings. SNH mainly operates two business segments, which are Medical Office Buildings (MOBs) and senior living facilities. Their property locations are in 43 different states. Within the senior living facilities, they operate 3 different structures: Independent living Communities, Assisted Living Communities, and Skilled Nursing Facilities (Please see Pg 1 of 10-K for a little more detail). The majority of their revenue comes in from a private-pay structure. This brings limited exposure to government reimbursements. They are considered a diversified REIT because of their property mix.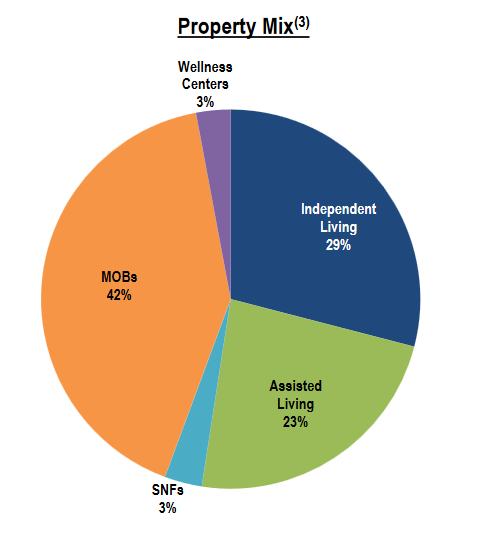 Source: Senior Housing Properties Trust Presentation
Consensus concerns?
The three main concerns that are keeping the company's share price down are that it's externally run by an outside management company, RMR Group (NASDAQ RMR), high concentration of revenue comes from Five Star Quality Care (NYSE FVE), and higher debt ratios compared to peers.
Of course, it's not my preference that SNH is managed by an outside company, but RMR Group appears to be trying to address some concerns shareholders might have. Management has decreased the revenue concentration from FVE substantially in the past two year. On the 3/31/14 financial report, FVE had a 37% revenue concentration (See Pg 28 of report) and today, it's around 27%.
SNH does have higher debt ratios compared to peers, but I do see management trying to strategically manage their leverage. The closest debt maturity that is large is coming in 2018, which will probably be repriced (See pg 15 of presentation). Also, on the most recent earnings call, management said this:
In summary, we're very pleased with the performance and quality of our portfolio. We remain very selective and disciplined for the remainder of the year, given that cap rates continue to be compressed across the healthcare spectrum. Our focus is on furthering our relationships with existing operators, continuing to seek internal growth opportunities, including expansions and renovations at our communities and other opportunities to enhance investment returns while maintaining a strong balance sheet.
This leads me to believe there will be very few acquisitions in 2016 and hopefully lowering their debt levels.
Dividend and Peers Analysis
FFO in 2015 came in at $1.84. The current dividend yield for SNH is around 8.8% or $1.56 and with an 85% payout ratio, I believe it's safe while we wait for the current market price to appreciate. The current yield is one of the highest in the Healthcare REIT sector, which protects us from downside risk. A lot of REITs are becoming over-inflated with low dividend yields, due to investors searching for yield while the Fed keeps interest rates low. Below is a comparison of how SNH compares to some peers. Even though Realty Income Corp. (NYSE O) is not in the same REIT industry, I wanted to show how some REITs are becoming overvalued.
| | | | |
| --- | --- | --- | --- |
| Company | EV/EBIT | Yield | P/B |
| Senior Housing Properties Trust | 27.5 | 8.8% | 1.25 |
| Welltower Inc. (NYSE:HCN) | 34.4 | 4.8% | 1.81 |
| Ventas Inc. (NYSE:VTR) | 40.1 | 4.8% | 2.18 |
| Realty Income Corp. | 40.3 | 3.7% | 2.57 |
Data Source: Gurufocus.com
As we can see, SNH trades lower in a lot of valuation metrics compared to peers, which creates a great risk/reward proposition. Operating cash flow has been growing, while share price has been decreasing in the past year.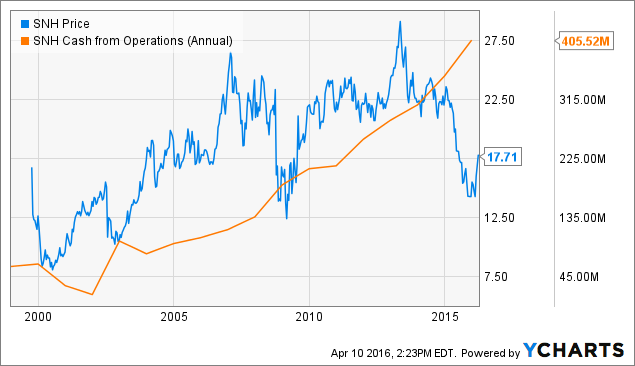 SNH data by YCharts
Baby Boomers and Concluding Thoughts
With the demand growing everyday for senior housing and millions of baby boomers retiring, Senior Housing Properties Trust offers a compelling valuation.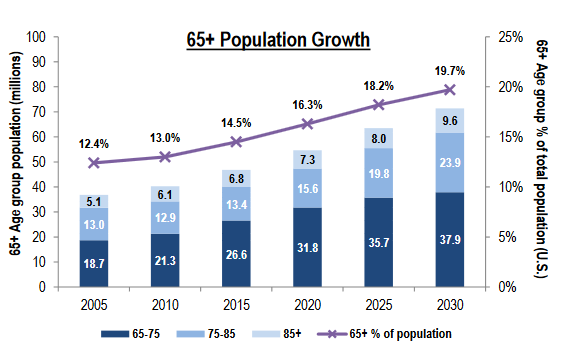 Source: Senior Housing Properties Trust Presentation
I see a margin of safety in an overheated REIT sector that offers a large dividend yield. For longer-term value investors and dividend investors, this is a good buy at today's price.
Disclosure: I am/we are long SNH.
I wrote this article myself, and it expresses my own opinions. I am not receiving compensation for it (other than from Seeking Alpha). I have no business relationship with any company whose stock is mentioned in this article.