After a tremendous run on the stock market in the first half of the year, where shares appreciated in excess of 14%, Freeport-McMoRan (NYSE:FCX) has started losing some ground of late. In fact, April has been a difficult month for Freeport investors so far with the stock down almost 10%. This weakness in Freeport shares so far this month can be attributed to the recent weakness in copper prices, with the metal witnessing the biggest decline in its price since January.
Last week, copper prices dropped the most in a week since the year began, driven by fears around weakness in Chinese demand. Moreover, a strike at Freeport's Cerro Verde mine has curtailed production, which is again bad news for investors since the mine is seeing rapid production growth and can deliver strong margins due to its high-grade nature.
But, I believe that Freeport will be able to arrest the decline in its stock price as the month progresses, driven by its upcoming first quarter results in the next couple of weeks. Let's see why.
Why Freeport could exceed expectations
In the first quarter, analysts expect that Freeport will post a decline of 16.3% in revenue to $3.47 billion, while its loss will triple to $0.19 per share. Now, this is not surprising since copper prices are currently at lower levels than the year-ago period. However, if we take a look at how Freeport could perform on a sequential basis, things start looking up for the company.
In the fourth quarter, Freeport beat the bottom line estimate by posting a loss of just $0.02 per share while the expectation was for a loss of $0.13 per share. Additionally, it had posted revenue of $3.8 billion. Now, as compared to the fourth quarter of 2015, copper prices improved in the first quarter of 2016. This is shown in the chart below: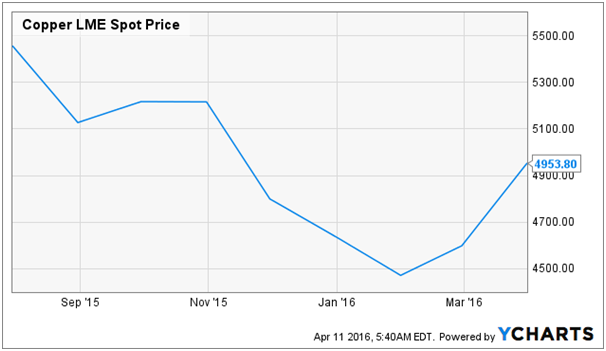 As shown in the chart given above, copper prices started declining from October last year and the drop continued until the end of December. However, from the middle of January, the price started picking up pace, ending the quarter at a stronger level than the preceding one. As a result, it won't be surprising if Freeport is able to post a smaller-than-expected loss once again.
I'm saying this because, as mentioned earlier, analysts expect Freeport to post a loss of $0.19 per share in the first quarter, while it had posted a loss of just $0.02 per share in the previous quarter. Since then, copper prices have picked up pace, so the decline in Freeport's top line will be minimal on a sequential quarter basis. Therefore, a better-than-expected bottom line performance once again will help Freeport arrest the recent slide in its share price.
What next for Freeport?
Thus, it is quite likely that Freeport will post impressive results later this month due to the resurgence in copper prices. More importantly, in the long run, I believe that this trend of improving copper prices will continue, even though there has been some softness of late. This is because the dynamics of the copper market favor an improvement in copper prices in the long run.
Moreover, even though there have been concerns about copper demand from China, the numbers speak otherwise. For instance, copper imports into China increased 50% in February from the year-ago quarter and stayed almost flat as compared to January. When combined, China's copper imports in the months of January and February were up over 23% year over year. This increase in China's copper imports has been a primary factor behind the increase in prices so far this year.
Going forward, I won't be surprised if China's copper imports continue to remain strong since the stimulus measures undertaken by the government over the past few months seem to be working. According to the People's Bank of China, lending in the country has picked up pace on account of the six interest rate cuts that have been executed in the past eighteen months. In fact, in the month of January, China's aggregate financing came in at $525 billion, or 3.42 trillion yuan, as compared to the analyst forecast of 2.2 trillion yuan.
The strength in lending is a result of favorable policies undertaken by the Chinese government, such as bringing bad loan coverage ratios near the bare minimum requirements. As a result of such moves and the increase in lending activity, the investment in China's infrastructure spending will pick up pace, which will eventually drive copper demand given the wide variety of uses of the metal.
For instance, in the telecom sector, China will continue to invest aggressively to develop its 4G and fiber network to bring it up to international standards and increase connectivity. According to a report by RCR Wireless:
"Per the plan, construction of LTE and fiber-optic networks will be accelerated; more than 80 million homes and 10,000 villages will get hooked up to fiber in 2015, and an additional 14,000 villages will receive broadband coverage. Planned spending is projected at around $69 billion this year, and an additional $112 billion over 2016 and 2017.

"By the end of 2017, all households in locations above prefecture level will have access to 100 [megabit per second]fiber-optic networks, over 80% of villages will be covered by fiber-optic networks, all cities and villages will be covered by 4G networks, and broadband speeds in municipalities and provincial capitals will reach 30 Mbps," the State Council stated."
Considering that copper is the most used metal in the telecommunications sector, the consumption of the metal will increase in China going forward and help prices remain strong, especially as supply declines. It is expected that the copper market will turn to a deficit this year, according to the International Copper Study Group. The ICSG forecasts that copper demand will increase 4% this year in China and 2% across the rest of the world, while refined copper production will increase at a slower pace. This is shown below: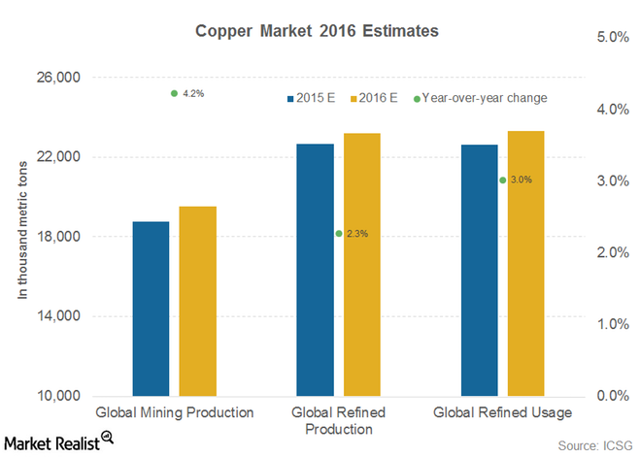 Click to enlarge
Source: Market Realist/ICSG
Thus, due to an increase in demand and lower supply, copper prices should continue to improve in the long run and this is good news for Freeport investors since the stock has made the most of an increase in copper prices so far this year.
Conclusion
The recent decline in Freeport's stock price looks like a temporary blip. Once the company posts robust first quarter results, the slide in its stock price should end. Additionally, since the price of copper is expected to continue improving in the long run due to favorable demand and supply dynamics, Freeport's rise will continue. So, in my opinion, it will be a good time to buy more Freeport-McMoRan shares and take advantage of the weakness in its stock price.
Disclosure: I/we have no positions in any stocks mentioned, and no plans to initiate any positions within the next 72 hours.
I wrote this article myself, and it expresses my own opinions. I am not receiving compensation for it (other than from Seeking Alpha). I have no business relationship with any company whose stock is mentioned in this article.