Relypsa (NASDAQ:RLYP) surged more than 60% last week on renewed buyout rumors. The same thing happened last year and its share price went up and back down in a matter of weeks, though the move down was helped by the sector meltdown in the first two months of 2016. Reuters said that Relypsa is exploring a sale following overtures from a number of potential buyers and that the company is working with investment bank Centerview Partner Holdings LLC to review offers.
Given the strong interest in ZS Pharma and its acquisition by AstraZeneca (NYSE:AZN) last year, I am not surprised to see the resurfacing of these speculations and think that the rumors are most likely true. However, I am not that certain that a deal will be announced in the near term. The PDUFA date for ZS-9 is approaching and a buyer is not likely to step up before we see what ZS-9's label will look like (since I think that the approval is almost certain).
I remain bullish on Relypsa despite the 60% surge and believe that the company is worth more than $22. I haven't sold a single share yet. The stock remains a long-term holding in one of my Growth Stock Forum portfolios, and in this article, I will discuss the potential buyout price and who might step up and acquire the company.
Why is Relypsa an attractive takeover target?
Veltassa is the first FDA-approved treatment for hyperkalemia in over 50 years and "nephrologists report a high unmet need with a large pool of patients who would be considered candidates for Veltassa," according to Spherix Global Insights, which conducted a survey with 101 U.S. nephrologists in January 2016. Spherix Global Insights notes that unaided awareness of Veltassa was high prior to launch, that 20% of surveyed nephrologists have prescribed Veltassa to at least one patient and that 17% report that they intend to start prescribing "right away."
Drug-drug interaction was the main concern for nephrologists but the survey was done prior to Relypsa's updated information on DDI, which suggested that a shorter dose separation is possible. I think that a follow-up survey following the new DDI results will show diminished concerns about DDI and that the potential black box warning removal and an updated label might positively impact Veltassa's uptake in 2017 and beyond.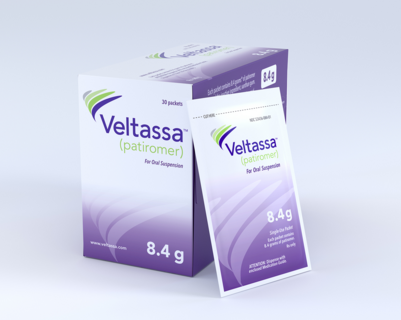 Image source: Relypsa
There are around 3 million patients in the U.S. who suffer from high levels of potassium and the current standard of care, Kayexalate, is not considered to be effective for long-term treatment and has severe side effects, including death of intestinal cells and GI bleeding. Veltassa's better binding capabilities and tolerability make it a much better choice than Kayexalate and should lead to solid uptake over the next few years.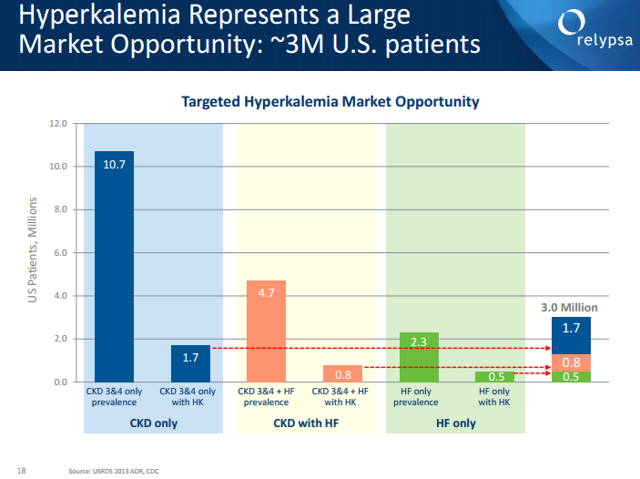 Source: Relypsa investor presentation
Analyst U.S. peak sales estimates are around $1 billion and worldwide sales could reach $2 billion in 2020s. ZS-9 is the largest threat and its approval and a potentially better label (which I doubt will happen, but wouldn't exclude it) are the potential hurdles for Relypsa when it steps up to the negotiating table with potential buyers.
Who are the potential buyers?
There are a number of buyers that may be interested in acquiring Relypsa:
Sanofi (NYSE:SNY) is already promoting Veltassa and would be a natural buyer given its presence in the space.
Merck (NYSE:MRK) was said to be interested in buying Relypsa back in December 2015.
Actelion was interested in purchasing ZS Pharma and was willing to pay $2.5 billion, but lost to AstraZeneca, which was willing to pay $2.7 billion. Actelion may turn to Relypsa to get exposure to the hyperkalemia market.
I should also note that were four other potential bidders for ZS Pharma, besides Actelion and AstraZeneca.
Fellow contributor Bret Jensen thinks that GlaxoSmithKline (NYSE:GSK) is a potential buyer and that Pfizer (NYSE:PFE) and Allergan (NYSE:AGN) "should both be on the prowl to build out their pipelines now that the government has kiboshed their $150 billion merger."
What are analysts saying about the deal and the upside potential?
The consensus price target is $42 and most of the analysts speculate that the takeover price should be above that level - the average takeover price estimate is around $53. Citi has the lowest price at the bottom of the range ($33 per share), but I think that the rationale for the low end of the range does not make sense since ZS Pharma's share price was near all-time highs when the takeover was announced. The estimate also completely disregards the value of the company as it just slaps a premium on the current price based on the ZS Pharma deal.
As I mentioned in the introduction, I haven't sold a single share and think that the company is worth more than $22. I would consider taking partial profits if/when the price crosses $40 per share. However, I believe that a takeover will not happen in the near term. I doubt that a buyer would step up before ZS-9's PDUFA date on May 26. This is the most significant near-term event for Relypsa as it will show the strength of its main (and perhaps the only real) competitor in the hyperkalemia market.
My long case for Relypsa assumes that ZS-9 will get approved, so I am prepared for that and expect that both companies will carve out their share of the market. Veltassa's success will be somewhat dependent on ZS-9's label. Will it get a black box warning similar to Veltassa's? What will the FDA say about the drug's safety - specifically about peripheral edema and hypertension (and the high threshold of 180/105mmHg)?
I think that Veltassa will not have an inferior label to ZS-9, especially if the label gets updated later this year. My base case is a similar label with no significant advantages for either product and the bullish case is a better label for Veltassa based on an updated and improved label (without a black box warning) compared to a ZS-9 label with a black box warning.
Capital raise and Veltassa uptake remain the largest standalone risks
I mentioned in my previous article that a capital raise and Veltassa uptake remain the largest risks for Relypsa. Stifel mentioned that the company will likely need up to $500 million in additional financing before it gets to cash flow break-even. The company did mention that it has options other than public markets, but looking at recent capital raising in the space (Anacor's (NASDAQ:ANAC) convertible notes, Sorento's (NASDAQ:SRNE) substantial dilution at a very low price), favorable terms are not that likely.
I think that the best case is $200 million to $300 million in additional financing which translates into 20% to 30% dilution if done at the current price. If Relypsa is to do an Anacor-like convertible offering, the convert price might be in the $30 to $33 range and would reduce the dilutive effect of a pure share offering.
The next near-term catalyst for Relypsa is the March prescriptions report. Anything below 1,000 scripts (excluding the free starter supply scripts) would be a major disappointment. I expect 1,000 to 1,500 scripts in March and between 2,400 and 3,000 if free starter scripts are included.
Conclusion
Relypsa remains well positioned to capture a large part of the hyperkalemia market. I haven't sold a single share and would consider taking partial profits if/when the stock hits $40. I do not believe that an acquisition will materialize before ZS-9's PDUFA date - in fact, I do not think it is likely to happen in the next 3 to 4 months. I would not rely too much on takeover rumors and think that it is not necessary to get significant long-term gains.
I think we should focus on monthly prescription data and wait for ZS-9's PDUFA date to get a better grasp on the competitive landscape. I doubt that Veltassa's label will be inferior to ZS-9's and think that both drugs have a good chance to be successful and capture a solid chunk of the market in the following years.
Disclosure: I am/we are long RLYP.
I wrote this article myself, and it expresses my own opinions. I am not receiving compensation for it (other than from Seeking Alpha). I have no business relationship with any company whose stock is mentioned in this article.
Additional disclosure: This article reflects the author's personal opinion and should not be regarded as a buy or sell recommendation or investment advice in any way.