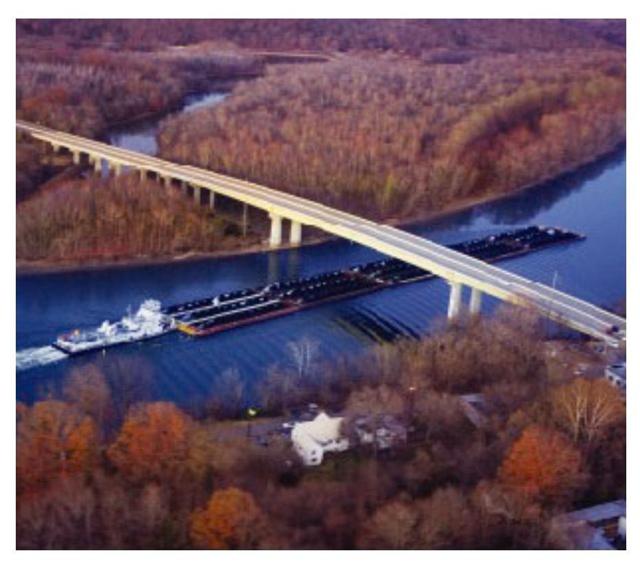 Click to enlarge
In a previous article, I wrote in detail about the Energy Equipment Group, a segment operating within Trinity Industries (NYSE:TRN), a well-diversified provider of railcars, railcar leasing, and other operations located here in the U.S. In it, I spoke about the quality of the segment but did not delve at all into the company's other segments. For the purpose of being as comprehensive as possible, I've decided to write this piece, which highlights another important segment of Trinity; its Inland Barge Group.
A look at the industry
According to The American Waterways Operators, the barge industry is a large and vital part of the U.S. economy. Their estimates place the total number of barges within the country at more than 27,000 units. These barges, which are very diversified in terms of size and function, haul a variety of goods through America's waterways, including agricultural products, petroleum, coal, chemicals, sand, stone, and cement. In fact, it has been estimated that petroleum transportation, at 27.7% of total barge tons (244 million of the 880 million tons of total domestic cargo hauled each year), makes up the largest source of demand for these vessels.
From an economic standpoint, these vessels make a lot of sense in a high energy price environment because the cost of transporting them doesn't change as much as, say, semi-truck trailers. On top of this, the average barge capacity is about 15 times greater than one railcar, so they are perfect for transporting large quantities of commodities. According to Trinity Industries, of the 17,900 hopper barges that exist, roughly 19% (or 3,357) of the units are greater than 20 years old. The same applies for 27% (or 933) of the units classified as tank barges. The only major downside to all of this is that the industry doesn't seem to be growing; over the past decade, the number of units scrapped have been roughly the same as the number of units that have been delivered.
Trinity has a nice business model here
Although the barge industry doesn't seem to be growing in any real way, Trinity has created for itself a nice section of the market. In the graph below, for instance, you can see what the overall trend has been for Trinity's operations under this segment for the past several years. In 2015 alone, the business's segment attracted sales worth $652.9 million. This represents an increase of 13.2% over the $576.7 million the segment reported just two years before that. While this is nice to see, however, the overall sales growth of the segment has been next to zero on an annualized basis since at least 2008, driven by the nature of the industry combined, likely, with the effects of the last financial crisis the U.S. went through.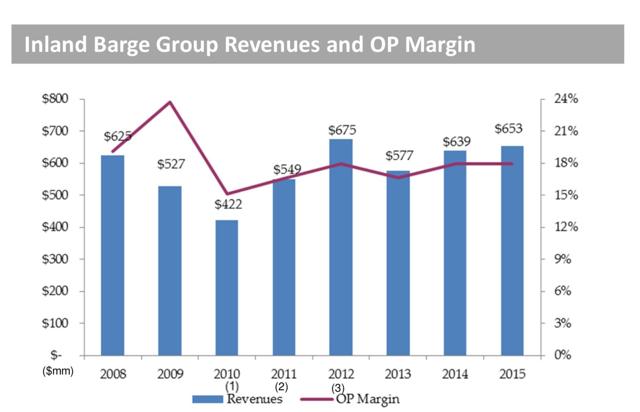 Click to enlarge
While sales growth is anything but impressive, there are some very redeeming features that investors should pay attention to. First and foremost is the profitability involved. In Trinity's annual report, it mentioned that operating income during 2015 came out to $117 million. This works out to an operating margin of 17.9%, the same level seen off of sales of $638.5 million and operating income of $114.4 million a year earlier and slightly better than 2013's margin of 16.6%. This kind of strong profitability has held true for many years now.
Besides the profit margin, the return on assets for the segment is also very, very nice. In 2015, this number (again, using the company's segment operating margin) came out to a hefty 74.2%, higher than 2014's 64.6% and well above the prior year's 56.4%. To top it off, Trinity has had to invest next to nothing in this segment to keep it operating. During the past three years, total capital expenditures came out to $33.9 million, only $5.8 million of which was spent last year. This could serve as a warning since it is possible that underinvestment now will eventually require larger investments down the road, but that is not a guarantee and is certain to be more of a long-term issue than one present in the next year or two unless something in the industry changes drastically.
The one downside I can think of regarding Trinity's Inland Barge Group is the fact that the commodity mayhem hitting the U.S., as well as many nations abroad, has created significant short-term problems for the segment. If management is correct, the massive drop in segment backlog seen year over year will likely result in sales coming in around $445 million this year, with the operating margin being a paltry 10% ($44.5 million). This is certainly lackluster but, as we saw in that graph above, the company was able to weather the financial storm that hit nearly a decade ago and its segment eventually rebounded. Such will almost certainly be the case this time around as well.
Takeaway
At this moment, many investors are very pessimistic about Trinity and it is due to two reasons. The first is that it fears the company will lose a rather large lawsuit related to one of its other segments (it has already lost but is appealing it) and the second is because of the energy market downturn, which has hurt demand not only for railcars but for the company's Inland Barge Group as well. However, if it's one thing that Trinity has proven time and again, it's that the company's segments are very high quality and that this quality will ultimately come back as the forces that drove the industry down will also bring the industry back to its former glory.
Disclosure: I am/we are long TRN.
I wrote this article myself, and it expresses my own opinions. I am not receiving compensation for it (other than from Seeking Alpha). I have no business relationship with any company whose stock is mentioned in this article.