American multinational car and truck maker General Motors (NYSE: GM) is slated to release its next set of quarterly numbers on April 21. The stock hasn't been an investors' favorite as it has disappointed for the past couple of years, losing its market share inch by inch. And the upcoming results might not give 'enough' positive surprises to reinvigorate the enthusiasm in the stock.

In the General Motors 2016 Deutsche Bank Presentation, Chairman and CEO Mary T. Barra urges that GM is a compelling investment opportunity.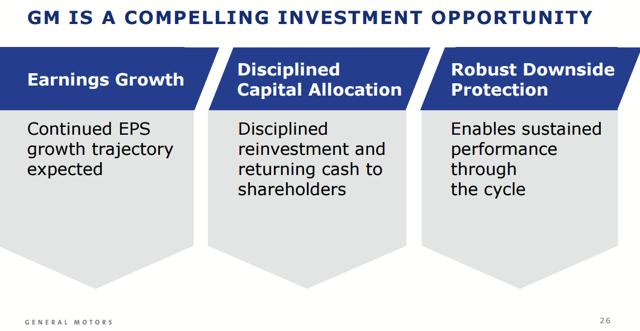 From a basic view, with a P/E of 5 and a dividend yield of 5.18%, General Motors looks like an attractive buy. The share repurchase program under which the management has announced its plan to return free cash flow to shareholders by purchasing $9 billion worth of shares from 2015 to 2017 is another positive. As of February 1, 2016, the Company had purchased 102 million shares of outstanding stock for $3.5 billion, leaving $5.5 billion for the rest of the period.
The dividend payout is on a rise, and the trend is expected to continue, making it worthwhile for dividend-income investors.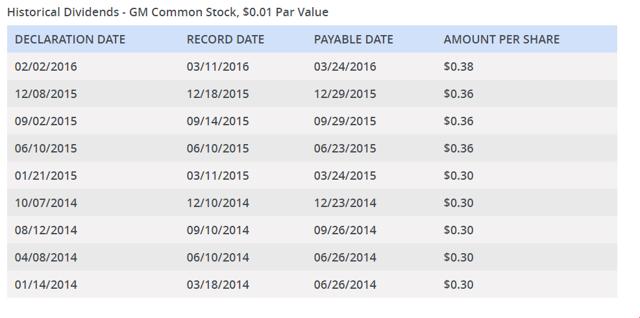 Another thing that is slowly and steadily working for General Motors is that it is beginning to gain more ground in China, led by stronger traction in the SUV and luxury segments. For the month of March, Buick Envision SUV deliveries went up 85 percent on a YoY basis. Cadillac deliveries were up 14 percent compared to the previous year. From now until the end of 2020, GM and its JVs plan to roll out more than 60 new models, including 13 this year. The focus will remain on SUVs, MPVs and luxury vehicles.
That the management is focused and serious about China's market can be ascertained from this paragraph in the Company's latest Annual Report. No other market has bagged this kind of attention from the management in the entire 10-K.
We view the Chinese market as important to our global growth strategy and are employing a multi-brand strategy, led by our Buick and Chevrolet brands. In the coming years we plan to increasingly leverage our global architectures to increase the number of product offerings under the Buick, Chevrolet and Cadillac brands in China and continue to grow our business under the local Baojun and Wuling brands with Baojun seizing the growth opportunities in less developed cities and markets.
But I am a bit concerned about the Company's non-serious attitude regarding the challenge posed in the electric vehicle segment. A paragraph in the Company's 10-K titled Hybrid, Plug-In, Extended Range and Battery Electric Vehicles reads:
We are investing significantly in multiple technologies offering increasing levels of vehicle electrification including eAssist, plug-in hybrid, full hybrid, extended range and battery electric vehicles. We currently offer five models in the U.S. featuring some form of electrification and continue to develop plug-in hybrid electric vehicle (PHEV) technology and extended range electric vehicles such as the Chevrolet Volt and Cadillac ELR. In 2015 we introduced the second-generation Chevrolet Volt. We also debuted the Chevrolet Bolt EV concept at the 2015 North American International Auto Show in Detroit, Michigan and the Cadillac CT6 PHEV at the 2015 Shanghai Auto Show. The Bolt EV will be an all-electric vehicle when it goes into production at our Orion Assembly plant in late 2016, providing more than 200 miles of range on a full charge.
Tesla Motors (NASDAQ: TSLA) is astonishingly aggressive in its space. Elon Musk, CEO of Tesla Motors says that Tesla cars will reach 620 miles on a full charge by 2017. That is very impressive compared to what GM plans to offer. GM is lagging by miles.
Although the 10-K also mentions in brief about the alternative fuel vehicles and hydrogen fuel cell technology, there is nothing concrete which would make for a compelling case that GM is looking to take an aggressive stance.
The worldwide presence of GM is shrinking too. The number of authorized dealerships has dropped from 20,706 at the end of Dec 31, 2013 to 20,252 at the end of Dec 31, 2015.

Investors seem to be running out of patience with the stock as the total annual revenue declines to a two-year low.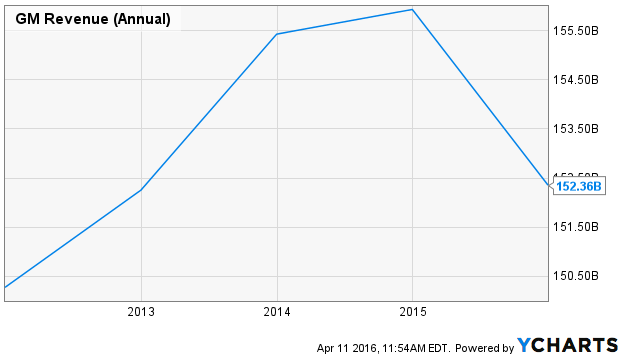 Historically, investor pessimism has resulted in strong corrections for the stock, sometimes even plunging into bear territory. I am not sure if such a case would be repeated in the near future, but if it does, we do have a downward sloping trend line, which could give us a reasonable estimate of the first floor, which as of now, is close to $22. The stronger technical support is $19.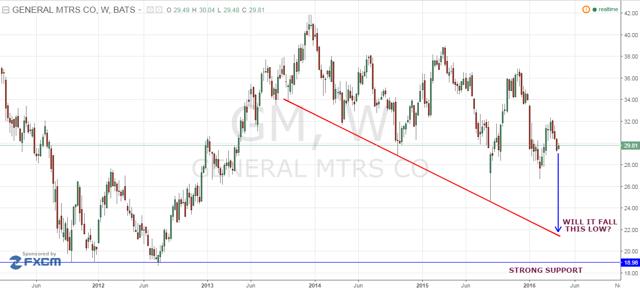 If the stock cracks to either of these levels, it would present to value investors a great opportunity for the long term. Dividend income investors can benefit by buying the stock now as well, however, its weighting in the portfolio should be increased if the said declines do come.
Disclosure: I/we have no positions in any stocks mentioned, and no plans to initiate any positions within the next 72 hours.
I wrote this article myself, and it expresses my own opinions. I am not receiving compensation for it (other than from Seeking Alpha). I have no business relationship with any company whose stock is mentioned in this article.