By Gary Alexander
The name of this column is "Growth" Mail, but any headline about Growth these days seems dismal. Last Friday, the Atlanta Fed released its latest twice-weekly update of their projected first-quarter U.S. GDP at a scant 0.1%. Their forecasts have been all over the map in the last few months - as high as 2.7% in mid-February when the stock market was in the tank but then sinking steadily, even as the market rose.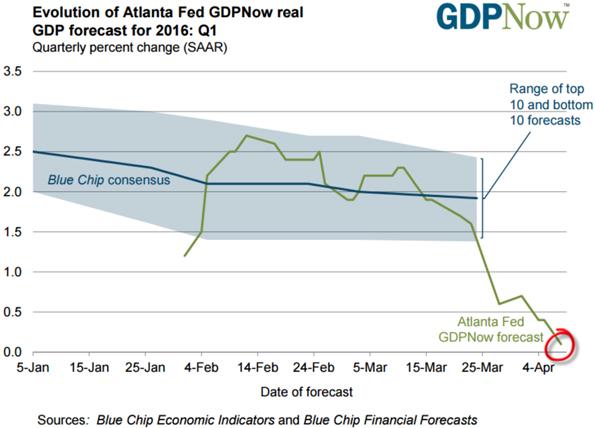 Graphs are for illustrative and discussion purposes only. Please read important disclosures at the end of this commentary.
According to the Wall Street Journal (in "Real-Time GDP Tracker Gains a Following - and Some Criticism," April 8), the Atlanta GDPNow number (published only since 2014) plugs in all of the GDP economic data points into a model that projects the eventual GDP number for the current quarter.
In this age of instant analysis GDPNow is fast becoming the hottest number on Wall Street. We get so impatient for meaningful numbers that we don't want to wait until April 28 for the first iteration of first-quarter GDP growth. We want our GDP Now! But we can get whiplashed by the frequent changes. In four weeks, GDPNow fell from 2.3% on March 11 to 0.1% on April 8. What's next: Negative growth?
Since we love to devour bad news more than good news, GDPNow Google searches have skyrocketed:
Google Searches for 'GDPNow'

Global Growth Estimates (by the IMF) are Notoriously Flawed
Global growth since 2010 has not been bad, but the high projections and low outcomes concern many economists. Ed Yardeni wrote (in "Fed Policy Made in China?" April 5), that "World industrial production has increased 31% over the 83 months since its previous cyclical trough on February 2009 through the first month of this year. That's not too bad compared to the previous 74-month expansion from December 2001 through February 2008, when this index rose 32%." But, he adds, overall global GDP growth was not so good:
The length of the actual post-recovery expansion this time has been 62 months so far with a gain of just 14% vs. 59 months during the previous decade with a gain of 26%.
Louis Navellier has often said that the Fed can't hit the broad side of the barn (or even find the barn) in its GDP or inflation forecasts. Globally, the same barn-missing exercise comes out each October from the International Monetary Fund (IMF). They have been way too optimistic in their last five annual forecasts.
Jack Ablin wrote in "Outlook for Financial Markets" (April 6) that
Economists were projecting 5% worldwide growth for 2016 as recently as five years ago. Thus far, the figure is clocking in at 3.5%. In 2010, the IMF tried to project five-year cumulative real gross domestic product for 20 of the world's major economies. 18 fell short of expectations, with Italy, Brazil, and Russia falling substantially behind.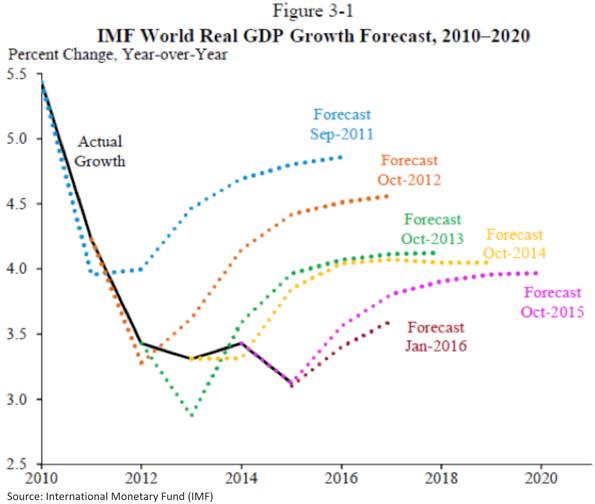 Graphs are for illustrative and discussion purposes only. Please read important disclosures at the end of this commentary.
Slowing global growth has slowed earnings growth (see chart below), pushing earnings into reverse gear. First-quarter corporate earnings reports begin in earnest this week. Investors will be glued to the Internet or CNBC to digest the latest earnings news. According to Fed Chair Janet Yellen, she will also monitor earnings. In her March 29 talk, she cited earnings expectations when she said, "economic growth now seems likely to be weaker this year than previously expected, and earnings expectations have declined."
It appears that Yellen's new attention to earnings has paid off in a slow-but-steady market recovery. Since March 17, we've seen 16 straight S&P closings within 1% (either side) of 2,053, as S&P closings ranged from 2,035.94 to 2,072.78. The S&P 500 went 15 days in a row without closing up or down by more than 1%, the longest such streak in over a year. Ironically, March 17 was the day after the latest meeting of the Federal Open Market Committee (FOMC), so it appears that the Fed's inactivity has pacified the markets.
Ed Yardeni said last Tuesday that earnings expectations have dropped 11.9% year-over-year for 2016 and -8.1% for 2017. Analysts "now expect earnings will increase only 2.2% this year, but 13.7% next year."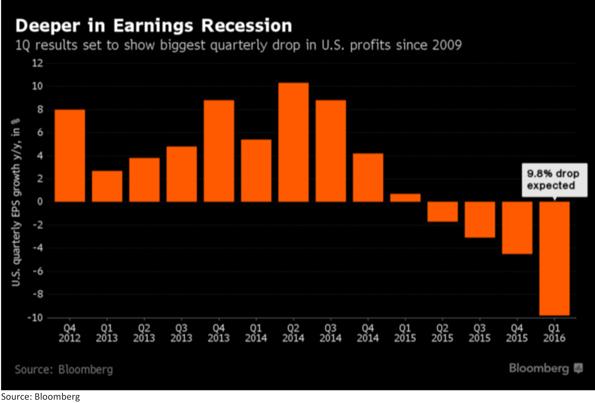 Graphs are for illustrative and discussion purposes only. Please read important disclosures at the end of this commentary.
This is clearly a time to cherry-pick stocks with rising earnings and a potential for positive surprises.
Could We Suffer Another Crash - Like April 10-14, 2015?
Markets were far more volatile 16 years ago this week. I remember watching a sinking stock market late Friday (April 14, 2000) as the skies around Washington, DC turned dark at noon, followed by thunder and hail. The weather reflected the market as the 1990s tech stock bubble was clearly kaput on that day.
On Friday, April 14, 2000, the major stock market indexes suffered huge declines. NASDAQ fell 355.49 points (-9.7%), to 3321.29. The DJIA fell 617.78 (-5.7%) to 10,305.77. The S&P 500 fell 84 (-5.8%). For the full week, the S&P 500 was "only" down 10.5%, but the tech-heavy NASDAQ fell by over 25%: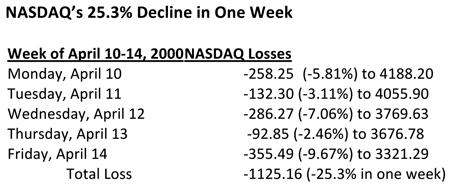 Are we in danger of such a correction these days? I don't think so, not with so many central banks pursuing easy money policies and investors snapping up more stocks on dips over the last seven years. As I've often stated here, the current bull market may seem long and strong if measured from 2009, if you look back to the start of the millennium in 2000, markets are up at a snail's pace; we're still playing catch up.

For a bubble to pop, it must first inflate to the bursting point. In 1928-29, the DJIA gained 99% in 18 months. In 1986-87, the DJIA gained 50% in 10 months. In 1999-2000, NASDAQ more than doubled in nine months. From 1986 to 1989, the Tokyo stock index tripled. To date, we have not seen any such rapid increases in any major stock index during the life of this bull market. A bubble can't pop unless it is inflated to the breaking point. Today's slow global growth implies continued moderate market growth.
Disclosure: *Navellier may hold securities in one or more investment strategies offered to its clients.
Disclaimer: Please click here for important disclosures located in the "About" section of the Navellier & Associates profile that accompany this article.