The recovery in the precious metals in general and silver in particular has drove up shares of leading streaming and royalty company Silver Wheaton (NYSE:SLW). Despite Silver Wheaton's decision to raise equity and in effect dilute its shares, the stock has still outpaced the price of silver for the year. Nonetheless, the company also entails several caveats that investors should be aware.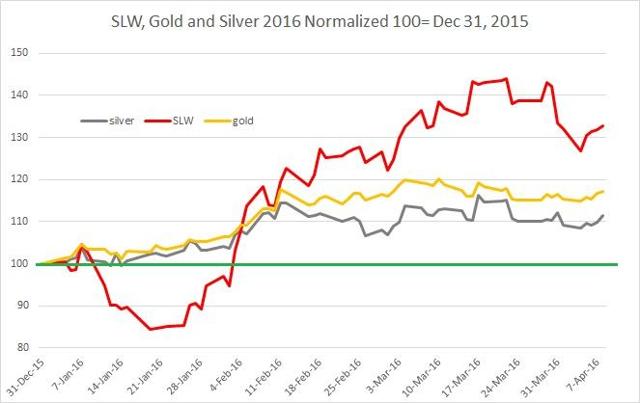 Click to enlarge
Source: Google finance and Bloomberg
Share dilution aftermath
Silver Wheaton announced back at the end of March to offer shares to a syndicate of underwriters at a price of $16.60 per share. And afterwards the company announced that the offering was expanded by another 10% to a total of 33.1 million shares for roughly $550 million. Following this news, as expected, the company's share dropped by nearly 6% next day to the selling price of $16.6. But since then the stock slipped by only 0.5%, which is the same percent change recorded for silver. And if you look at SLW's performance since the beginning of the year, the stock is still up by 32.8%, year to date. In comparison, gold and silver prices are up by 17.2% and 11.5%, respectively. This strategy is very beneficial for the company as it improves its balance sheet albeit on the expense of its shareholders. What about financing through cash flow? Or taking on debt? Over the past couple of years, SLW's operating cash flow was only $431 million. Considering the recent deals were around $900 million - nearly double the operating cash flow of SLW. Not to mention there are additional payments to make - dividends and repayment of debt and interest - albeit they aren't hefty. In any case, Silver Wheaton couldn't have make any of the last couple of streaming deals without raising more cash through debt or equity.
In terms of debt, the streaming company doesn't have a huge debt load with a debt-to-equity ratio of 0.35 - and with the recent share offering this ratio is likely to further contract. And eventually SLW will have no choice but to raise more cash through debt - the company did use part of its $2 billion revolving credit facility for the Antamina mine streaming deal. After all pulling another private offering at a discount for the stock could run its course and with each offering this deal becomes less attractive for the stock buyers.
Tax issues
Another problem that still hovers over SLW's head is the tax issues it has with Canada Revenue Agency over the 2005-2010 taxation years. The company also pointed out that the CRA could seek action for the 2011-2013 taxation years not to mention the following years. For now, SLW estimates the CRA could charge the company by $310 million for the 2011-2013 years. In any case, SLW still appealed any claims made by CRA. So it remains unclear how this issue will play out. For a company with an operating cash flow of nearly $400 million per year and only $100 million in cash, a payments of several hundreds of millions to the CRA could reduce SLW's capability to invest in new projects without taking on even more debt or raise more cash through a shares offering.
Bottom line
Silver Wheaton continues to benefit the recovery of silver, but investors should also be aware of some of the issues the streaming company faces that could impede its progress. This includes: The company's decision to dilute its shares and ongoing tax issues with CRA. SLW still has a revolving credit line to invest in new projects. Therefore, the company could still, for now, acquire additional streaming deals through debt. But since most of its deals were around $1 billion and the revolving credit is limited to $2 billion, this means the company may have to issue bonds or dilute its stock again if it plans to close more than a couple of deals this years. For more please see: Silver Wheaton Is Not Solely Impacted By Silver
Disclosure: I/we have no positions in any stocks mentioned, and no plans to initiate any positions within the next 72 hours.
I wrote this article myself, and it expresses my own opinions. I am not receiving compensation for it (other than from Seeking Alpha). I have no business relationship with any company whose stock is mentioned in this article.