In a quiet week for domestic economic news, negative global risk sentiment, exemplified by a sharp rally to a series of two-year highs in the Japanese yen through Thursday, supported a solid rally in Treasuries over the past week, leaving yields not far from the February lows even after modest losses Friday to end the week as dollar/yen stabilized at the lowest level since 2014. The gains were accompanied by a further dovish repricing of the Fed outlook in futures, adding to the shifts after Fed Chair Yellen's cautious speech to the Economic Club of New York and the larger than expected adjustments to the SEP rate dots at the March FOMC meeting. The minutes from that meeting showed broad agreement with Yellen's dovish stance, with "many" of the participants seeing "appreciable downside risks" to the outlook from global weakness and financial conditions tightening and "many" seeing "asymmetric" risks of tightening too early versus too late at near zero rates making it "prudent to wait for additional information regarding the underlying strength of economic activity and prospects for inflation before taking another step to reduce policy accommodation." And FOMC Vice Chairman Dudley again underlined this message in his speech Friday, saying he "still judges the balance of risks to my inflation and growth outlooks to be tilted slightly to the downside" versus his base case of 2% GDP growth this year and 2% inflation in the "medium term." That leads him to "judge that a cautious and gradual approach to policy normalization is appropriate," and "caution is also called for because of our limited ability to reduce the policy rate to respond to adverse developments." In her recent speech, Chair Yellen approvingly noted the "automatic stabilizer" role played by falling Treasury and mortgage yields and repricing of the Fed rate outlook in futures and forwards in cushioning downside risks to the economy in January and February.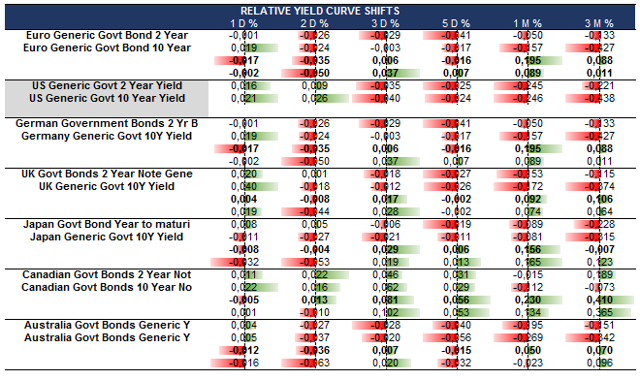 Click to enlarge
General market sentiment is likely to be the key driver of USD crosses this week, with the focus being IMF's World Economic Outlook (Tuesday) and China's 1Q GDP (Friday). Any disappointments and subsequent dent to risk appetite should be generally USD supported against EM and most of the G10 FX (bar JPY). On the data front, the key focus will be on the US March retail sales (Wednesday) and March CPI (Thursday). I expect the former to decline due to the disappointing car sales (retail sales ex auto and gas should in fact tick higher), while the headline CPI should increase towards 1.1%YoY and core CPI print 2.2%YoY. However, such data outcomes, in isolation, are unlikely to be enough to generate broad-based USD strength. General market sentiment is likely to be the key driver of USD crosses this week, with the focus being IMF's World Economic Outlook (Tuesday) and China's 1Q GDP (Friday). Any disappointments and subsequent dent to risk appetite should be generally USD supported against EM and most of the G10 FX (bar JPY). On the data front, the key focus will be on the US March retail sales (Wednesday) and March CPI (Thursday).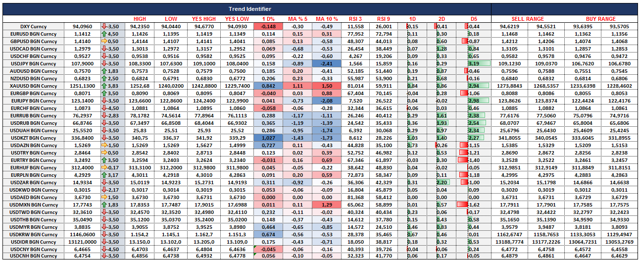 Click to enlarge
I expect further flows from various market participants to continue to support JPY. First, Friday's reluctance for JPY to weaken (indicating de-risking ahead of the weekend) suggests that 'the Street' has not traded JPY long in significant amounts last week. Note that CFTC data showed the most net long positions building in the first four weeks of the year. Japan's retail accounts may still need to wind down their JPY-funded carry trades, suggesting more of this 'P&L' driven JPY buying in store. Pension funds and financial institutions' foreign assets relative to total assets are near historical highs and most importantly still hugely currency-unhedged. The GPIF had allocated 36% of its portfolio to foreign assets at the end of December 2015.
The BoJ's ability to weaken JPY remains limited, sovereign bond purchase-focused QE can no longer rely on the JGB yield curve acting as a transmission mechanism. Negative interest rates seem to undermine banks and monetary velocity, hence strengthening and not weakening JPY. The BoJ's tool box appears to be limited to the purchase of private assets such as ETFs. The JPY-weakening impact of such BoJ equity purchases should be limited. The mechanism of JPY weakness in this scenario would be limited to the de-FX-hedging of equity portfolios, where many global equity investors have used JPY as a 'quasi' hedge for equity risk. Alternatively, the focus on increasing fiscal spending would require equity market investors to have more faith that Abenomics is going to work in order for JPY to weaken significantly. Bloomberg is reporting that foreign traders have sold Japanese equities for 13 straight weeks, the longest stretch since 1998.This 'outflow' from Japan has not weakened JPY as it has been met with a larger inflow from domestic investors.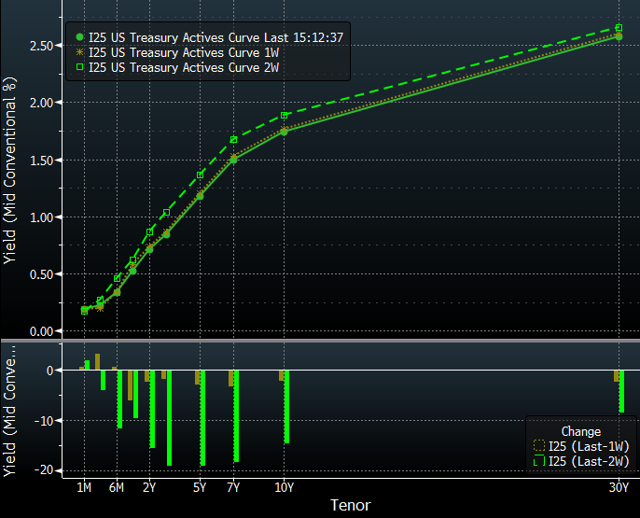 Click to enlarge
For now incoming data are certainly not suggesting that Fed and market caution is misplaced. In addition to the still fraught global backdrop, U.S. growth appears to have fallen to near zero in Q1, broad labor market conditions have worsened in the past three months according to the Fed staff's labor market conditions index, notwithstanding still strong headline payrolls, and inflation we expect will start to reverse recent acceleration in this week's CPI report as the "transitory" upside from "unusually high inflation readings in categories that tend to be quite volatile, without very much significance for inflation over time" that Chair Yellen talked about at her press conference start to unwind. Incoming economic data released over the past week continued to lower the outlook for first quarter growth, and the early trajectory at this point doesn't point to a quick turnaround. After a 1 to 4 bp long-end-led selloff Friday, benchmark nominal Treasury yields ended the past week 6 to 9 bp lower to return to only 2 to 8 bp above the lows hit February 11 after what have now been 3-year and 5-year led gains of up to 20 bp since the close ahead of Chair Yellen's speech and 33 bp since the close ahead of the FOMC meeting. The 2-year yield fell 6 bp to 0.70%, 3-year 6 bp to 0.83%, 5-year 8 bp to 1.16%, 7-year 9 bp to 1.48%, 10-year 7 bp to 1.72%, and 30-year 6 bp to 2.56%. As Chair Yellen described the interplay, those gains helped cushion the economy against the negative financial conditions impact of a 1.2% drop in the S&P 500 led by financials and a 7 bp widening in the IG CDX index led by energy. The broad trade-weighted dollar index also rose slightly on the week we estimate, with a large drop in the Mexican peso (17.77 v. 17.34) v. the large rise in the Japanese yen (108.17 v. 111.69) the main offsetting contributors. The positive impact on financial conditions from lower yields would have been more encouraging if it hadn't been mostly in lower inflation expectations. Even with strong gains Friday pushing oil to a 7.5% rally on the week and the broad Bloomberg commodities price index to a 1.4% rise, inflation breakevens fell about 5 bp on the week, as the 5-year TIPS yield dipped 3 bp to -0.41%, 10-year 3 bp to 0.12%, and 30-year 1 bp to 0.81%.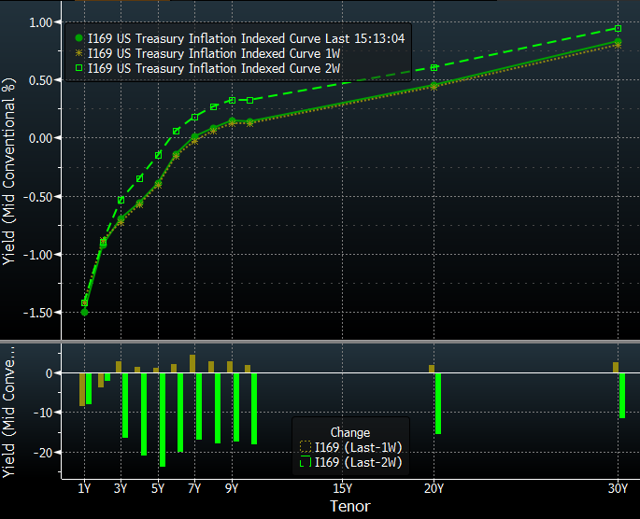 Click to enlarge
A 5 bp rally in the 5-year/5-year forward swap rate to 2.09% v. a 2 bp decline in the 5-year/5-year forward inflation swap to 2.06% implies market pricing more consistent with a 2% longer-run neutral nominal fed funds rate with a real rate remaining closer to zero and PCE inflation continuing to undershoot target. After the past week's lull, the economic calendar is busy in the coming week, with focus on retail sales Wednesday after the December to February run of little growth in core sales and the steep drop in March auto sales and CPI Thursday after the two upside surprises in January and February driven by a sudden move higher in core goods prices. Corporate earnings reporting season will also get fully underway. Companies may be able to beat a lowered bar, but with Bloomberg data showing consensus for a 10% year/year drop in S&P 500 earnings, worst since 2009 and the fourth straight decline, in absolute terms the numbers are likely to be weak and not encouraging for the economic outlook. Recall that Chair Yellen identified China uncertainty and falling earnings expectations as two key continued negatives for the outlook. Supply will also be in focus, with 3-year, 10-year, and 30- year Treasury auctions Tuesday, Wednesday, and Thursday. There's also typically downward pressure on swap spreads when banks issue debt that's swapped fixed for floating after they report earnings.
(SPXL),(SPXS),(EEM),(JEQ),(FXY),(JPYS),(FXI),(NFXA),(TLT),(IEF),(SHY),(TBF),(VTIP),(WIP),(CPI),(VIPSX),(ILB),(EEA),(HEUS), (CYB), (HAO),(ECNS)
Disclosure: I/we have no positions in any stocks mentioned, and no plans to initiate any positions within the next 72 hours.
I wrote this article myself, and it expresses my own opinions. I am not receiving compensation for it (other than from Seeking Alpha). I have no business relationship with any company whose stock is mentioned in this article.