Eaton Vance 9% Monthly Pay, Tax-Managed CEF.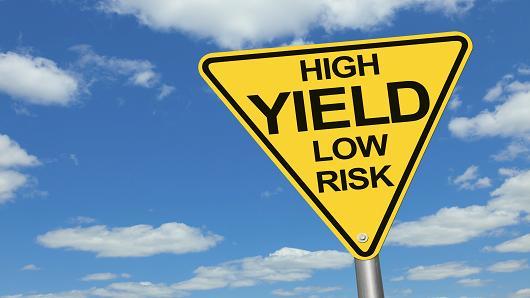 A few weeks ago I did my first analysis on a buy-write ETF and my impressions of it where luke warm. In that article we discussed (NASDAQ:QYLD), a covered call ETF tracking the NASDAQ 100. Some posters indicated interest in hearing further information about buy-write securities, particularly closed end funds 'CEFs'. My research into these funds has revealed some attractive investments.
This article will compare the performance of The Eaton Vance Tax Managed Opportunities Fund (NYSE:ETV) and its ETF counterpart QYLD.
First, lets recap on what exactly a Covered Call Fund does.
As I mentioned in my previous article; the term "covered call," it is an options strategy synonymous with buy-writing. When an investor buy-writes a security he buys the security while simultaneously selling a call option on the same position. For selling this call option he is instantly given a cash payment called the "premium," but incurs the obligation to sell his stock (at a set price) to the option buyer whenever the buyer wants it. This obligation exists for the duration of the contract. Option contracts can have durations of weeks, months and even years.

The call option writer benefits when the price of his stock stays flat because if the price increases the options buyer will exercise the contract, forcing him to sell his stock at a price lower than the market price. However, If the price declines or stays flat the option buyer will probably not exercise his right to buy the stock and the option writer is cushioned from potential losses by the cash premium he received to engage in the contract.

For many, the process of selling options can be complex and intimidating, a mis-click or an improperly selected option price could cost dearly. In addition, managing multiple contracts in a diversified portfolio is not a passive investment. The process of re-purchasing stocks that were called and reinvesting/extracting the premiums can be stressful. Buy-write securities simplify this process for the retail investor by doing all the work for you and giving you your cash premiums in the form of a monthly dividend.
CEF vs ETF
CEFs are similar to ETFs, they can be traded on the exchanges bought on margin and used in IRA accounts. The main difference is that while ETFs are generally indexed portfolios CEFs tend to be actively managed and often are leveraged. This comes at the cost of a typically higher expense ratio but gives better performance if the fund managers are good. Buy-write CEFs are typically listed as "Risk Adjusted" and the goal is to minimize risk while giving reliable income.
This CEF comes from Eaton Vance, one of the most well known fund managers in the U.S. According to the ETV's annual report the goal of the investment is to quote; "Provide current income and gains, with the secondary goal of capital appreciation" via " writing call options on one or more U.S indices to generate earnings from the options premium, returns are evaluated on an after tax basis seeking to minimize and defer federal income taxes incurred by shareholders."
Basic CEF info:
Price: 14.67%
NAV: 14.03
Premium: 3.85%
Yield: 9%
Key Stats:
Turnover Ratio: 5.00%
Assets under Management: 895.14 million.
Expense Ratio: 1.08%
Analysis of ETV:
The expense ratio is reasonable for what you are getting. However, it is a lot more than what you would find in an ETF. QYLD is only 0.60% annually and ETV is also trading at a somewhat expensive price, with a 3.85% premium to net asset value.
The fund has almost a billion dollars worth of Assets under its control and the 30 day average volume is $143,991.5 so unlike with QYLD liquidity should not be an issue here. The dividend comes out to around 9% a year and it is paid monthly. You get exactly 11 cents per month and the standard deviation is zero, great for those who want reliable income.
Sector Allocation and Market Capitalization.
This fund is almost entirely North American regional exposure with less than 2% exposed to developed Europe. Its holdings are stock and the market cap is very large.
Market Cap:
| | | | | |
| --- | --- | --- | --- | --- |
| Giant | Large | Medium | Small | Micro |
| 57.24% | 25.44% | 13.08% | 1.00% | 0.00% |
Major Holdings:
| | | | | |
| --- | --- | --- | --- | --- |
| Apple Inc (NASDAQ:AAPL) | Microsoft Corp (MCSFT) | Amazon(NASDAQ:AMZN) | Alphabet Inc (NASDAQ:GOOG) | Facebook (NASDAQ:FB) |
| 7.37% | 5.77% | 3.72% | 3.35% | 2.90% |
There is a bias towards tech here (over 30%) and some focus on consumer cyclicals and healthcare. ETV is holding almost the exact same stocks that QYLD holds, the main difference is that ETV is more diversified when compared to QYLD holding smaller positions in each individual stock. This CEF should be seen as an actively managed Nasdaq 100 buy-write portfolio.
The Performance:
Because QYLD and ETV are so similar in their holdings and strategy it is easy to make a direct comparison between the performance of the two funds. ETV is actively managed while QYLD is passively managed, this means QYLD simply tracks an index while the managers at ETV are able to manually adjust the percentage holdings in the portfolio and ostensibly adjust the option strike prices and other information.
ETV has performed significantly better than QYLD because of the active management and the fact that it has historically traded at a premium to NAV while QYLD trades at a discount. Its higher level of diversification probably also contributes to its improved performance. These two investments pay practically the same yield (9%) and track the same index (CBOE NASDAQ 100 Buy-Write).
ETV vs QYLD price change:
ETV has outperformed QYLD over the last 2 years of the ETF's inception. This has been by over 23% in price change. Dividend payments are not considered in this calculation.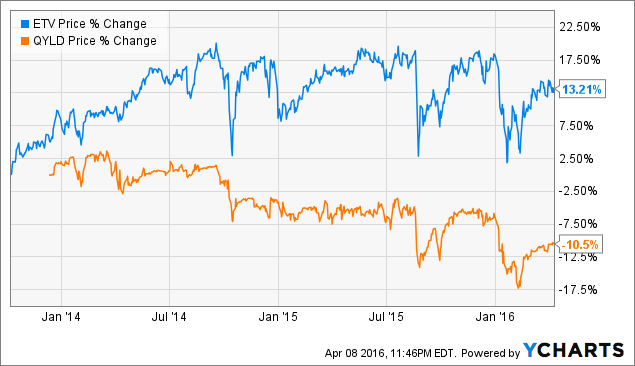 Total Returns for ETV vs QYLD:
When accounting for dividend payments ETV is up 42.52% since 2014 while QYLD is up a modest 12$. Both of these are pretty good returns. The Nasdaq 100 ETF (NASDAQ:QQQ) was up 28% in this same period.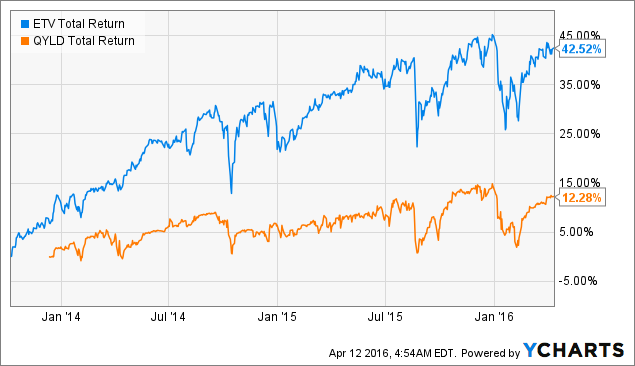 ETV Price Behavior vs Total Return since inception:
This chart shows ETV's total return compared to its price change over the 10 years since the funds inception in 2006. There is a huge difference here. By looking at the change in price without considering total returns one would get the impression that ETV is flat but there is a large difference between the funds total return and price change.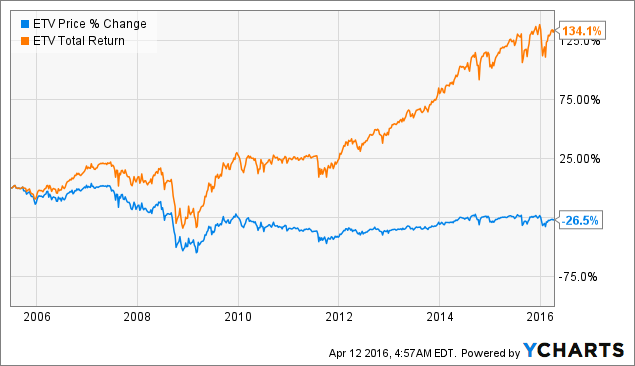 ETV vs. NDX and QYLD:
In terms of Total Return ETV has outperformed the Nasdaq 100 since 2014, but it doesn't seem to give as much volatility protection and stability as QYLD does.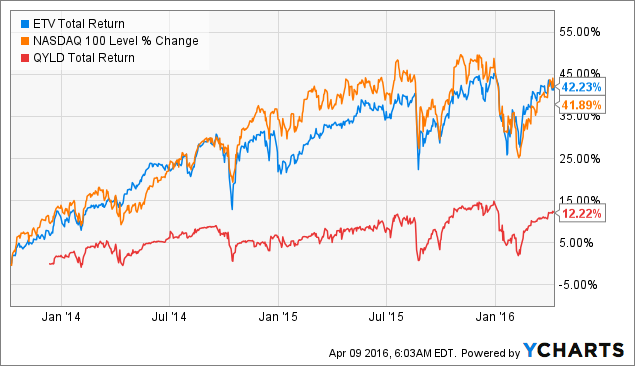 Conclusion:
The Eaton Vance Tax-Managed Opportunities Fund is an objectively superior investment to QYLD in almost every single metric. This seems to be primarily the result of active management, but also because the fund holds smaller percentages in all its stock positions and thus is more diversified. ETV has also spent a great deal of time trading above NAV, further increasing its price compared to QYLD regardless of how the stocks in the portfolio are doing.
The only downsides I see in this CEF is its large premium to NAV and the fact that it has not recovered from the price drop in 2009 (It has recovered in total return). So it will be interesting to see how this CEF will perform in terms of percent price change during a future bear market. For now ETV is going into my watch list, and I'm considering buying.
Disclosure: I/we have no positions in any stocks mentioned, and no plans to initiate any positions within the next 72 hours.
I wrote this article myself, and it expresses my own opinions. I am not receiving compensation for it (other than from Seeking Alpha). I have no business relationship with any company whose stock is mentioned in this article.