Rubicon (NYSE:RUBI) has finally started to perform better in the last few weeks. The company did not make much headway since going public at $15 two years ago - mostly because it came public near the top of the automated ad frenzy. The valuations have improved significantly over the last two years and Rubicon is now trading at a significant discount to growth. The company has a very conservative guidance history and I think that it should significantly outperform its 2016 revenue and EBITDA outlook.
Better days ahead for automated online advertisers?
Rubicon came public near the top of the online ad frenzy. Its post-IPO performance was pretty much in line with the performance of its two major peers - Criteo (NASDAQ:CRTO) and Tube Mogul (NASDAQ:TUBE).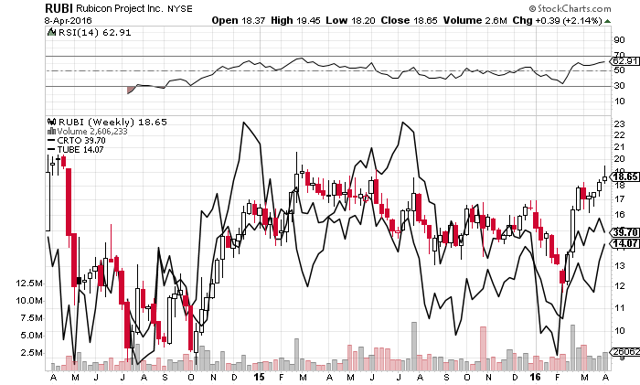 Click to enlarge
Source: Stockcharts.com
Their valuations were a bit excessive two years ago and a combination of strong growth and mostly flat share price performance has driven their valuations down to attractive levels (although Tube Mogul still looks expensive when looking at EV/EBITDA, but this is a function of its low margins which have potential to expand faster than Rubicon's and Criteo's).
| | | | | | |
| --- | --- | --- | --- | --- | --- |
| | 2015 EV/EBITDA | 2016 EV/EBITDA | 2015 EBITDA margin | 2016 EBITDA margin | 2016 Revenue Y/Y |
| RUBI | 12.29 | 10.44 | 26.2% | 23.9% | 28.9% |
| CRTO | 15.80 | 10.63 | 10.9% | 11.7% | 38.9% |
| TUBE | 122.48 | 82.26 | 1.9% | 2.2% | 24.0% |
Source: Rubicon, Criteo, Tube Mogul earnings reports
When Rubicon came public, its TTM EV/EBITDA ratio was in the 25 to 50 range, and it is now around 12, representing a substantial contraction.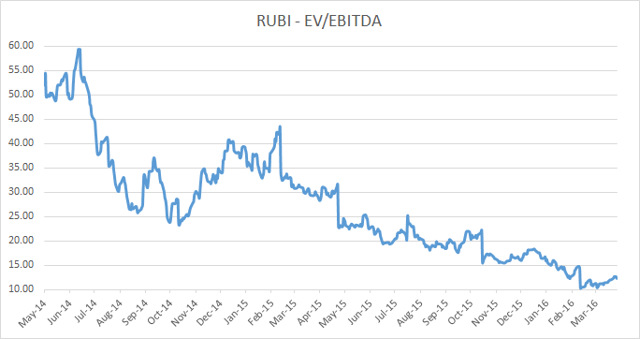 Click to enlarge
Source: Rubicon earnings reports, Yahoo! Finance
I believe that the recent contraction is way out of proportion given the company's growth prospects. The weakness in the last couple of months was due to the weakness in the sector and the general market and due to fears about ad blocking and its potential negative effect on online ad companies. According to PageFair and Adobe's 2015 Global Adblocking Report, there are now 198 million active adblock users around the world representing a 41% Y/Y increase, with the growth rates being higher in the U.S. (48% Y/Y) and in the U.K. (82% Y/Y).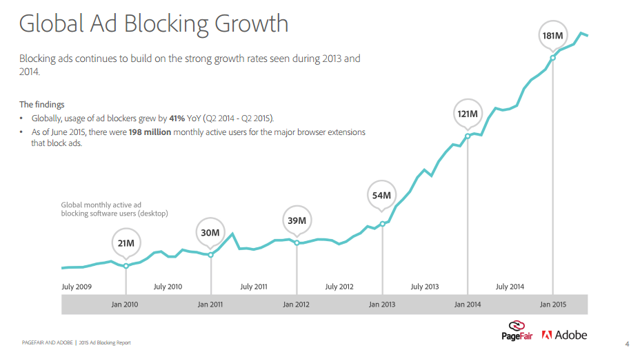 Click to enlarge
Source: Page Fair and Adobe's 2015 Global Adblocking Report
While many expect to see a negative effect on Rubicon and its peers, the company's president Greg Raifman thinks ad blocking is an opportunity: "it challenges them to find ways to improve ad quality in order to involve consumers instead of driving them away." Online advertising is certainly a highly competitive and fast evolving space and many of you may have noticed the substantial improvements in ads over the last several years - they are becoming less intrusive and their relevance is increasing. However, I am still annoyed with the aggressive ones and with those retargeting ads - when you go on some website and see the ad on various other sites after the first visit. There is certainly room for improvement going forward, and Rubicon should be at the forefront of innovation.
Rubicon has expanded its reach to approximately 1 billion people worldwide in 2015 and there are two significant growth opportunities in the following years: mobile and video. Mobile revenues are growing in triple digits and their contribution to total managed revenues has increased from 20% in Q4 2014 to 31% in Q4 2015. The company also states that its capabilities are unparalleled in the ad space and that its offerings are highly differentiated.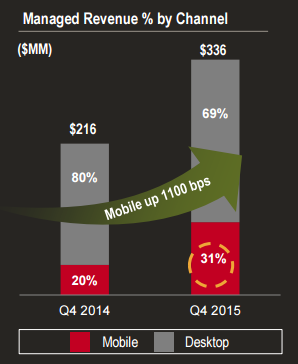 Source: Rubicon investor presentation
Rubicon's mobile exchange is the third largest in the world and the company claims that "only Rubicon, Google, and Facebook can support the buying and selling of every major type of digital ad unit."
And while mobile is growing fast, video is just getting started. The company said on the Q4 conference call that video's early growth trajectory has exceeded mobile's growth at the same stage of development nearly three years ago. The number of premium video sellers has increased almost 400% in the last three quarters and the number of video buyers has increased more than 60%.
These drivers should keep the long-term growth rates high enough to justify higher valuation multiples in the following years.
Valuation and price target
As I mentioned earlier, the valuations in the automated ad space have contracted significantly over the last two years. I believe that fears about ad blocking are overblown and that Rubicon is undervalued when we take the growth prospects into account. But first, let's take a look at the company's 2016 guidance:

Source: Rubicon Q4 report
The full-year guidance implies revenue growth in the range of 21% and 30%. However, the EBITDA guidance is on the low side and the mid-point implies a 1,000 basis point decrease in 2016. Given the company's conservative guidance history, I believe that EBITDA expectations are massively understated. The initial 2014 and 2015 EBITDA outlook (at mid-point) were -$6 million and $20.5 million respectively. The company delivered $19.1 million in 2014 and $59.5 million in 2015 - the outperformance was $25 million in 2014 and $39 million in 2015.
I expect 2016 EBITDA to be north of $70 million based on the company's conservative guidance history. In the table below, you can see my conservative and bullish case scenarios for 2016 and 2017 and the price target range. My conservative 12-month price target (based on 2017 numbers) is $27 and the bullish case target is $32.5. The upside potential is between 50% and 75%. The downside should be limited due to a combination of low valuation and strong growth prospects and I believe that the risk/reward ratio is significantly skewed to the long side.
Another way to look at the valuation is the EV/sales ratio. The historical EV/EBITDA ratio is not reliable here since the company's margins have expanded significantly in the last few quarters. On the other hand, Rubicon has traded in an EV/sales ratio range of 2 and 5. I believe that it is reasonable to expect the company to trade near the middle of that range over the next 12 to 18 months. Taking this year's sales estimates and an EV/sales ratio of 3.5 results in a price target of $26.5 which is almost the same as my $27 price target. The stock could be worth up to $36 per share if it revisits the upper end of its EV/sales range over the next 12 months. On the other hand, the downside should be limited to an EV/sales ratio of 2, which translates into approximately 20% downside based on 2016 estimates.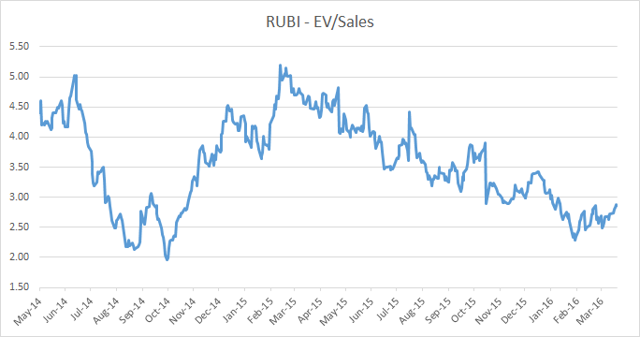 Click to enlarge
Source: Rubicon earnings reports, Yahoo! Finance
Risks
Although I believe that most of the risks are largely priced in considering Rubicon's low valuation, ad blocking could have a higher than anticipated negative impact on its growth in the future. However, competition is the largest risk here, and Facebook and Google are in a much stronger financial position, but I am not seeing any weakness in the fundamentals so far. Rubicon's success may also attract suitors and I think that the company is an attractive takeover target.
The general market and the tech sector have been weak in early 2016 and additional weakness could drive Rubicon's price down as it did in January and February.
Conclusion
Rubicon is very attractive at current levels. The risk/reward ratio is skewed to the long side and I think that the stock should be trading between $27 and $32 in 12 to 18 months. The company also has a solid beat-and-raise guidance history and I think that this year's EBITDA should be substantially above the company's initial guidance, which should be a strong catalyst for the share price in the following quarters.
Disclosure: I/we have no positions in any stocks mentioned, but may initiate a long position in RUBI, CRTO over the next 72 hours.
I wrote this article myself, and it expresses my own opinions. I am not receiving compensation for it (other than from Seeking Alpha). I have no business relationship with any company whose stock is mentioned in this article.
Additional disclosure: This article reflects the author's personal opinion and should not be regarded as a buy or sell recommendation or investment advice in any way.