The Hen That Laid The Golden Eggs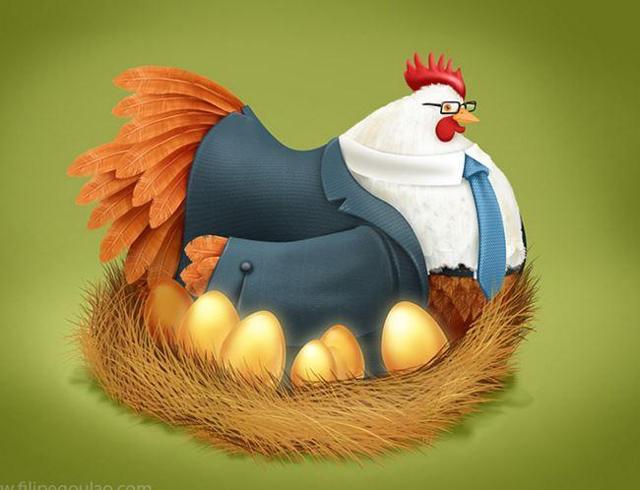 Click to enlarge
Like a good mother hen looking after her flock, Dr. Janet Yellen gave the markets what they wanted. Just what the good doctor ordered, in fact.
One Federal Reserve president after another made speech after speech, informing us that they felt conditions were right for another interest rate rise. It seemed they were sending up trial balloons to see how the markets would react. Otherwise, they seemed to be preparing the ground work for the next rise in the Federal funds rate.
Surprise, surprise! The following day, esteemed Chairwoman of the Fed, Janet Yellen, acting the good mother hen, inveighed, "now, now, children, let's not rush things."
With her speech at the Economic Club in New York, she put the brakes on another hike in the Fed funds rate.
Yellen's Reservations
Ms. Yellen has always conveyed the importance she placed on data dependency to the marketplace. Though she acknowledged in her speech that inflation was inching closer to the 2% level the Fed has been targeting, and employment numbers have continued to firm, she balanced those data points with others that still have her concerned.
Aside from the U.S., most major areas of the global economy have been slowing down. Even in the face of large new stimulus programs of quantitative easing in Europe by the ECB, economic activity is still slowing down.
In China and Japan, both of which launched huge monetary stimulus efforts, the effects, so far, have been muted.
Faced with this generally weak global situation, Ms. Yellen understands that if the Fed raised rates now while other major economies were lowering theirs, it would invariably lead to a stronger dollar. A fortified greenback would then make it more expensive for our global trading partners to buy our goods and services.
Not wanting to kill the goose that has laid the golden eggs, the Fed Chair stepped away from the cliff and clucked, "nyet" to increased rates. She even went a step further by implying she might raise rates only once this year, or perhaps not even until 2017.
Fearing the hit to the bottom line of our international corporations, she determined it would be better to err on the side of caution and put any rate increases on hold.
Doubling Down With Yellen
The most noticeable impact of the speech was immediately visible in the reaction of the marketplace. While the Dow Jones Industrial and the S&P 500 rose strongly, to new highs for 2016, the greatest impact was observed in the most interest-rate sensitive sectors of the market, namely the REITs, or real estate investment trusts.
From the recognizable bottom on February 10, 2016, to the end of the quarter, on 3/31/16, a period of some seven weeks, investors began bidding up what had been a very beaten-down sector.
For months, various pundits and authors made the case that if rates were set to continue rising, then the REITs would take it on the chin, due to their heavy dependency on the cost of money to expand their businesses.
I have maintained, for some time, that all businesses that expand their operations are dependent on the cost of money, some more than others, but dependent nevertheless.
My contention was that, as long as the glide path toward rate increases was smooth, slow and gradual, even REITs would be able to adapt to the new regimen appropriately.
After all, this Fed Chairwoman has been telegraphing her clear intent, all along. She has done nothing to make us doubt her. She has kept to her plan and is exercising proper caution to keep our economic recovery on track.
Fundamentals Mean Nothing Compared To The Fed
It has long been the case, and will continue to be so. Remember the trillions of dollars the Fed threw at the financial crisis to keep the banks from collapsing? Remember the trillions the Fed spent to buy Treasury bonds to inject money into the economy and lower interest rates?
The power of the Fed, with bottomless pockets able to create money out of thin air is enough to overwhelm even the toughest economic problems. Creating a wealth effect among investors was its primary aim, and it is succeeding.
What Can The Wealth Effect Accomplish?
The pump priming of the Fed aided the inflation in prices of all assets. As stock prices rose from a 57% collapsed dark hole, investors began to feel wealthier. This aura of wealth let them loosen the purse strings and consumer spending began to pick up.
Increased spending created greater revenues and earnings for business. The heads of these businesses, experiencing their own wealth effect, began to loosen the purse strings of their corporate treasuries and expansion of their businesses resumed, leading to more profits and more effects of wealth.
Higher profits and psyches firming from the wealth effect saw housing prices rise like a phoenix from a foreclosed ash heap. Homeowners began to feel wealthier and this continues to this day. Re-inflation of the greatest asset of most folks reinvigorates that wealthy feeling and has consumers spending more freely once again.
Though this whole recovery process has been agonizingly slow for many critics and those raised on instant gratification, this Goldilocks recovery, I believe, has been just right; not too hot, not too cold. Not hot enough to ignite monster inflation that would kill the golden goose, not cold enough to freeze the economy and bring it down by another credit crisis.
Deep Concentration In REITs Pays Off
Both the Fill-The-Gap Portfolio and the RODAT subscriber portfolio I manage are heavily skewed to the REIT sector, as many retirees are, for their solid, high income component. While many folks were screaming like Chicken Little that the sky was falling, calling for a severe bear market, I was buying.
Here's how the REITs, the most interest-sensitive corner of the market, have been rising from the ashes.
REIT Price and Yield History, February 10-March 31, 2016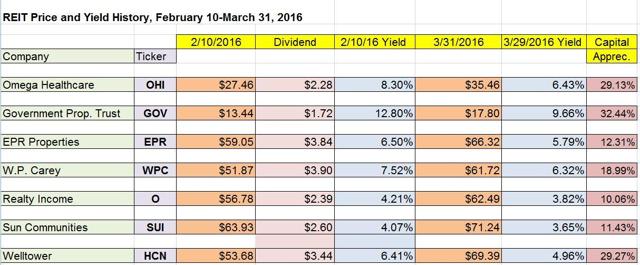 Click to enlarge
The month of March was a good one for the markets, and especially for our followers and subscribers. It was a month that saw nary a pullback and a strong reversal from the beginning of a year that just wouldn't quit on the downside. As I write, we are witnessing a market that had been down 16% earlier in the year, to one that finds itself barely 3.25% from its 52-week high.
If you were among the few buyers during the worst of it, you feel vindicated today, and wealthier. If you bought good, solid dividend stocks near the lows, you secured substantially higher yields, as indicated in the above chart, and you feel wealthier today.
If you stood on the sidelines and went to cash, fearing the worst, you feel left behind today, feeling like buying anything now would be chasing prices. And you'd be wrong.
Stubbornness Will Only Leave You Further Behind
The longer the investor clings to an idea that isn't working, the longer that investor puts off benefiting from the new regimen. Rather than sitting out the rest of the party, an investor might reconsider the existing situation, especially in light of "Don't fight the Fed."
There are many old saws about the market:
"How January goes, so goes the year."
"Which NFL team wins determines the direction of the market."
"The length of women's skirts tells us if the market will be up or down."
The only one that has proved its mettle after decades of historical testing in the marketplace is "Don't fight the Fed."
When an investor has the Fed by his side and watching his back, very little else matters. Here's another one that has a pretty good track record. In an election year, such as we are in right now, the market usually tends to do well. Why, you may ask?
Well, though the Fed is not supposed to be a political animal, it is, nevertheless inclined to do everything in its power to help the party in power to stay in power. Today that would translate into easy money, lower rates for longer. Staying easy to encourage the expansion and well-being of the populace will do the trick. Happy and contented voters tend to want to maintain the status quo and give the party in power another go for another four-year term.
The Wealth Effect For The FTG And RODAT Participants
Because we stay focused on income production, March was another in a series of 15 good months for us.
March Dividend Payment Dates And Amounts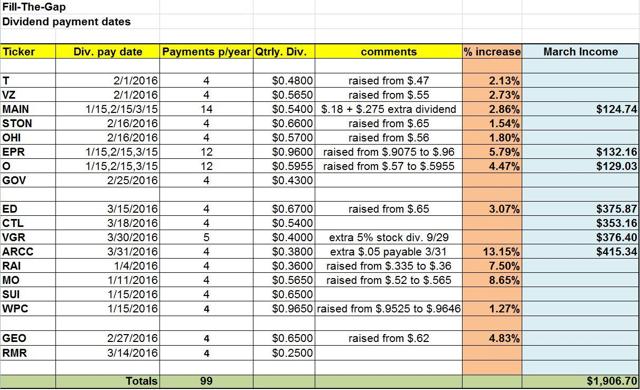 Click to enlarge
We received dividends from seven of our portfolio companies this month totaling $1,906.70. Two of them gave us nice raises. Realty Income (NYSE:O) raised the dividend 4.47% from last month's payout, giving us $66.30 additional annual income. Con Edison (NYSE:ED) raised the dividend 3.07% from last quarter's payout, resulting in $44.88 additional annual income.
Never one to let money burn a whole in my pocket for too long, we deployed our March dividends to accomplish efficient compounding into additional shares of W. P. Carey (NYSE:WPC). The new purchase of 31 shares of WPC added another $119.66 to annual income. The total of these three March events added $230.84 to our annual income.
Reducing Risk By Weighting Positions To Equal Income Production
In keeping with my foundational principle of reducing risk to portfolio income, we continued to build our W. P. Carey position to bring it closer to parity with the other portfolio constituents as regards to income contribution.
The closer we hue to this principle, the closer we get to de-risking the portfolio for any future, possible dividend cut. Our diversity of sectors and number of constituents imparts some level of risk mitigation. Should one or two components reduce their dividend at any point in the future, our income would temporarily decline by perhaps 5% or so, depending upon the severity of the cut.
When stocks fall to better timed entry points, we buy shares in order to grow portfolio income. In order to gain some of these better-timed entry prices that enable me to receive higher yield and income, I used the Watch List Real Time Tracker to alert me when WPC approached the $61.38 level. As it hit that target price, the alert turned green. The order was placed and executed, and the $3.86 annual dividend rate got us the 6.29% yield we had targeted.
Watch List Real Time Tracker

Click to enlarge
I used the other digital utility tool I built, the Real Time Portfolio Tracker, to help highlight that WPC needed to be bulked up in share count in order to bring its annual income closer to parity with the other positions in the portfolio. Column O on the extreme right of the sheet clearly indicates what percent of portfolio income each component contributes, so a quick glance delineates the positions that need fattening.
Real Time Portfolio Tracker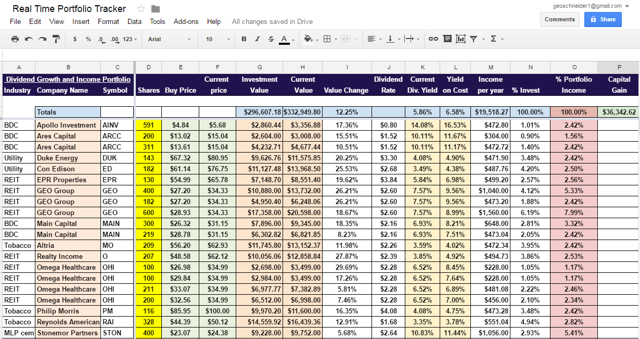 Click to enlarge
End Of First Quarter, 2016 FTG Summary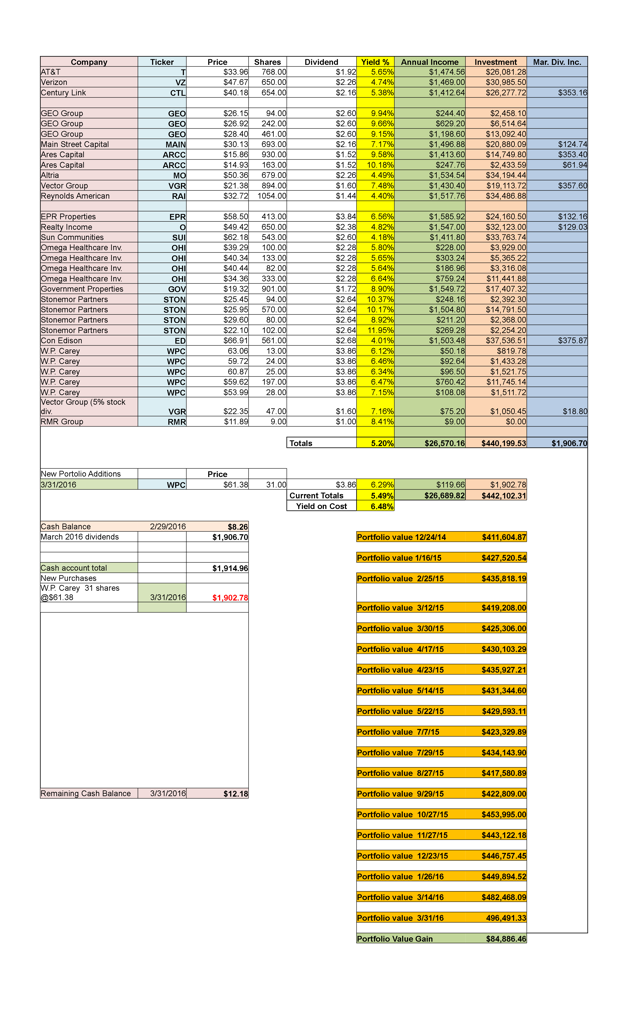 Click to enlarge
FTG Recap
At the close of the first quarter of 2016, the FTG is throwing off $26,690 in annual income. When added to the average couple's Social Security benefit of $28,800, we have, in only 15 months' time, significantly exceeded our goal of filling the gap between SS income and a comfortable $50,000 retirement. In fact, our total income between these two sources is now $55,490. It won't be too long before our dividend income exceeds the Social Security benefit income.
We have experienced no cuts, no freezes and no elimination of dividends in 15 months of portfolio management. On the contrary, we have enjoyed a regular stream of dividend increases, more than enough to keep us comfortably ahead of inflation.
With its beginning value of $411,600 and the addition of a $6,500 IRA contribution for 2015 and a $6,500 IRA contribution for 2016, total asset contributions come to $424,600. The portfolio has grown to a new record value of $496,491. This represents capital appreciation of 16.93%. This year alone, the FTG has grown $47,691 in value or 10.63% while the Dow is up only 1.49% and the S&P 500 is up just .77%.
FTG Close, 3/31/16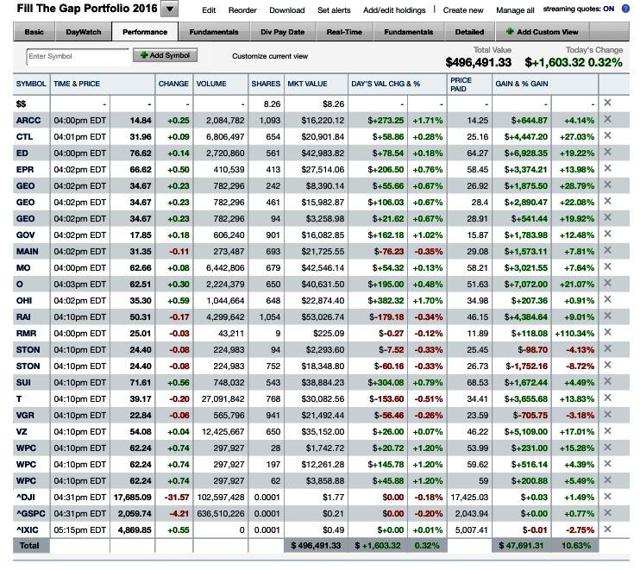 Click to enlarge
RODAT Recap
Dividends continue apace, also marked by solid increases. Year to date, this subscriber portfolio is showing capital appreciation of $32,200 or 11.69%.
According to the Real Time Portfolio Tracker for the subscriber portfolio, from November 1, 2015, launch date, in only five months' time, this portfolio has gained $38,523 in value or 14.32%, far outpacing the broad indexes which only now have just turned positive.
The current portfolio yield, if mirrored by a new investor at today's prices, comes to 6.16%. Since we've bought all of these equities at lower prices, our yield on cost for the subscriber portfolio is 7.04%. This means, for those subscribers who are our charter members and chose to mirror their investments after this portfolio, the yield they are receiving on their investments to date is over 7% now.
The Fill-The-Gap Portfolio At A Glance
I began writing a series of articles on December 24, 2014, to demonstrate the real live construction and management of a portfolio dedicated to growing income to close a yawning gap that so many millions of seniors and near retirees face today between their Social Security benefit and retirement expenses.
The beginning article was entitled, "This Is Not Your Father's Retirement Plan." This project began with $411,600 in capital that was deployed in such a way that each of the portfolio constituents yielded approximately equal amounts of yearly income.
The FTG Portfolio Constituents
Constructed beginning on 12/24/14, this portfolio now consists of 18 companies, including AT&T, Inc. (NYSE:T), Altria Group, Inc. (NYSE:MO), Consolidated Edison, Inc., Verizon Communications, Inc. (NYSE:VZ), CenturyLink, Inc. (NYSE:CTL), Main Street Capital Corporation (NYSE:MAIN), Ares Capital Corporation (NASDAQ:ARCC), Reynolds American, Inc. (NYSE:RAI), Vector Group Ltd. (NYSE:VGR), EPR Properties (NYSE:EPR), Realty Income Corporation, Sun Communities, Inc. (NYSE:SUI), Omega Healthcare Investors (NYSE:OHI), StoneMor Partners LP (NYSE:STON), W. P. Carey, Inc., Government Properties Income Trust (NYSE:GOV), The GEO Group (NYSE:GEO) and The RMR Group (NASDAQ:RMR).
Since we bought all of these equities at cheaper prices since inception of the portfolio, the yield on cost that we have achieved is 6.48%.
After doing their own due diligence, readers wishing to proportionately emulate FTG Portfolio trades for their own portfolios use the "My FTG Mirror Calculator" to simplify their task.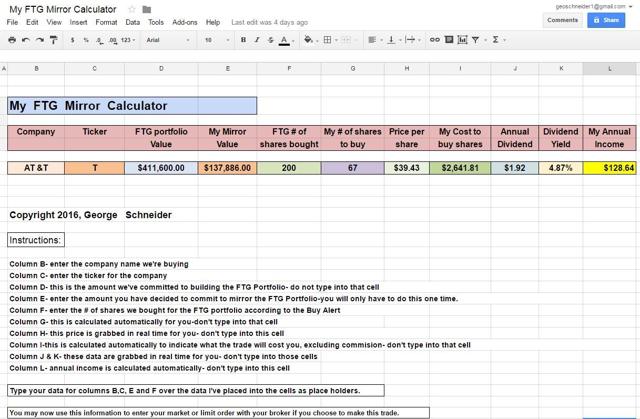 Click to enlarge
Author's note: Please don't keep me a secret. I'd appreciate it if you forwarded this article to your friends, colleagues and family who you think might find this work interesting and something they might benefit from.
We are currently offering a FREE, two-week trial of my subscription service. To learn more about this premium service, please click this link:
Retirement: One Dividend At A Time
Disclaimer: This article is intended to provide information to interested parties. As I have no knowledge of individual investor circumstances, goals, and/or portfolio concentration or diversification, readers are expected to complete their own due diligence before purchasing any stocks mentioned or recommended.
Disclosure: I am/we are long ARCC, CTL, ED, EPR, GEO, GOV, MAIN, O, OHI, MO, RAI, RMR, STON, SUI, T, VGR, VZ, WPC.
I wrote this article myself, and it expresses my own opinions. I am not receiving compensation for it (other than from Seeking Alpha). I have no business relationship with any company whose stock is mentioned in this article.