Brean recently initiated coverage on Intel (NASDAQ:INTC) with a Buy Rating and a $36 price target. Interestingly, this price target agrees with our $36 fair value for the stock. We believe INTC remains a strong investment behind diversified growth in DCG and IoT, offsetting losses in the CCG business. We do not believe there is any catalyst for near-term share price appreciation, but we do believe shares are materially undervalued in a long-term window. We see INTC as a strong, risk-off investment for long-term investors.
CCG revenues declined 8% in FY15 due to weakness in the PC realm. This weakness looks to have persisted in Q1, and there shouldn't be much of an expectation for CCG revenues to be up this quarter. The rest of the company, though, is firing on all cylinders. Security revenue rose 6% in 2015 on a constant-currency basis, while IoT revenues grew 7% and DCG revenues grew 11% to $16 billion. Together, the DCG, IoT and memory divisions constituted roughly 40% of net revenues in FY15, and that mix will continue to grow over the next several years. While the company will continue to innovate in the PC space to offset slower upgrade cycles and reduced demand for PCs, INTC will not be wholly reliant on PC growth to drive net sales growth. We are comforted by the diversity of growth for INTC.
We also are comforted by the fact that the fastest-growing segment, DCG, has operating margins of 50%. If INTC can replace lost CCG revenue (25% operating margins) with new DCG revenue (50% operating margins), the company should be the beneficiary of significant net operating margin expansion.
From a valuation standpoint, INTC looks and feels like a relatively risk-off investment. The stock is trading at a ~14x P/E versus a market P/E of 22.5x. Despite this disparity in valuation, analysts still see INTC growing earnings at a 10% CAGR over the next five years versus the S&P earnings CAGR of 5%. This seems like an ideal situation for value investors: a stock that is expected to grow earnings at 2x the annual rate of the market but is trading at a dramatic discount to the market. Coupling this attractive valuation with a >3% dividend yield and consistent earnings and cash flow over the past five years, we believe INTC looks like a relatively risk-off investment at these levels.
To support our bull thesis, we have more fully modeled out INTC. We believe the company can grow revenues in the low-to-mid single digit range over the next five years. This sales growth will be largely driven by growth in the DCG business, a higher-margin business which will in turn drive long-term net gross margin expansion. R&D plus MG&A spend will likely increase consistently Y/Y over the next several years as the company innovates in the DCG, IoT and security spaces, but this growth will likely not be enough to fully counter gross margin expansion from growth of the DCG business. For consistency purposes, we hold depreciation and capital spending constant at $7 billion and $10 billion per year, respectively.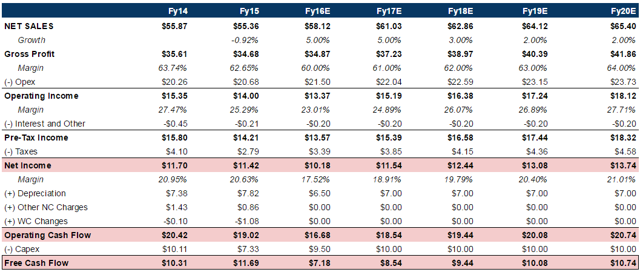 Click to enlarge
Plugging these numbers into our DCF, we arrive at a fair value of ~$36 per share, which agrees with our prior DCF valuation in October 2015. This implies roughly 12-13% upside from current market value.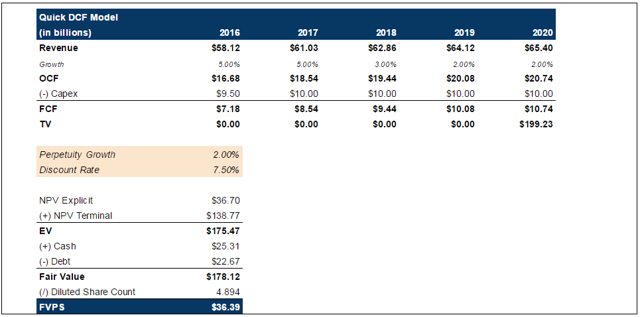 Click to enlarge
From a technical standpoint, the stock is somewhat in no-man's land. INTC is trading slightly above its 50-day moving averages, so we might see a pullback to those key technical levels around $30-31. The RSI also is in neutral territory.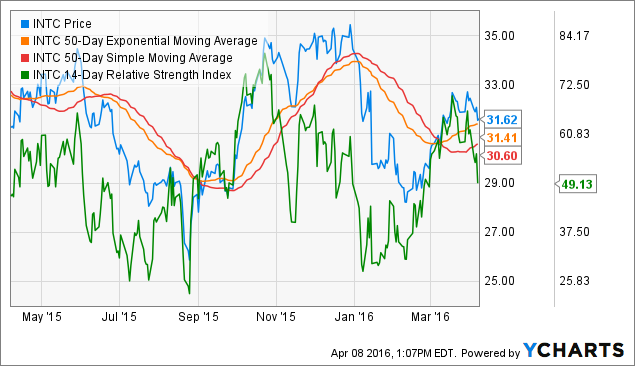 INTC data by YCharts
In sum, we do not believe the qualitative story surrounding a secular decline in PCs or the technicals support much near-term share price appreciation. We do believe, though, shares are undervalued and have a strong long-term growth story. The >3% dividend yield will allow us to get paid to wait for this long-term growth story to play out.
Disclosure: I am/we are long INTC.
I wrote this article myself, and it expresses my own opinions. I am not receiving compensation for it (other than from Seeking Alpha). I have no business relationship with any company whose stock is mentioned in this article.