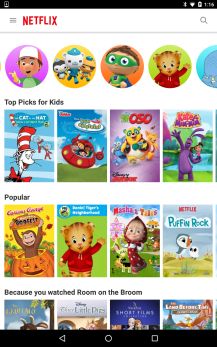 Netflix (NASDAQ:NFLX) is spending a significant part of its content budget on movies and programs geared toward kids' entertainment. Already it has by far the biggest content budget, adding up to $5 billion, which is half of total box-office revenue. By allocating a higher proportion of the budget to content aimed at a younger audience, the firm hopes to create a long-term fan base. Back in January, Ted Sarandos, chief content officer of Netflix gave a hint about this when he stated that the firm would be "doubling down on kids and families."
Of the 70 "global originals" which the firm hopes to release this year, 20 are made for kids. The increasing effort made by the firm for this segment reflects its membership pattern. A majority of Netflix subscribers are from the millennial age group and these programs will be targeted toward kids in these millennial families. This in turn also will provide additional benefits to adults who are used to binge-watching "House of Cards" or "DareDevil."
The firm also provides multiple parental control options including: "little kids," "older kids" and "teens." After analyzing the viewing pattern for kids programs, Netflix has found that a high percentage of programs are popular across different geographies. Close to seven out of top 10 most popular shows watched by kids have been popular in all countries. This is quite favorable for the firm as it does not have to spend an extra amount on customization for this age group.
Content customization costs for Netflix will be one of the most important areas focused by analyst and investors as the firm increases the percentage of international subscribers within its portfolio (currently roughly 30 million or 40% of its total 75 million subscriber base is made by international audience). Having a sizable market share of kids programming should help Netflix alleviate some of these worries.
Its close competitor HBO also has moved in this space in January when new episodes of "Sesame Street" were premiered on the channel. HBO hopes to give additional incentive to adults who have already hooked to "Game of Thrones" thus providing content for all age groups.
Netflix also gave the kids sections new look a couple of weeks back and made it a lot brighter. Both the interface and the icons were changed to show characters that can be easily recognized by the kids.
This spending spree on kids programming is coming at a time when new original content is being produced at a very fast pace. Researchers at Barclay have claimed that the new content produced is five times the time which consumers spend watching TV. This does not bode well for traditional cable networks as they would need to up their game and increase the spending on new programs. At the same time, a greater choice can only benefit Netflix which is producing a lot of this new content.
Netflix started its kids section back in 2011 when it went into a partnership with Disney (NYSE:DIS). Netflix spent a lot of money purchasing rights for old shows and acquiring cheap reruns. This was beneficial for Netflix at that time as its main competitor in this segment, Nickelodeon, saw its rating slump as children valued the flexibility of watching on Netflix. Netflix's original kid's series are expected to expand to 40 by next year giving a major boost to the content lineup in this segment.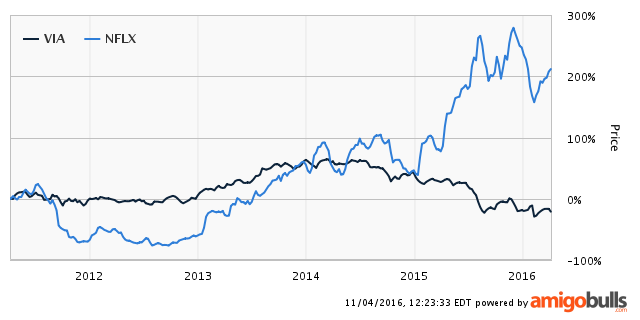 Fig: Movement of Netflix's stock in comparison to Viacom's Inc (NYSE:VIA) stock (Parent company of Nickelodeon)
Nickelodeon's revenue in 2015 is estimated to have fallen by 11 percent on back of another 6 percent fall in 2014. This year-on-year fall reflects a broader trend where kids have moved to Netflix for their entertainment dose.
Although considerable discussion has taken place about the decrease in the content library of Netflix and its impact on the long-term prospects of the firm, it is also important to note the future quality and content prioritization of the firm.
Conclusion
Netflix has proved itself as one of the most adaptable firms, able to not only clear new obstacles but create better opportunities from them. Its heavy focus on kid's programming should give outsized benefits, even bigger than the benefits provided by some of its more famous original series. This segment should create an audience which is more loyal, giving the firm greater flexibility in pricing. At the current stock price, the firm looks quite expensive but a clearer picture about the efficacy of Netflix's content efforts in next 12-24 months should give a good entry point to investors.
Disclosure: I/we have no positions in any stocks mentioned, and no plans to initiate any positions within the next 72 hours.
I wrote this article myself, and it expresses my own opinions. I am not receiving compensation for it (other than from Seeking Alpha). I have no business relationship with any company whose stock is mentioned in this article.