Factory Orders
We learned that factory orders fell 1.7% in February and that January's increase of 1.6% was revised down to an increase of 1.2%. The weakness in new orders was broad based, as orders for durable goods declined 3%, while orders for non-durables also declined, but by just 0.4%. The most important figure we look for is the year-over-year change, which for the first two months of this year has been a decline in orders of 1.7%.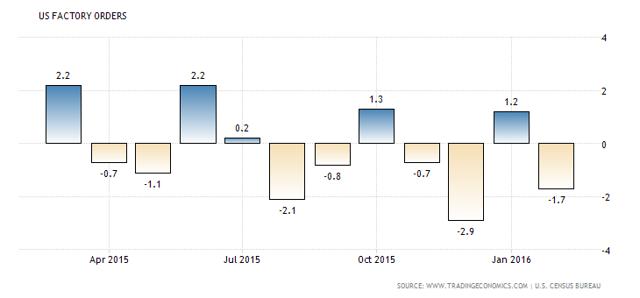 Click to enlarge
The Service Sector
We received two important readings on the health of the service sector in March from the Institute for Supply Management and Markit Economics.
The ISM Services index rose from 53.4 in February to 54.5 in March, which was good news and better than expected. Readings above 50 indicate expansion. Yet this reading is still down on a year-over-year basis from 56.9, and the employment sub-index barely rose above 50 after falling into contraction (49.7) last month. The bottom line is that, based on this indicator, we are still seeing expansion in the service sector, but the rate of growth is weakening.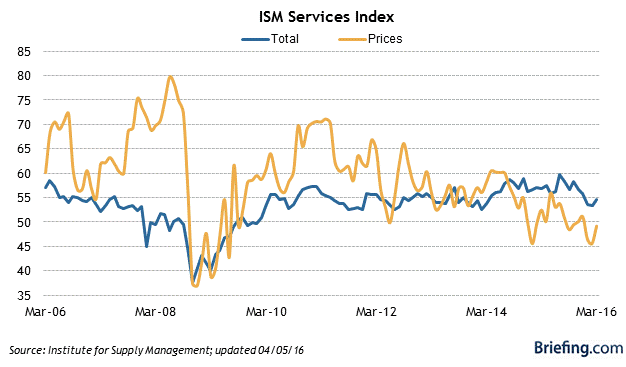 Markit's Services index rebounded in March to 51.3 after falling to 49.7 in February. Still, the survey reported that new orders expanded at the slowest rate in six and a half years, and optimism about the business outlook fell to a new post-crisis low. These survey results are much weaker than the ISM results, but it is important to remember that both are simply surveys of purchasing managers for service companies. The changes from month to month are not good indicators of the trend in long-term growth rates. It is better to look at the year-over-year changes, which in both cases point towards slower rates of growth.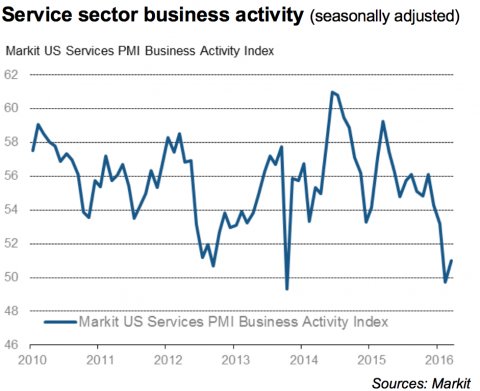 Wholesale Inventories
We learned last week that wholesale inventories declined in February by 0.5%, which was the steepest decline in nearly three years, and the January increase of 0.2% in inventories was revised to a 0.2% decrease. Wholesale inventories are one component of total business inventories. The other two are manufacturing and retail inventories.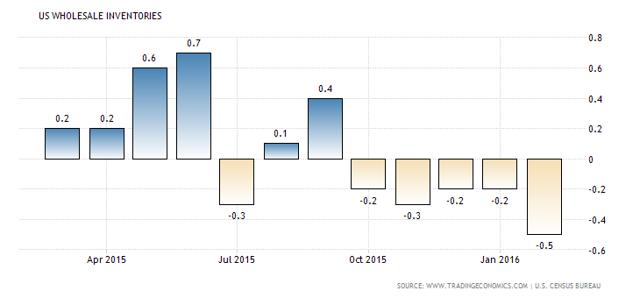 Click to enlarge
This report led many economists to lower their forecasts for the rate of economic growth in the first quarter of this year, as less inventory building means less production and economic activity, but many also felt this could portend stronger rates of growth later in the year as inventory rebuilding is forced to catch up with growth in demand. The problem with this assertion is that demand is still falling at a faster rate than inventories, as can be seen below.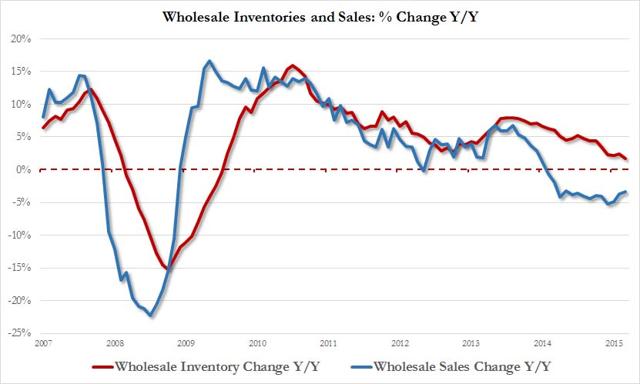 Click to enlarge
Sales for wholesalers fell 0.2% in February, after January's decline of 1.3% was revised down to a decline of 1.9%. At February's sales pace, it would take 1.36 months to sell all of the inventory currently in stock, which is barely off from the highest inventory-to-sales ratio since April 2009, when the US economy was in recession.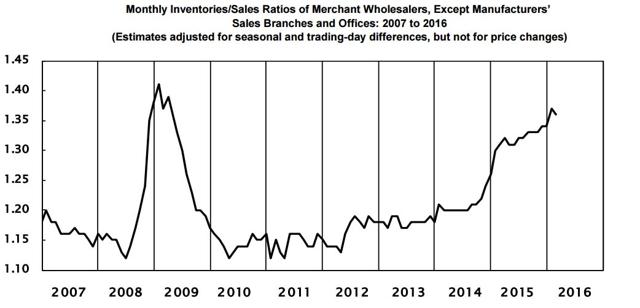 Click to enlarge
Last week was a horrible one for the economic vital signs, as nearly every indicator pointed towards weaker rates of growth. As a result, the Atlanta Fed's GDPNow model is forecasting a rate of economic growth of just 0.1% for the first quarter of the year, and the majority of professional economists follow the data with adjustments of their own.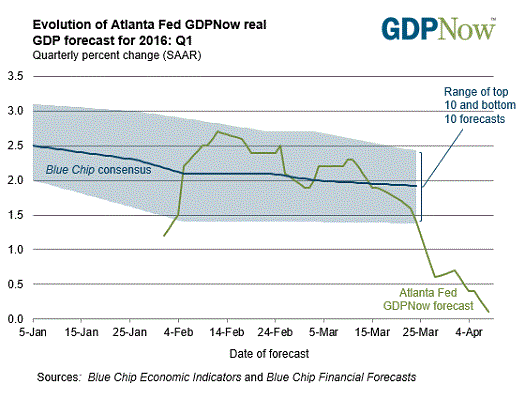 Our forecast for US economic growth remains unchanged from when we introduced it at the beginning of this series of reports in January. We stated that in comparison to the consensus forecast of a 2.4% rate of economic growth in the US for 2016, we estimate that figure will be closer to 1%. We also asserted that there was a distinct possibility that we have one quarter where the economy contracts. It looks like the first quarter may be that quarter. At the same time, we continue to believe that a recession looks unlikely. The reason our forecast for growth at the beginning of this year differed so much from the consensus is that it is absent hope, eternal Wall Street bullish bias and government cheerleading. Instead, it is focused on the actual rates of change in the data on a year-over-year basis.
Disclosure: I/we have no positions in any stocks mentioned, and no plans to initiate any positions within the next 72 hours.
I wrote this article myself, and it expresses my own opinions. I am not receiving compensation for it (other than from Seeking Alpha). I have no business relationship with any company whose stock is mentioned in this article.