The news of a drillship Deepsea Metro II being sold for just $210 million was hotly discussed in the recent days. This topic was debated in the comments section of my previous article on Seadrill (NYSE:SDRL), which discussed a possible debt-for-equity swap, and elsewhere on Seeking Alpha. As always, Seadrill bulls and bears have an opposite interpretation of the news. Bulls point out to a fire sale that could be a one-time event, while some bears lean toward calculating the salvage value of Seadrill based on this transaction. In this article, I lay out my views on this topic.
A closer look at Deepsea Metro II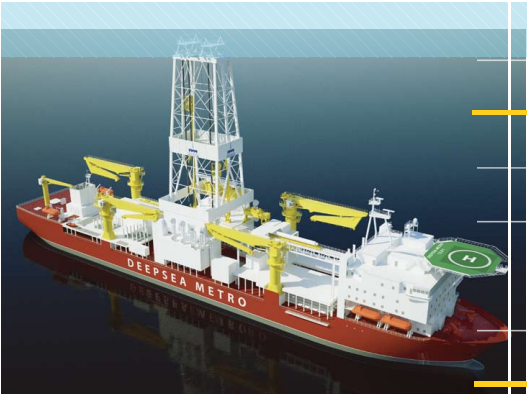 Before we proceed, you may want to know a little bit more about the discussed drillship. Deepsea Metro was built in 2011, its owner was Chloe Marine Corporation. Chloe was owned by Deepsea Metro and Odfjell Drilling. The drillship manager was Odfjell Drilling. To finance the delivery of the drillship, Chloe took a $400 million senior secured bank loan and issued $150 million of second lien bonds.
The initial price tag for Deepsea Metro was $860 million. The drillship started working for Petrobras (NYSE: PBR). Petrobras problems are well-known, and the ship was not able to secure follow-on work or get any job elsewhere. Financial problems mounted, and creditors found no better solution than to sell the drillship for $210 million dollars.
Interestingly, the sister ship Deepsea Metro I recently got a contract extension on a day rate of $184,000. If you are curious to take a closer look at the drillship, you can check out this presentation which portrays both Deepsea Metro I and Deepsea Metro II.
Looking at Seadrill through the prism of the drillship transaction
There have been all kinds of speculations after Seadrill announced its upcoming restructuring in the previous quarterly report. In any kind of a debt restructuring, the underlying value of the company's assets plays a crucial role. Previously, we did not have data points regarding the potential value of a state-of-the-art drillship in the current market environment. After all, one of the common bullish arguments was to point out to Seadrill's fleet and tell how much money one will need to replicate such a fleet.
The sale of Deepsea Metro II highlights one important thing - no one will be building rigs in the near-to-medium term because building rigs does not make any economic sense in the current market environment. Those willing to purchase a rig will easily find an existing rig in the market. That's why we should forget about calculating replacement costs for offshore drillers for the time being - such calculations will be a waste of time for years to come.
Calculating liquidation values is a more interesting exercise. I would argue that rigs that were built in the seventies and the eighties have liquidation values close to or equal zero. With so many rigs on the market, who cares about the old ones when they go on sale? Things get more complicated with Seadrill's young fleet which certainly does have value.
I think that there are two main ways to calculate what Seadrill's fleet is worth now. The first one is to guesstimate future day rates and base your predictions on the DCF model. The second one is to look at market transactions and try to evaluate whether a buying interest with money exists. I think that the second approach makes more sense in current conditions. I'd argue that the intrinsic value of the rig does not matter until there is a buyer with cash in his pockets. This is the main problem of the market - the absence of buyers to the point where we can call the market for rig sales a non-existent market.
I would like to highlight this point because it means that creditors will likely do their best to keep Seadrill an operating company. In theory, the company's rigs are much less than the company's debt if Seadrill was to sell them today. In practice, there's no market for so many rigs, so selling them is absolutely out of question. This could sound bullish to current Seadrill's shareholders, as, at first glance, it looks like the creditors' best interest is to keep the company afloat. However, at a closer look, the task of keeping Seadrill afloat and the task of protecting common shareholders are two different tasks.
Also, the recent drillship transaction may trigger additional anxiety among creditors as they see their collateral value evaporate. Both bulls and bears downplayed the possibility of debt-for-equity swap in my previous piece on Seadrill, but I still think that such a swap makes sense for creditors if the price of equity is very low.
Bottom line
The recent drillship transaction shows there's barely any market for rigs now. Seadrill's creditors see this and will certainly make sure that the company continues to operate while trying to control as much of the company as they can. There's little common shareholders can do but wait while their fate is decided during Seadrill's negotiations with creditors. The sale of Deepsea Metro II for $210 million should not be ignored as a one-time event. In my view, the sale completely reflects the current market reality.
Disclosure: I/we have no positions in any stocks mentioned, and no plans to initiate any positions within the next 72 hours.
I wrote this article myself, and it expresses my own opinions. I am not receiving compensation for it (other than from Seeking Alpha). I have no business relationship with any company whose stock is mentioned in this article.
Additional disclosure: I may trade SDRL and PBR.