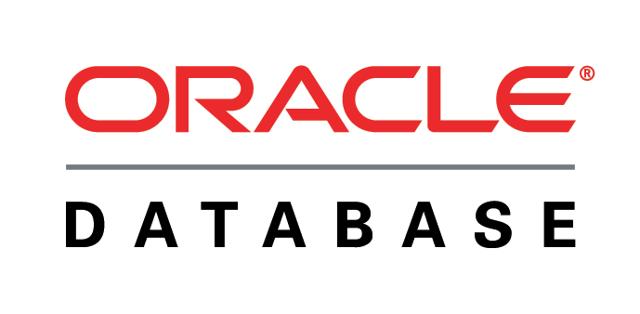 Despite the many problems eating its software and hardware revenues, Oracle (NYSE:ORCL) is still the undisputed king of databases. DB-Engine, a site that ranks database management systems, ranks Oracle's Relational Database Management Systems (RDBMS) as the number one database in 2016.
So many different databases have come and gone, and some continue to challenge Oracle, but the company still remains the king of the database jungle. Their databases have the brand value, they are robust, and the number of enterprise-level customers using their offering is testament to the value they bring.
So, without a doubt, they are the one to go after if your are a company that has deep pockets, enough tech talent and an eye on the market. And that's exactly what Amazon (NASDAQ:AMZN) and Microsoft (NASDAQ:MSFT) are doing right now.
What's Changed to Make Oracle Ripe Fruit for AMZN and MSFT to Pick?
The secret ingredient in this new recipe for disaster (for Oracle) is cloud.
A large number of companies are shifting their technology models to tap into the power and scalability offered by the cloud. With the transition happening thick and fast, companies with huge amounts of data and legacy code are reluctant to give up their on-premises models which, more often than not, will be using Oracle databases to power their back end.
New and growing companies, on the other hand, don't have that issue of migrating production code (that is, the software that is running behind their applications) and are happy to jump onto the cloud bandwagon with promises of big savings, more flexibility and greater capability.
The end result of this current scenario will be that large companies will either stick with their on-premises models or agree to move to the less cumbersome version of the cloud - hybrid. This is the approach that companies like IBM (NYSE:IBM) and Microsoft will take with their larger clients. For smaller companies, it might make sense to move completely to public cloud and have that managed by someone like Rackspace (NYSE:RAX).
The implications of this are enormous when you stretch out the timeline for this shift into a period covering several years. The Fortune 500 of tomorrow, as it were, will, by then, be completely in the cloud except for a very small minority, and the current Fortune 500 will primarily be on a hybrid model to leverage additional services and processes that are too impractical to build in-house.
That leaves Oracle with a major problem in that its market share for databases will grow weaker and weaker over time. And that's the price you pay for referring to something as disruptive as the cloud as "gibberish."
"The computer industry is the only industry that is more fashion-driven than women's fashion. Maybe I'm an idiot, but I have no idea what anyone is talking about. What is it? It's complete gibberish. It's insane. When is this idiocy going to stop?" Ellison once stated about cloud computing" - Intronics
Thankfully, the company has since realized its folly of denouncing the cloud and is attempting to muscle its way into the "cloudosphere" with its SaaS and PaaS strengths. If you're interested, you can read this article and catch up on that.
Oracle's Cloud Service Fights To Compensate For Weakening Software And Hardware
Key Contenders for Oracle's Database Business
Microsoft and Amazon's AWS have both been taking steps to snatch business away from Oracle. Of the "Cloud Fource" or "Cloud 4ce" companies (names I've coined for the top four players in the cloud space comprising Amazon, IBM, Microsoft and Google (NASDAQ:GOOG) (NASDAQ:GOOGL)), Microsoft and Amazon are taking important steps to wean the world away from Oracle database systems.
See how Microsoft is blatantly doing it with their SQL Server promos: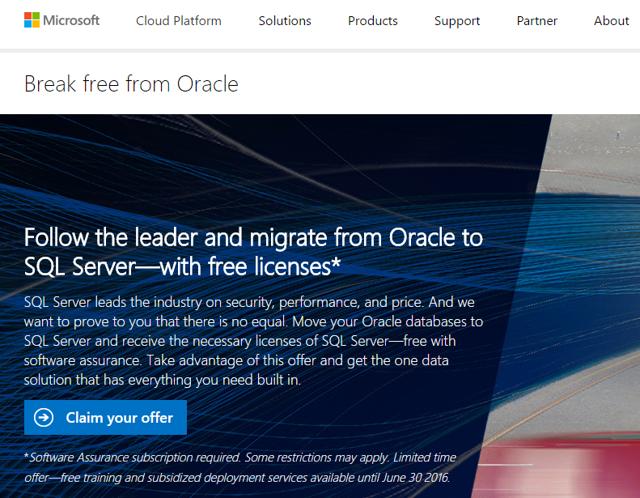 MIGRATE NOW AND REALIZE GREATER VALUE
Break free from expensive data solutions with mysterious, frustrating pricing plans and surprise add-ons. With SQL Server, you get breakthrough in-memory performance across all workloads, mission critical high availability, and business intelligence and advanced analytics tools-all in one package.
With that last part, they're also taking a dig at AWS, which I, personally, have found to be more expensive per compute hour to be on as you grow bigger as a company and have changing needs.
Microsoft is making the migration from Oracle Database as easy as possible and is ready to provide all the support that a company needs to get it done.
This offer includes support services to kick-start your migration, and access to our SQL Server Essentials for the Oracle Database Administrator training. Dive into key features of SQL Server through hands-on labs and instructor-led demos, and learn how to deploy your applications-on-premises or in the cloud. - Microsoft
And Amazon is only marginally subtler than Microsoft in their declaration of war - they didn't actually use the name Oracle. During the recent Amazon re:Invent developer conference, the company boasted that thousands of its customers moved out of expensive data base management systems and adopted their database engine - Amazon Aurora. You can bet they weren't referring to anyone else of significance.
To make this transition even more effective, Amazon announced the launch of migration services to help users to move their data from other database management systems into theirs.
Investor-Speak: Oracle Facing Multi-Pronged Attack?
This is much more than a troublesome situation for Oracle to be in. A key vertical supporting its business is being eaten away by competitors. Databases are almost synonymous with Oracle, and if they lose their lead there, any revenues indirectly dependent on their database business could take a serious hit. We've already seen their hardware and software business showing signs of weakness, and this new challenge might well contain that proverbial straw that will break Oracle's back.
This also is not the first time Oracle's database business has been under attack. Microsoft and IBM have both had database systems for a long time, but neither one was able to position their respective products as the go-to solution for database management as successfully as Oracle was.
With cloud adoption growing at a clip, the threat now is from a new angle but the same old foes - Microsoft, IBM and now Amazon. Moreover, the point of attack is once again their stronghold over the enterprise market, but the ferocity and duration of the attacks will now be a much grander scale than ever.
What the company needs to do as a matter of urgency is to shake off its complacency and do two things:
Continue to push top line growth in cloud using their Human Capital Management and Enterprise Resource Planning systems in the form of SaaS and PaaS solutions. Keep innovating on the database front to fortify that part of their business
I think we may even witness some announcements around the second point in the coming quarters.
Naturally, this is not going to happen overnight, and this is why Oracle is fighting hard to complement its core revenues with top line growth in cloud. So far, they've been faring well, but now the question is: can that part grow as quickly as this one is likely to be eroded?
2016 will be a decisive year for Oracle. Investors are almost guaranteed a bumpy ride because revenues may well drop before their ongoing efforts in cloud and databases are fully realized. One thing is certain: Oracle will have to fight tooth and nail to stay relevant and growing.
Thanks for your time. Please follow me as I cut through the noise in my attempts to reveal opportunities in the world of tech, automobiles, retail, e-commerce and more.
Disclosure: I/we have no positions in any stocks mentioned, and no plans to initiate any positions within the next 72 hours.
I wrote this article myself, and it expresses my own opinions. I am not receiving compensation for it (other than from Seeking Alpha). I have no business relationship with any company whose stock is mentioned in this article.