Back in February I wrote an article about the Chinese social networking platform Momo (NASDAQ:MOMO) and the possibility of it going private. The first buyout initiatives were raised last summer, when management of Momo decided that their business is significantly undervalued and should be taken private at the $18.90 per share. The first real progress about this issue was made two months ago when Alibaba's (NYSE:BABA) vice chairman Joseph Tsai joined the Board of Directors. Since Alibaba has a minority stake in the company and can influence the management, the decision to appoint their person to the board was seen as good news for a pro-buyout group. Then on April 5, Momo shares surged after a filing showed that Alibaba and Rich Moon became party to a Consortium Agreement: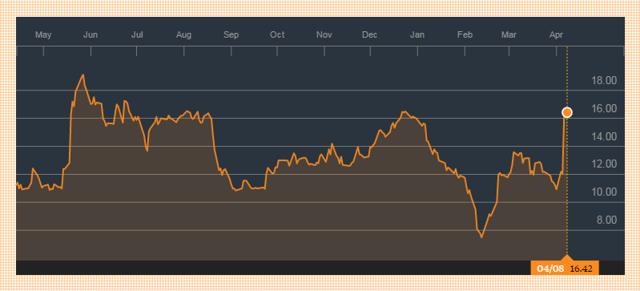 Click to enlarge
Source: Bloomberg
So, if you bought Momo in February, based on my recommendation, your return would've been 35%-plus in less than two months: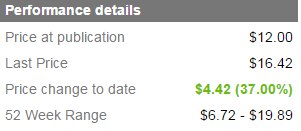 My main reason behind this trade was that the company had an exclusivity period of nine months from July 6, 2015, to start the negotiation process, and since they added an Alibaba executive to the board close to the deadline, some news would've come soon. And this is what happened on April 5, when the filling was released. However, the same filling said: The executive group also extended to April 5, 2017, the deadline to complete the buyout. And that means that it will take some time for the company to become private. So if you bought Momo shares in February, I would recommend selling at least half of the position because the company is ~$2 away from the initial buyout price and doesn't have a lot of upside at the moment. And the more time it will take for the deal to complete, the more risky the stock will become.
Other opportunities
I also want to present all of you a couple of other arbitrage opportunities that are currently gaining traction on buyout news.
My first pick would be a provider of cloud computing services Rackspace (NYSE:RAX). Last week there were rumors that the company is considered to be a takeover target by tech giants like Microsoft (NASDAQ:MSFT), Amazon (NASDAQ:AMZN), HP (NYSE:HPQ) or IBM (NYSE:IBM). I already wrote an article about this issue and presented two possible scenarios that can occur in the coming weeks. In short, Rackspace was looking to be acquired back in 2014 and now has a real chance to be sold, especially to Microsoft or Amazon, with whom it has partnership agreements and will be a good fit for their ecosystems. Also, after my article was published, news came by that Rackspace will be working with Google (NASDAQ: GOOG)(NASDAQ:GOOGL) to co-develop an open server design based on IBM's new Power9 processors. Both the partnership with the Mountain View giant and the work on IBM's processor will only increase the value of Rackspace on the market.
Last year its stock was in the red zone, and the buyout news and possible takeover deal are presenting a lot of upside potential in the coming months. Definitely worth watching and opening a small position in Rackspace.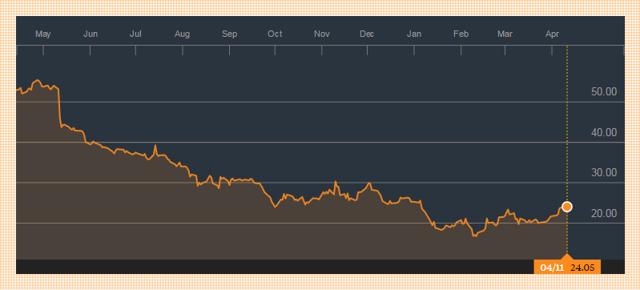 Click to enlarge
Source: Bloomberg
My other pick is Yahoo (NASDAQ:YHOO), which is currently in the midst of a bidding war. As you might have already known, a number of companies and funds are looking to make a deal with Yahoo and acquire its main assets. Google and Microsoft are reportedly considered to make a bid. Verizon (NYSE:VZ), Daily Mail and Time Inc. (NYSE:TIME) also could become potential buyers. And besides that, PE funds like TPG, KKR (NYSE:KKR) and General Atlantic are thinking about making a move. In order to decide the buyer, Yahoo gave interested parties until April 18 to make their offers and is expected to get ~$8 billion for its core business.
For me this is another arbitrage play, considering the scale of players that are involved in this situation. While last year Yahoo was unattractive due to its bad financial condition, the recent interest from other parties will push the stock higher and I will consider establishing a small long position in the company and use the momentum to climb higher.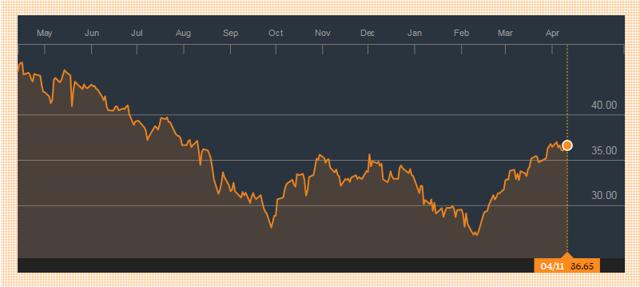 Click to enlarge
Source: Bloomberg
Disclosure: I am/we are long MOMO, RAX, YHOO.
I wrote this article myself, and it expresses my own opinions. I am not receiving compensation for it (other than from Seeking Alpha). I have no business relationship with any company whose stock is mentioned in this article.