There is no more perfect model of European investment banking than Credit Suisse (NYSE:CS), it is a bank with a rich history within global banking. As the most internationally focused investment bank, it provides a very unique perspective of global investment banking.
I was very pleased with the appointment of Tidjane Thiam as CEO and it was undoubtedly his experience in Asia and emerging markets that helped him secure the appointment. He was brought in primarily to downsize the investment bank, grow in Asia and better control costs and from their October 2015 announcement, it was clear that he had started to do this, all of these were announced in the same month that the Swiss cabinet announced UBS (NYSE:UBS) and Credit Suisse must hold capital equal to 5% of assets to boost their resilience and protect taxpayers in the event they needed to be wound down.
This new requirement must be met by the end of 2019, this leverage ratio, as the measure of financial strength is known, can include a maximum of 1.5% of contingent convertible bonds.
In order for the bonds to count toward the ratio, they must convert into equity or get written down if the bank's risk-weighted equity ratio falls below 7%, according to a separate statement from Swiss financial regulator FINMA. Bonds that fulfill this requirement are known as high-trigger or "going-concern capital."
Understandably, this has accelerated the need by Credit Suisse to reduce risk and increase profitability and the obvious target for all of the cuts has been investment banking and an increased focus on wealth management and private banking which has always been Credit Suisse's traditional core offering.
Nevertheless, I am concerned with the speed and scale of this pivot in the company's strategy. I agree that investment banking poses more risks especially reputation risk.
Furthermore, the global structure of investment banking is changing. The main trends are now localization, transparency and far more emphasis on the equities business than fixed income and structured products. These key trends do not lend themselves easily to a global business model because the fixed costs are much higher and will get higher as they will be subject to a bigger carrying charge under Basel III.
Despite all of this, it will be a mistake to significantly downsize the investment banking business because it is precisely investment banking that is needed around the world at this time and going forward. With commercial banks having to significantly reduce their lending under Basel II and III, there is a necessity across the world but particularly in Europe and Asia for alternative sources of capital, restructuring, advisory, risk management and others.
These are the type of services that the investment banking was built on. We have been through an era of easy money and in that era, greed and irresponsibility prevailed. The ability of investment banks to create funding structures was misused and we are still seeing the after effect of that binge. We are now entering a different era, one that is far more complex and risky and clients need good advice more than ever to navigate the treacherous waters of global finance and it is this era that investment banking will rise again.
Not every investment banks will survive, those who are simply financial engineering and trading firms will fail but those who put their clients first, who specialize in providing good advice, who are flexible to modify their business model as the industry changes. It is these that will survive. I do not see these qualities in most of the big investment banking firms; mostly, they focus on scale and size but I see regional specialist boutique firms prospering in this market as they exhibit the necessary qualities required for success.
Furthermore, there is a competitive advantage that is gained from being able to serve clients needs from both an investment banking perspective and a wealth management perspective and with a weaker investment banking unit, that will be lost.
In addition, Credit Suisse is risking its significant corporate client base which is vital in continuing to draw high quality clients to them.
The corporate business financing is structurally different in Europe compared to the USA because in Europe, most corporate financing is done through the banks compared to the USA where public financing is far more common.
Golden Opportunity in Europe
As a result of this, the potential in the European investment banking and alternative financing market is huge as it is still very underdeveloped and Credit Suisse particularly with its deep expertise in global financing, wealth capital and links in the insurance business would have been a major force for stimulating growth within the EU.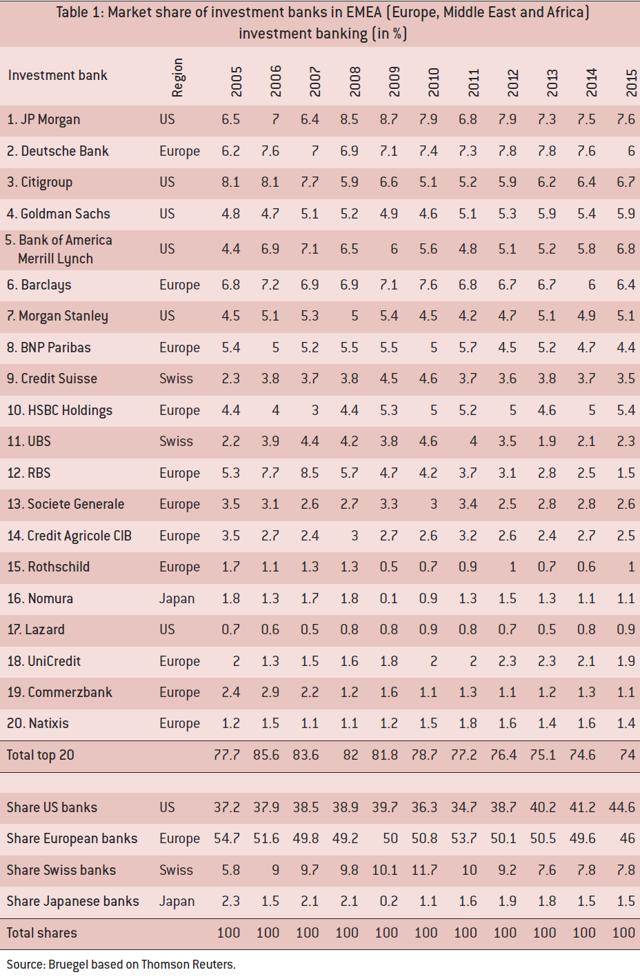 Click to enlarge
Additionally, in order to reduce global risks arising from its international banking operations, it would have been better to first limit by products before cutting staff. They should have started by first reducing their products offerings and focus more on traditional investment banking and financial products.
The next stage of this process will be to determine how much staff they need to execute on that strategy correctly but unfortunately, it seems that the Credit Suisse board are in a lot of hurry to decrease costs seemingly regardless of the unintended consequences.
This is not a mistake being made by CS alone, it is also the case with other banks like Bank of America (NYSE:BAC) and Citigroup (NYSE:C) both of which are cutting deeply particularly in their investment banking units.
Perhaps, the problem is a misunderstanding of Basel II and III. The emphasis of the banking regulations are ultimately about preventing banks that are too big to fail whereby taxpayers money will have to be put at risk.
This goal is not simply a quantitative one but also a qualitative one because under the Basel regulations, higher carrying charges were assigned to riskier assets.
This understanding is critical to understanding the implications of relentless job cutting in the investment banking units as in my opinion, these job cuts look like simple wholesale job cutting in order to focus on the more profitable private banking and wealth management.
Possible Restructuring Option
With this being the case, it could have been done differently. CS's other global investment banking units like in North America and Asia could have been restructured as self-contained local investment banking units, whereby risks are isolated.
This can be done through making them non-recourse entities that are responsible for making a profit on their capital. Some of this profits is repatriated back to the parent company and the rest of it reinvested in the local market.
In this way, CS gets exposure to the upside but the downside risks are limited. If there is a risk in the Asian market, it is easy to quarantine that unit and assess separately from the parent without those risks affecting the parent company's operations.
This will also force the local units to be more entrepreneurial and actually be more responsive to local needs instead of being driven by the travails of the headquarters. They will act more like locally focused boutique investment banking companies. This flatter business structure is gaining in popularity and has been undertaken by companies like Google (NASDAQ:GOOG) because it helps companies to focus, grow profitability and manage risk better.
There is another danger lurking in the background that can be found in the recent announcement by Mr. Tidjane when he said that various positions and illiquid assets will be sold. He does not say what they are but I wonder whether this will be the start of an acceleration of Europe banking deleveraging. We have already seen significant deleveraging since 2010 within the major banks, it is likely that the sale of the 'illiquid position' is a harbinger of what to expect from banks in 2016.
Recommendations
If we continue to see significant market volatility then we will more deleveraging and sales by major European banks like CS and Deutsche Bank (NYSE:DB) that have significant exposure to the euro currency and have heavily hedged their exposures with derivatives like currency swaps. The net effect of all of these will be further losses as banks will have to pay significant costs to unwind these positions or sell the unprofitable units.
Whichever way one looks at it, expect more bad news from the banking sector as a whole, sell positions in banking stocks where possible and/or short the sector, I really like the SPDR S&P Bank ETF (NYSEARCA:KBE).
In my opinion, we have not yet begun to see the full loses from these positions and with further increases of interest rates expected this year, it will add to market volatility forcing more of these instruments to go into the red and reducing earnings and profitability of banks.
On the other hand, if interest rates continue to fall, it will also affect the earnings in the banking sector negatively. I do not see this necessarily as a negative because there has been undue reliance by banks on interest rates and central banks for profitability.
I will suggest investors in this sector go deeper into the granular details of the banks especially looking at metrics like operational excellence, wider variety of products and services, thought leadership, community engagement and the level to which they banks embrace Fintech.
Furthermore, the critical questions have not been addressed, these questions relate to the global shift in financial demand from loan based products to equity and capital market products. This ability to contribute to the debate about the future direction of finance and provide greater value will be crucial in determining which banks succeed or fail.
Conclusion
Finally, in Europe especially, wealth management and private banking is now a crowded field and many banking executives including Mr. Thiam are now betting on the Asian wealth management possibilities.
In my opinion, this is a big risk as it is being done on the assumption that Asia particularly China are going to grow at the rate they grew over the last 10 years but this is not the case, instead we will have significantly less growth. The net assets of the HNWs and UHNWs will decrease particularly in Asia as that part of the world continues to remain volatile.
In conclusion, the jury is still out on how CS's new strategy will play out but the correct strategy may be the one from which every bank is currently running away. In the interim, as much as I admire Mr. Thiam, I see further weakness in the stocks of CS and other global money centers.
It has been said that the dinosaurs became extinct because environmental conditions changed faster than they were able to evolve. I wonder if our global investment banking firm can escape the same fate or they will also be confined to history just like the dinosaur, dodo and the IBM 704 mainframe.
Disclosure: I/we have no positions in any stocks mentioned, and no plans to initiate any positions within the next 72 hours.
I wrote this article myself, and it expresses my own opinions. I am not receiving compensation for it (other than from Seeking Alpha). I have no business relationship with any company whose stock is mentioned in this article.