Investment Drivers
(1) Pivotal Locations for the Aging Baby Boomers
Based on the latest U.S. Census Bureau there are over 46M Americans aged 65 or over as of the summer of 2014. The Bureau projects that this number will rise to over 61M by 2029, which is when the youngest baby bombers will be 65 years old.
Service Corporation International (NYSE:SCI) has strategically placed 40% of their funeral properties in the States that represent the oldest population. These five states represent a total of 16.3M Americans aged 65 and over, as of the summer of 2014. This means they will be well positioned to take advantage of both atneed and preneed services from customers.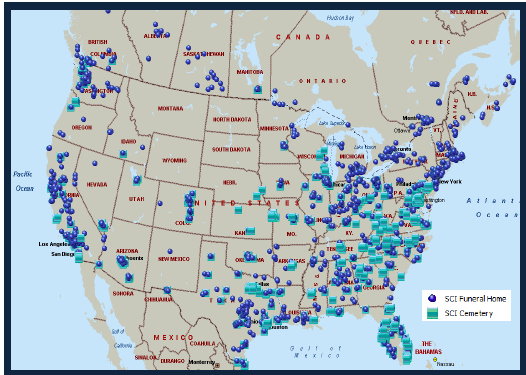 (2) Obesity Does Not Discriminate Against Age
Obesity is directly associated with 3 of the top leading causes of deaths in America (heart disease, stroke and type 2 diabetes). In fact, those that have obesity have a lower survival rate than those that smoke. Over 91M Americans, both adults (78.6M) and children (12.7M), are considered obese in the United States. One CDC report revealed that heart disease, stroke, and cancer are among the leading causes to death and show no sign of slowing.
(3) Leveraging Their Size
Representing 16% of the 21% that the five largest competitors make up, SCI has the ability to leverage its buying power through its network to more efficiently control costs, for example, signing multiple year contracts with national vendors.

Investment Risks
(1) Baby Boomers are Living Longer
Baby bombers are getting older but the improvements in medicine and technology have helped drive a longer life expectancy. The average life expectancy in Canada is 82 years old and in the United States is 80 years old.
(2) Balancing Debt and Interest Payments
The Company has about $3.2B of debt on the balance sheet. One portion of the debt was raised to fund its 2013 acquisition of Stewart Enterprises for $1.5B. The consolidated debt has a weighted average interest rate of 5.2% and 76% of the total debt has a fixed interest rate.
Industry Overview
The deathcare industry is highly fragmented with several independent operators across North America (Canada and the US). The top 5 operators, SCI being the leader at 16% market share, control approximately 21% of the market. The other notable competitors in the industry are Arbor (private company), Carriage (NYSE:CSV), Northstar (private company), and StoneMor (NASDAQ:STON). The industry has traditionally and continues to be dominated by independently owned and operated local entrepreneurs.
In North America, the deathcare industry is estimated to be $19B with 22,000 funeral homes and 4,000 cemeteries. The funeral segment is estimated at $15B and is motivated by a caregiver attitude, which means to cater to the needs of the respective cultures. There are also relatively low barriers to entry to the funeral segment with the exception of the high-end market.
However, in the cemetery segment, there are high barriers to entry due to government zoning restrictions and capital investments. The cemetery segment is estimated at $4B and is mainly driven by a sales mindset. According to the National Funeral Directors Association (NFDA), in the United States, there were 19,391 funeral homes in 2015, which is down from 21,528 funeral homes in 2004. The median cost of a funeral with burial has gone up from $6,580 in 2004 to $8,508 in 2014, representing a 29.3% increase.
Revenues
The growth of preneed backlog has grown to $9.5B, which are contracts that customers have signed but revenue cannot be fully recognized until service and/or merchandise have been provided. The cumulative preneed backlog is divided between funeral services of $7B over 2.8M contracts, and cemetery services of $2.5B over 1.7M contracts. The average total annual preneed sales from funeral services represent $800M (~174k customers) and cemetery services represent $765M (~135k customers).
Therefore, the average funeral service is ~$4,600 and cemetery service is ~$5,700. The preneed sales provide several positive attributes for SCI. First, it helps create brand awareness within the community; second, it helps drive future market share; third, it provides a competitive advantage when negotiating contracts with suppliers.
Eric Tanzberger, SVP, CFO, and Treasurer, mentioned in a recent Raymond James Institutional Investor Conference that, "…, we think about one out of every four contracts… of pre-arranged funeral sales, is actually going to our branded home..." If this is indeed correct, then SCI is capturing market share in the highly fragmented deathcare space. This will most likely continue as Steve Tidwell, SVP of Sales & Merchandising, leads the largest sales team, i.e. ~5,000 sales counselors, in the deathcare market.
The penetration of 1,800 Pre-Planning Advisors and 2,300 Family Service Counselors to reach local communities is unparalleled to its closest competitor StoneMor Partners, which has ~800 total sales counselors. The recent introduction of Saleforce's (NYSE:CRM) CRM platform will only contribute to a stronger and more effective sales team.
The bulk of total revenues are driven by the funeral segment, representing 63% or $1.9B of Sales, and the remaining portion is directed by the cemetery segment, representing 37% or $1.1B of Sales. The Canadian operations delivered $181M, or 6% of total sales, to the Company's top line in 2015. Over the past ten years, revenues in Canada have stayed relatively stable representing 8% of total sales.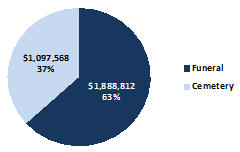 In order to attract a greater and more diverse market, SCI has used a tiered product and pricing offering to accommodate the local communities that have ethnic traditions and customs. This has been and will continue to be part of the growth strategy in the cemetery segment.
Fifty six percent of the cemeteries (262 out of 469) are considered "combination locations" which means that the funeral service is connected to the cemetery. The combination locations are a win-win for the customers and SCI because it creates cost efficiencies and synergies between the funeral service and the cemetery, leading to higher margins, and allows the customer, both atneed and preneed, added comfort and value as a one stop shop.
In the future, revenues should continue to be strong and stable with the support of the $9.5B preneed backlog. The sales team will continue to contribute to increasing sales with the efforts of its new Salesforce CRM platform, tiered product and pricing schedule, and robust combination locations.
Dividend & Share Repurchases
Since 2011, over $1.2B of value has been returned to shareholders through dividends and share repurchases. Based on the capital deployment strategy, it is expected that additional value will continue to be returned to shareholders in the future. This message is further echoed by the increased dividend payout ratio, which was previously 25%-35% but has since been increased to 30%-40% of recurring net income.
Based on the recent historical patterns of dividend payments, it is forecast that an annual distribution of $0.51 per share is expected. Since the reinstatement of the dividend in 2005, it has steadily climbed to an annual $0.44 per share in 2015. Typically, the dividend increase is not reflected until Q2 or Q3.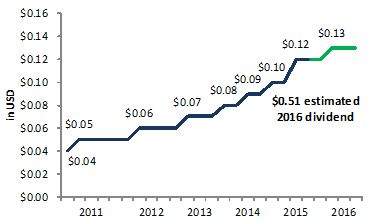 The share repurchase program has decreased shares from 222M in 2011 to 195M in 2015, representing a 12% or 27M share drop. It is expected that SCI will utilize the available $278.8M in the share repurchase program to extend the share repurchase. It is anticipated that shares will stabilize around 190M shares in 2016, thus illustrating a 14% or 32M share down-tick from 2011. The acquisition of Stewart Enterprises for $1.5B in 2013 was the only year, since 2011, that did not see a contraction in the share count.
Conclusion
So, why am I long SCI? The answer is simple:
1. Strategic locations in the States with the most baby boomers
2. Over 91M Americans are considered obese
3. Synergies arising from previous deal making, e.g. Alderwoods ($1.2B) in 2006, Keystone ($265M) in 2009, and Stewart ($1.5B) in 2013
4. Industry leader (16% revenue market share)
5. Returning capital back to investors (dividend and share repurchases)
6. $9.5B in backlog of future revenues
The stock has recently been trading around $25 and is up +3% over the last month. I think if it drops near $21 or $22, it is a very nice entry point to build a position. Remember it also pays a 2% dividend yield as well. In terms of what to look for in 2016, it comes down to the growth in the $9.5B backlog of future revenues and how much more costs can be squeezed out of the system.
Disclosure: I am/we are long SCI.
I wrote this article myself, and it expresses my own opinions. I am not receiving compensation for it (other than from Seeking Alpha). I have no business relationship with any company whose stock is mentioned in this article.