Earlier last week (see here), we touched upon the ongoing weakness in the US dollar while noting that this weakness shouldn't strike surprising when the speed of change in the currency is viewed from a historical perspective. In particular, we laid out our case - as expectations that dollar index could toy around with 90 level in the short to intermediate term remain completely baked into the marketplace. And in light of these expectations, the S&P500 (NYSEARCA:SPY) can stutter as the 'growth-scare' narrative loses steam. But we question are investors so blind to the trade recession that has already started in the pro-cyclical economies around the world that they fail to distinguish between a 'growth-scare' and an outright 'economic-recession.'
Against this backdrop, we have been spending a lot of time to recognize the undergoing changes in the levels of interconnectedness among several macro-variables that continue to 'unfold' and anticipate their transmission mechanism over the economies. Trade growth continues to disappoint globally, with the last year witnessing the biggest collapse in the value of goods-traded around the world since 2009, and this subpar performance isn't expected to turnaround in 2016.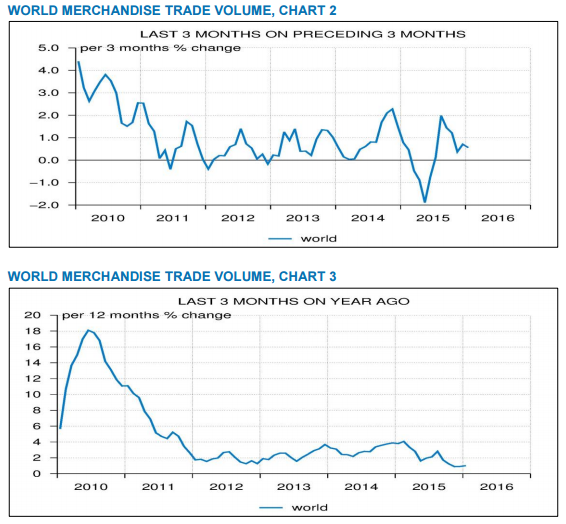 Figure 1: Taken from World Trade Monitor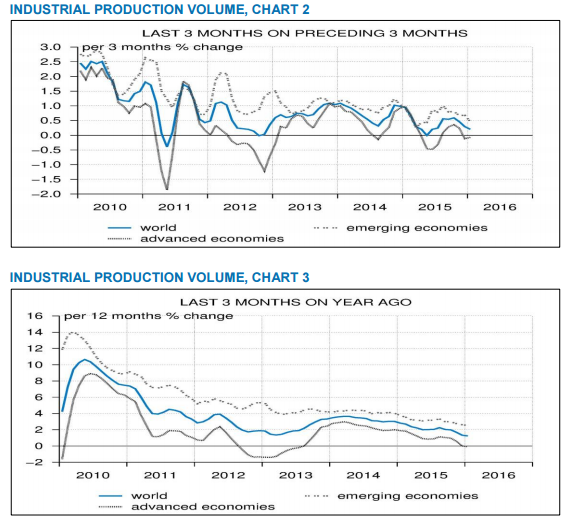 Figure 2: Taken from World Trade Monitor
This decline, we argue, is rather an unintended consequence of loosened monetary policies adopted by the central bankers. In particular for European and Japanese economies, with the depreciation of exchange rate the size of economies in dollar denominated terms shrinks as well, erasing the demand for exporters selling their goods in US dollars. In the face of this demand destruction, exporters either lose export markets entirely or are forced to cut prices representing a margin squeeze. This export squeeze has caused growth powerhouses such as China to sputter which in turn now is feeding itself into economies reliant on Chinese demand (Euro, Japan), a highly 'deflationary' headwind, as illustrated in Figure 3 below.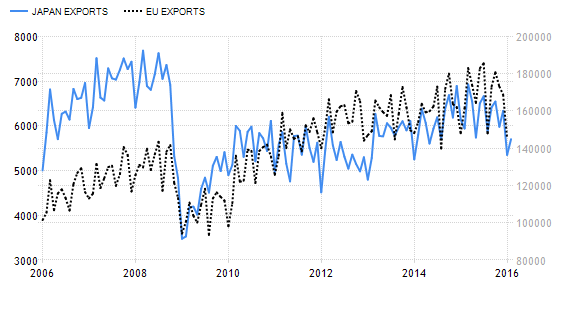 Figure 3: Taken from Trading Economics
More telling in light of the weakened developed world demand is China cutting export prices aggressively to keep its factories humming. And, this Chinese attempt to maintain market share hasn't gone unnoticed as developed world jumped into this price war in 2014 and we don't see any evidence of this trend reversing anytime soon. These ongoing price wars will continue to pressure investment spending, which already remains subdued in this 'new normal' recovery.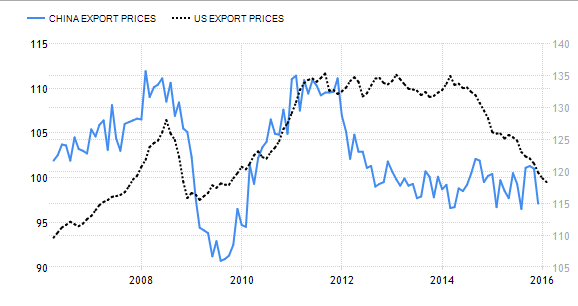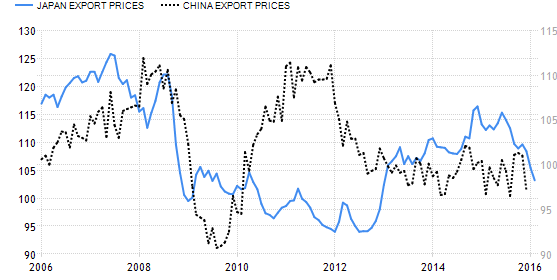 Figure 4: Taken from Trading Economics
Contrary to these macro developments, the majority of investors continue to believe US economy is fine, and the lagged effect of lower oil prices on consumption is about to kick in along with the real wage growth. These expectations are pinned on the hopes that fall in input costs will equate to a linear rise in consumption, ignoring the tendency of consumers to save more in a low-interest rate environment. Retail sales have continued their downward path since 2010 and are closely tracking dollar (inverted) movements, which is reinforcing these expectations further. On the other hand, we continue to face excess inventory overhang, which will irrefutably create a headwind for the corporate profits in 2016.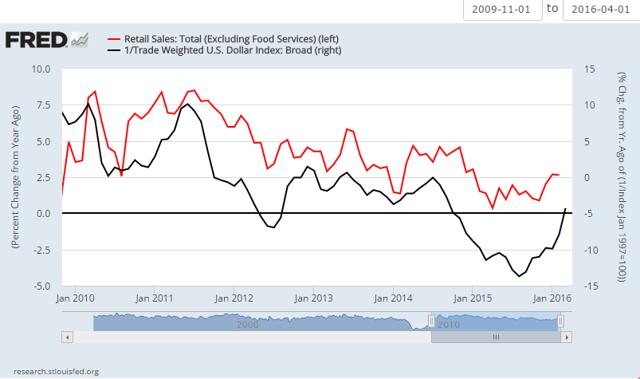 Click to enlarge
Figure 5: Taken from FRED , Retail Sales y/y vs. Dollar (inverted) y/y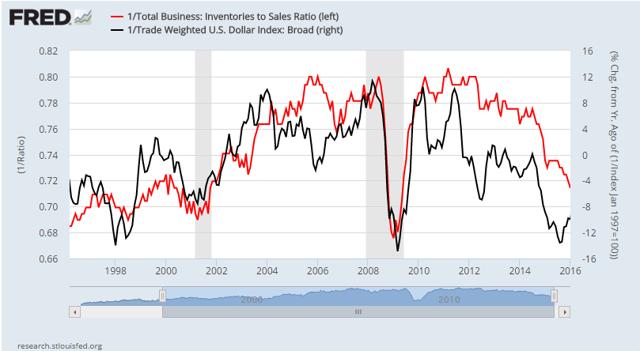 Click to enlarge
Figure 6: Taken from FRED , Business Inventories to Sales (Inv.) vs. Dollar (inverted) y/y
In discussion with several investors, I noted that most of them believe that such headline-grabbing scenarios such as manufacturing weakness, currency tail risk, commodity rout can be hedged at a very modest cost while retaining upside exposure. Thus, such fears remain overstated. But it's the looming job losses, which historically have lagged ISM by 4-6 months, and the spillover into US equity markets is missing from their expectations so far.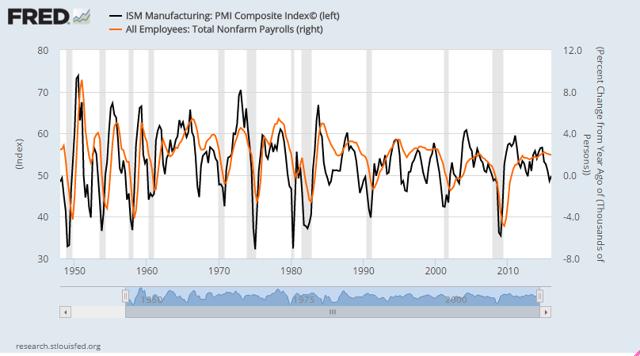 Click to enlarge
Figure 7: Taken from FRED , ISM vs. NFP y/y
What does this mean going forward?
An ironical view held by the investors broadly is that neither shale oil bad debts nor wider malaise in junk has the potential to sow the same magnitude of damage spread by the fault lines that emerged in the US housing back in 2008. High yield debt outstanding related to oil producers stands at $250 billion compared to 1.8x the size of US economy for housing debt - thus, this appears more of a cyclical issue rather than a systemic problem. Investors continue to chase the yield and provide the unjustified bid to the equity markets.
Disclosure: I am/we are short SPY.
I wrote this article myself, and it expresses my own opinions. I am not receiving compensation for it (other than from Seeking Alpha). I have no business relationship with any company whose stock is mentioned in this article.
Additional disclosure: via long dated OTM puts