Investment Thesis
Reliv (NASDAQ:RELV) is a company in need of a turnaround. Since 2011, revenue has fallen at a compounded annual growth rate (CAGR) of 8.5%. Products appear to be made with top-notch ingredients and Reliv holds patents on 6 of their products. However, they highly rely on their multi-level marketing distributors as the sole source of revenue. RELV's need for distributors is critical, yet the number has been falling and is highly correlated to revenue. With fixed costs already being cut to the bone, RELV must find a way to increase revenue - otherwise they will continue to burn cash and will be faced with some very difficult decisions.
Company Overview
Founded in 1988 by Robert Montgomery and located in Chesterfield, Missouri, Reliv makes 17 nutritional products, which are sold through its distributors, which act as a multi-level sales organization.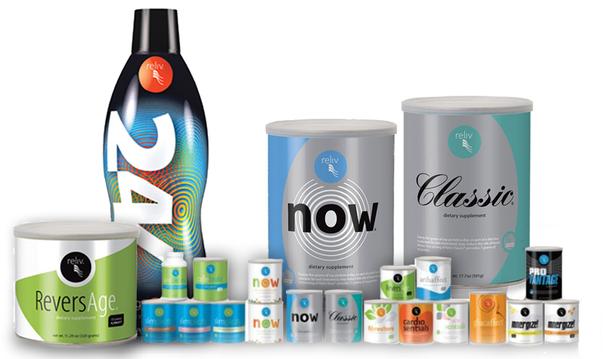 The company went public in 1993 and is now traded on the Nasdaq under RELV. In 2005, Reliv ranked 43 on Forbes Magazine's "200 Best Small Companies" and ranked 14 in 2006. Reliv 24k is a liquid drink, which improves energy, focus, and relieves stress. This product has great potential if it can be marketed and sold to a wide enough audience.
I have never used Reliv's products, but recently had the opportunity to visit the headquarters and meet with CFO Steve Albright as well as tour the factory (in full lab coat of course).
The production area and warehouse are immaculate with respect to cleanliness and organization. The raw materials (ingredients) I saw in the warehouse were of high quality, as evidence of the labeling on the bags. The machinery is top notch, well maintained, and impressive - especially the capsule machine they purchased last year for roughly $500,000.
The concern I have is their access capacity. At the time I was there, the machines were idle. I was surprised when Mr. Albright told me the machines are only used about 16 to 18 days a month. Reliv could manufacture products for another company if they were able to find an arrangement free of any conflicts of interest. It is also worth noting, sales could double or possibly triple without the need for the firm to make any large investments in property, plant & equipment (PP&E).
Direct selling generally grows during recessions and economic downturns as people look for a way to supplement their income. In the case of Reliv, the company saw their number of distributors grow from 65,480 in 2005 to 67,940 in 2009 and then plummet to 44,590 at the end of 2015.
Most of Reliv's distributors are between 40 and 70 years old. Technology has had an influence on direct selling and there is some tendency to push toward watching online videos and reading about the products on a website versus a face to face meeting or personal presentation. However, the personal sales approach is certainly not dead. A visit to your local coffee shop will provide plenty of examples of sales people in action.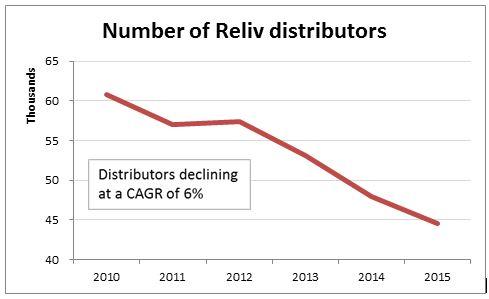 Using a regression analysis, the correlation between the number of Reliv distributors and revenue is 0.894, which indicates a very strong relationship. The graph below shows the decline in revenues.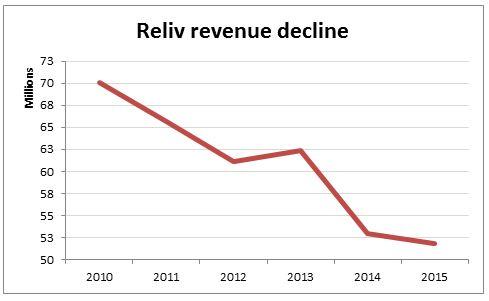 The way I see it, the company is stuck between a rock and a hard place. They don't want a conflict with or to compete with their distributors yet they need to grow their sales. Given cost of goods sold and SG&A expenses are somewhat fixed or have been "cut to the bone."
RELV needs one or more of the following; to increase the quantity of distributors, increase the volume the current distributors sell, or create a new hugely successful product they can sell to the mass market void their distributor network.
Reliv did announce a new plan for their distributors whereby certain volume qualifications have to be met for the distributor to achieve specific commission levels. How this is accepted and its affect can only be measured in due time. Reliv does very little advertising and marketing, so the company is going to live or die by virtue of the distributors.
Balance Sheet
In comparing the 2010 and 2015 balance sheets, at first glance, total assets of $24,843,701 in 2010 vs. $24,261,032 in 2015 looks like little has changed. The accounts which increased in 2015 are; cash surrender of life insurance, not receivable due from distributor, deferred income taxes, and intangible assets. The accounts, which have fallen in value are; cash, accounts receivable, and other assets. While I can't say an increase in the surrender value of life insurance is necessarily bad - as an investor, I would rather see an increase in productive assets, which are going to generate a growth in sales and increase the earnings for all shareholders.
The company paid a semi-annual dividend to shareholders from 2004 to 2013. The dividend decreased from a high of $0.05 per share to $0.01 per share until the point at which the board discontinued the dividend.
Industry Overview
Reliv's revenue is entirely reliant on its distributors, who work within a multi-level marketing organization. Competitors Herbalife (NYSE:HLF) and Advocare also have a MLM sales force. Other nutritional supplements are sold directly to health & wellness stores, grocery stores and discounters. The internet and social media continue to be greatly important to the success of most businesses, especially those trying to attract millennials. The public relying on the internet for health information is a growing trend.
RELV is not the only business to experience a decline in revenue and distributors. On March 1st, Avon (NYSE:AVP) announced it would sell its North American division to Cerberus Capital. In the announcement, Steven Mayer of Cerberus stated the following problems with Avon: declining organically compared to other direct sellers, declining number of representatives, struggling with profitability, brand loved but eroding relevance, requires significant investment and transformative change. On a positive, Mayer also noted direct selling is growing in the U.S.
Competition
Companies such as Advocare and Herbalife present significant competition. Advocare has numerous athletic sponsors and endorsers. While the company is private, it has estimated revenue of about $400 million, 8x that of Reliv.
Herbalife has grown revenue over 17.5% from 2010. They currently have over 60 athletic sponsors and 42 team sponsors. Herbalife posted 2015 revenue of nearly $4.5 billion, over 86x Reliv's 2015 revenue. The graph below shows Reliv's 5-year stock performance vs. Herbalife.

The options for turning the ship around
One option is to be acquired. Management owns over 30% of the firm however so an acquisition could be challenging. There are considerable advantages for a profitable firm to buy Reliv. Financial statements reveal a write-down of over $700,000 of deferred tax assets. However, there are over $2,000,000 remaining, which cannot be realized due to the firm being unprofitable. A profitable firm could buy Reliv and monetize the deferred tax assets (it would result in a tax savings to the acquirer). The deferred tax assets would be worth about $0.17 a share to an acquirer - at current market prices, about 22% of the equity value of the company.
Another possibility for the firm would be to go private, saving them about $250,000 a year in costs related by SEC filings, compliance, etc.
A final option is to sell one of its key products through traditional distribution channels and not through its distributors exclusively. This would help the firm obtain the recognition they desperately need from the nutritionally uninformed public. It would also greatly benefit the distributors to have an increase in brand recognition.
The current stock price is about 25% lower than the minimum required price of $1.00 to maintain its listing. Reliv will have to take some action or face being de-listed.
Outlook
It is going to require significant changes to turn Reliv around. Looking at the 3 Ps - people, product, and process - I'm not sure if the current people can make the turnaround. Management seems reluctant to make significant changes to the model and do not want to disrupt the current distributor relationship.
The product seems to be solid and I think there is a lot of potential with products such as 24K. A loyal group of people have used the products for many years but Reliv must attract new customers. The sales process needs improvement and is going to be tricky to get right, but it can certainly be done.
Finally, I want to remind readers this article is written from the viewpoint of a journalist who wants only to be objective. I'm grateful to Mr. Albright for the meeting and factory tour. I sincerely hope Reliv makes some necessary changes to get back to positive earnings and begin providing value for their shareholders.
Disclosure: I/we have no positions in any stocks mentioned, and no plans to initiate any positions within the next 72 hours.
I wrote this article myself, and it expresses my own opinions. I am not receiving compensation for it (other than from Seeking Alpha). I have no business relationship with any company whose stock is mentioned in this article.
Editor's Note: This article covers one or more stocks trading at less than $1 per share and/or with less than a $100 million market cap. Please be aware of the risks associated with these stocks.