Medical super-giant Johnson & Johnson (NYSE:JNJ) has experienced recent skepticism following a minor plunge in 2015 and the anticipation of expiring patents on top selling pharmaceuticals. Established in 1886 in New Brunswick, New Jersey, JNJ experienced its first breakthrough bringing the first commercial first-aid kit to market in 1888. After 130 years of service the company has grown to be a major player in the medical industry, boasting three product divisions with over 250 subsidiaries in 60 countries. Between pharmaceuticals, medical devices and consumer products, JNJ has grown to hold a market cap of $298.5 billion and 2015 marked its 53rd consecutive year of dividend growth.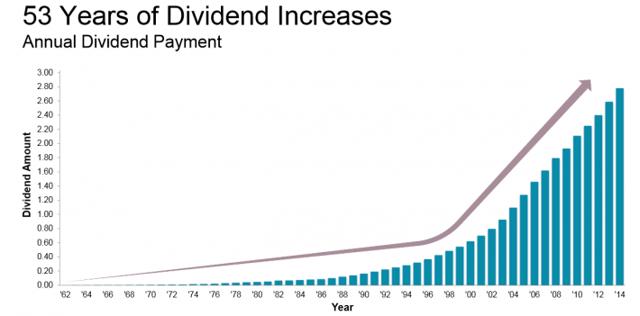 Click to enlarge
Source: Johnson & Johnson Pharmaceutical Presentation, slide 21
Outperforming the S&P
In the past decade (2005-2015) the company has shown its durability escaping the recession with a greater 10 Year Cumulative Total Return compared to the S&P 500 (NYSEARCA:SPY).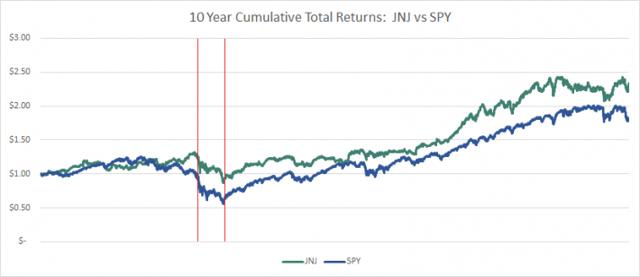 Click to enlarge
Source: Data from Yahoo! Finance
Strong Financial Standing
JNJ is a low volatility investment (Beta: .63) primarily credited to the diverse line of products that remain relevant in a frequently evolving world of medical treatment. This is mostly due to its relatively low dependency for revenue from the consumer products division, which last year accounted for only 19% of sales. JNJ managed to improve its gross profit margin from 2014 to 2015 growing from 74.64% to 74.73%, despite the dip in sales. Long-term debt to equity is an exceptional 20% demonstrating it has not taken on tremendous debt to grow to this capacity. Following its acquisition of orthopedic strong-arm Synthes Inc. for $19.7 billion in 2012, Johnson & Johnson's 2015 cash equivalents ratio exceeded its previous high in 2011 to 28.77% of total assets.
Growing Needs in Emerging Markets
JNJ has identified its decentralized management approach and physical presence globally as its key drivers in maintaining success. CEO and Chairman of Johnson & Johnson Alex Gorsky recently expressed his priorities concerning emerging markets. In a WSJ interview last Wednesday, Gorsky shared his logistics saying, "Part of it is building those kinds of relationships, those kinds of capabilities that over the long term are going result in a very significant market opportunity for us". Gorsky is referring to his plans to re-establish and grow market presence in China and nations throughout Africa. Seven facilities have already been built in China, a country of 1.4 billion people, to accommodate the company's initiative to reduce the country's main health concerns (aging population, chronic diseases and smoking-related illness). In Africa, a Global Public Health initiative has been set forth by the company; with plans for new offices in South Africa, Kenya and Ghana. This initiative will draw additional investments to JNJ facilities across the continent with a special focus in tackling the continent's three main health concerns: HIV, Tuberculosis and Maternal/Child Health.
Future Outlook
JNJ has always been a go-to stock for long-term investors and when revenues fell in 2015, an alarming pulse radiated throughout the company, especially in medical devices. In an effort to refocus on the most promising opportunities in MD, JNJ will be making significant cuts to underperforming or inefficient products. This time last year JNJ sold its vascular technologies company, Cordis, to Cardinal Health for $2 billion (nearly all cash). This year it has announced upcoming cuts to its MD department in the form of jobs to produce annual savings of $1 billion; which is never good news to hear, unless you are a shareholder.
Despite making up nearly half of JNJ's 2015 revenue, the pharmaceutical sector will experience more competition when patents expire on some of its most lucrative pharmaceuticals. Trefis.com analysts suggest generic developments similar to top seller drugs such as Velcade (Chemotherapy), Zytiga (Prostate Cancer) and Concerta (Attention Deficit Disorder) are projected to result in a $3 billion void over the next few years. In the last eight quarters R&D expenditures have risen from roughly 10% to over 16% of sales; this is a forward thinking strategy to counter the growth in similar generic alternatives approaching the market. JNJ is working to further expand its pipeline on drugs and will seek FDA approval on ten new pharmaceutical drugs by 2019. There is little doubt JNJ will be able to persist through this challenging period and produce innovative and safe medicines like it has done for decades.
The conclusion I encourage investors to make is that Johnson & Johnson has a competitive advantage structured to last in any realistic economic scenario, without running into financial trouble. The brand is one consumers, doctors and pharmacies collectively trust and have trusted for over a century. The cash equivalents far exceed its debt and is the reason JNJ remains one of three corporations (with Exxon Mobil and Microsoft) with AAA credit ratings. Aside from its solid financials, its strong leadership has identified the markets of tomorrow and intends to parallel growth as these economies emerge. This company proudly prioritizes its shareholders with over half a century of growing returns and short-term challenges will not hinder these gains.
Disclosure: I/we have no positions in any stocks mentioned, and no plans to initiate any positions within the next 72 hours.
I wrote this article myself, and it expresses my own opinions. I am not receiving compensation for it (other than from Seeking Alpha). I have no business relationship with any company whose stock is mentioned in this article.