Today's edition will be primarily based on energy related news.
Andurand and his crystal ball
Not too many people in the investing and speculation business can change their opinion with the ever changing fundamentals. Most theses are set on a certain premise and once it's reached, a rational speculator or investor would alter the theses.
Many of the current oil bears that we talk to still insistently believes that oil (NYSEARCA:USO) prices will drop below $30 despite all of the signs indicating the bottom is likely in.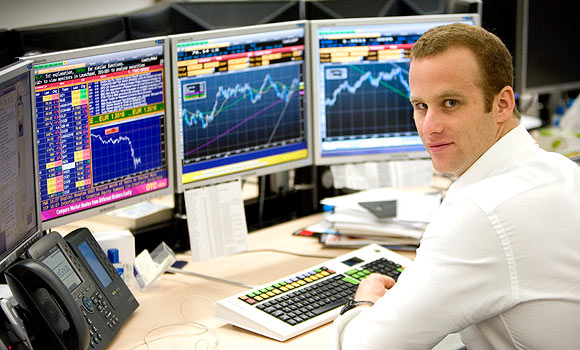 Pierre Andurand is one of those money managers that changes as the fundamentals change.
On September 1, 2015, Pierre Andurand told the Financial Times that the oil markets had overreacted to signs of slowing US crude production and comments by OPEC.
At that time, he made a bold prediction that oil prices would drop below $30 per barrel. Boy, was he right.
He also left off the article sounding extremely bearish for the next two years predicting WTI to range between $25-$50.
This was just seven months ago, and the picture has entirely changed. Global capex continues to drop with two years of consecutive declines. U.S. production will likely fall below 9 million barrels per day and non-OPEC producers like China, Azerbaijan, Kazakhstan, Mexico and others are all decreasing production.
Now Andurand has shifted his tone 180 degrees and believes that the current bull run is just starting.
Reuters report that Andurand said today at the FT Commodities Global Summit that he expected oil prices to rise to $60 per barrel later this year and $80 in 2017. That's in sharp contrast to what the futures market is pricing in and what analysts are expecting. But then again, when have Wall Street analysts ever been right about anything?
Energy Markets
WTI and Brent are seeing impressive gains today on headline news that Russia and Saudi had agreed to a production freeze.
Natural gas (NYSEARCA:UNG) also is rallying with slightly milder weather forecast and will likely stay range bound until the summer cooling season.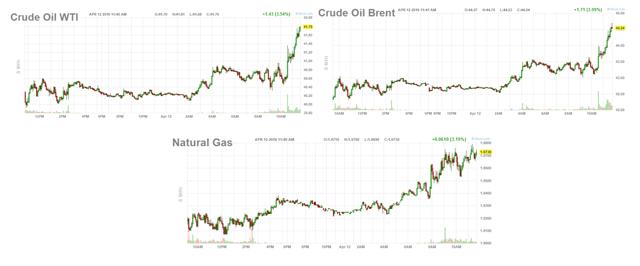 Click to enlarge
Another important psychological level is the 200-day moving average so many have been talking about, and WTI currently sits above the 200-day moving average.
According to Charlie Bilello, CMT, on Twitter, the average return over a 12-month period after oil has broken the 200-day moving average is 50% with seven out of the seven scenarios being positive.

Click to enlarge
We think that for the uptrend to continue to hold, the 200-day MA needs to trend upwards. While the 200 day MA continues to trend downwards, we believe that it will likely flatten out and begin the consolidation process needed for the next bull run.
We continue to believe in $60 by year end.
HFI Premium Research
Our weekly energy reports:
Our latest idea write-ups:
CommerceHub (NASDAQ:LVNTA)
TripAdvisor (NASDAQ: TRIP)
Gear Energy ( OTC:GENGF)
Hedge Fund Insights' premium research service is where we write up detailed articles on companies that we think are undervalued. We also share with our subscribers real-time trades and portfolio tracking. Subscribers also get to join a group of like-minded value investors that take advantage of market mispricing. If you are interested, please consider joining.
Disclosure: I am/we are long GENGF.
I wrote this article myself, and it expresses my own opinions. I am not receiving compensation for it (other than from Seeking Alpha). I have no business relationship with any company whose stock is mentioned in this article.