In the parabolic run the market experienced in the first quarter, there are a few companies that have been immune. For example, every time I've looked at the utility sector, it has been more expensive than the previous time I looked at it. The same could be said for the consumer sector - PepsiCo (NYSE:PEP), 3M (NYSE:MMM) and the like are moving more and more out of my price range. Also, I own a company that is prodigiously overvalued: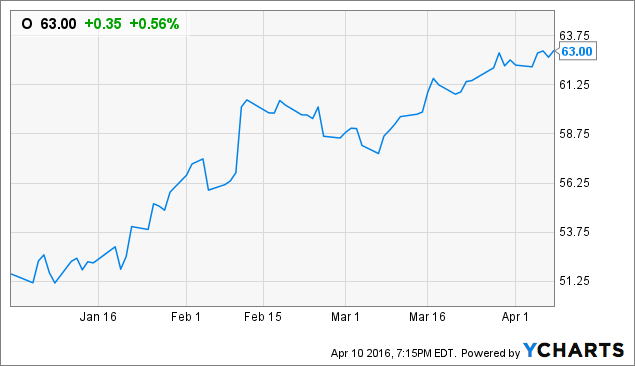 At the current price, Realty Income (NYSE:O) is trading at over 21.7x its most optimistic Funds from Operations forecast ($2.90) for 2016. And has been very adequately pointed out, this is unquestionably high in relation to its peers.
Much has been written in recent days regarding what to do regarding this company - sell it, do nothing, sell some. I've mostly ignored it all - though that short thesis was rather amusing. What eventually made up my mind of what to do was continuously staring at this: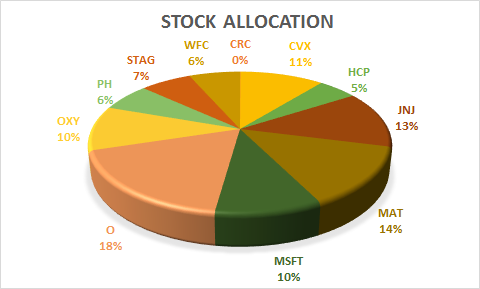 Yes, Realty Income has been very good to me. Yes, innumerable retirees depend on it for monthly income. The company has trademarked the name "The Monthly Dividend Company," for crying out loud. However, with all that being said, 18% dedicated to one position is simply unhealthy.
The way I saw it, I had three options. First, would be to sell it all and collect the massive gain to deploy elsewhere. Second, would be to turn off the dividend reinvesting so that the monthly income would not be purchasing more overvalued shares, but would instead come in cash so that I could look for other opportunities. Third, (*since this is in a retirement account, options are off the table*) would be to continue to do what I had done - think that since I bought Realty Income to provide me income, and nothing has changed regarding that, I needed to do nothing more. I bought it for income, I should hold it for income.
For a long time, I was firmly in the camp of the third option. And this is exactly the right course of action to take in my opinion, provided my portfolio is constructed exactly as I want it. However, since I have shared multiple times that I am looking to double the position size of my portfolio, the more time that passed, it made less and less sense to me to hold onto a position that is prodigiously overvalued, when there could be some amount of it sold off to initiate another position to further diversify my portfolio.
I held my Realty Income at two different cost bases - one at $51.25, and a 33% larger piece bought a little later at $45.50. Finally, after much contemplation, I sold that first piece of Realty Income on 4/8 at $63.02 for a 22.9% gain. Of course, the question immediately becomes, "What are you going to do with the money?"
I have sold Realty Income in order to secure a stake in Ford Motor Company (NYSE:F).
But... Ford is old and stodgy
Despite the ubiquitous nature of "The Big Three," I believe I could reasonably posit that Ford has quite the open road ahead of it. The global automotive industry accounts for $2.3 trillion per year - Ford has roughly 6% of it. Yes, Ford has the best-selling vehicle in the United States for the 34th year in a row. But Ford is devoting $4.5 billion for electric cars through 2020, tripling its number of autonomous vehicles this year (which will result in the largest fleet of fully-autonomous vehicles), developing FordPass, developing partnerships with IBM (NYSE:IBM) and Amazon (NASDAQ:AMZN) (an integration between Ford cars and the Amazon Echo), and a litany of other things, all in the hopes of getting their beak wet in an annual $5.4 trillion transportation services market that has largely been untapped.
All of this while attempting to expand into markets outside of North America.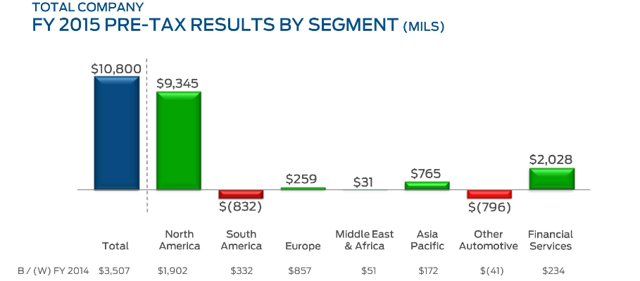 There's been talk of an emerging middle class for years. There are a number of ways to play it - Apple (NASDAQ:AAPL) in case all these people have aspired for iPhones or iPads, or Archer Daniels Midland (NYSE:ADM) to handle the uptick in protein that a better diet will require. Yet another way to play this would be to buy an auto company with the idea that this emerging middle class will inevitably purchase vehicles.
While this middle class is emerging, I would maintain that Ford is outperforming General Motors (NYSE:GM) and Fiat Chrysler (NYSE:FCAU) right now: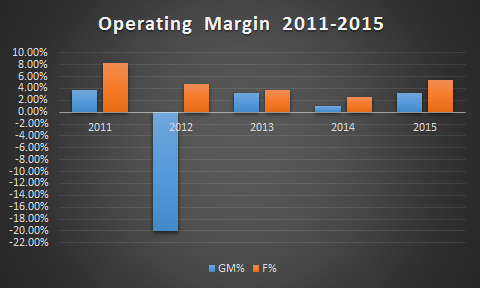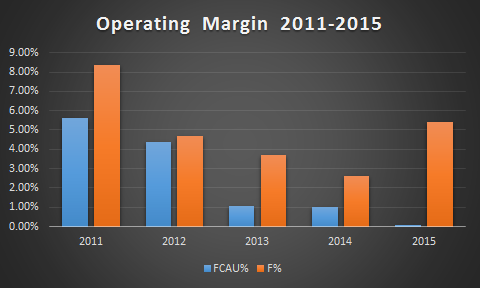 In fact, its margins are such that Ford's operating income has consistently been higher than GM's, even though GM's revenues have been higher than Ford's every year.
But... Ford is not on "The List"
Yes, it is true, Ford Motor Company does not make the fabled CCC list. However, it has increased its shareholder payouts every year since 2012: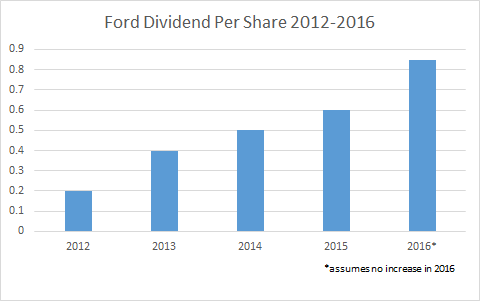 However, in spite of this, the dividend is not at a level that is so stretched that it takes up the majority of EPS (32.6%) or Free Cash Flow: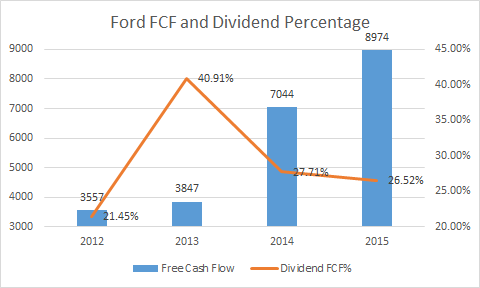 Personally, I like the dividend to be under 75% of free cash flow. The fact that it has only broken 30% once since 2012 is a feather in the cap for expansion as well as for cushion.
But... Ford is in debt up to its eyeballs
It certainly appears that way. A cursory glance at the numbers shows Fiat Chrysler's debt-to-equity ratio at 1.77 (LT 1.73), GM's at 1.58 (LT 1.09), while Ford's comes in at an astonishing 4.64 (LT 3.14). Obviously, Ford is obviously more leveraged than the other two of the Big Three, right?
Not exactly. There's one important thing to remember. The old Chrysler Financial is now TD Auto Finance. The old General Motors Acceptance Corporation is now Ally Financial (NYSE:ALLY). However, Ford Credit is still an integral and strategic part of Ford Motor Company with no signs of change.
So in effect, to get a truly comparative picture between Ford's debt and that of GM or Fiat Chrysler, Ford's debt needs to be bifurcated between what belongs to the automobile segment and the Ford Credit segment. When this is done, automotive debt as a percentage of automotive assets takes a remarkably different shape: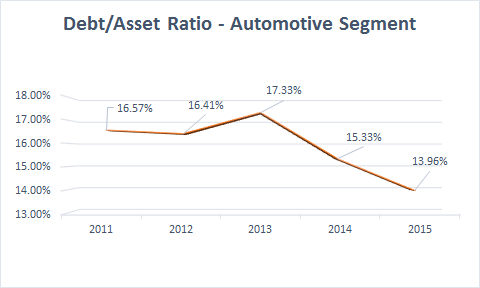 At year-end, the more manageable auto debt by Ford could be completely paid off with $10.8 billion still left in the bank.
The Ford Credit debt shouldn't be completely disallowed, of course.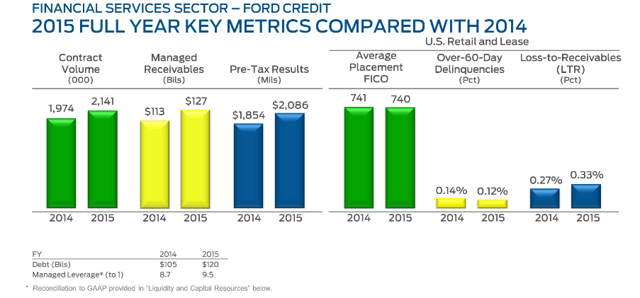 Going back to 2011, Ford's loans are on average to borrowers with a ~740 FICO score, far out of the reach of subprime. As a side effect of this, the over-60-day delinquencies and loss-to-receivables ratios check in at 0.12% and 0.33% for 2015, respectively - in the lower part of the historical range for Ford and not financially meaningful.
But... Ford has a union workforce
True, just like the other two of the Big Three, Ford is intrinsically linked to the United Auto Workers Union. There was a time when a unionized workforce was enough for me to shy away from investing in the company, for fear of protracted labor disputes and strikes and such. However, if I do this, then I am writing off becoming an owner of not only Ford, GM or Fiat Chrysler, but also Caterpillar (NYSE:CAT), Boeing (NYSE:BA), Honeywell (NYSE:HON), Cummins (NYSE:CMI), Verizon (NYSE:VZ), United Parcel Service (NYSE:UPS), Norfolk Southern (NYSE:NSC), Waste Management (NYSE:WM) and even Disney (NYSE:DIS), as some of their workforce is unionized as well.
So, I could completely write off Ford as an investment or realize that only 1.5% of Ford's salaried employees are represented by unions, and they just ratified a four-year collective bargaining agreement in 2015, during which labor costs will rise by less than 1.5% per year.
Valuation
Barring something unforeseen, Ford will be the next company I add to my portfolio. The question becomes, at what price?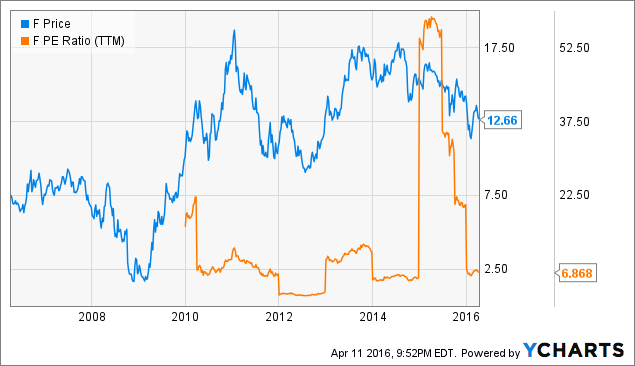 The current P/E of <7x 2015 earnings seems to be an attractive range. Not only this, but if I estimate that they'll be able to grow free cash flow at 3% over the next 5 years, fair value comes in rather close to here (11% discount rate).
Conclusion
I continue to hold Realty Income and don't foresee liquidating my position. However, due to its frothy valuation, I sold it to take advantage of an opportunity to add a company whose current yield will add roughly 1.5% to my FTM (forward twelve months) income, add roughly 8 basis points to my yield on cost, and get a little further down the road to my full portfolio allocation, all while increasing the potential for higher growth rates in the future.
Disclaimer: I am not a professional investor, and as such, the companies and/or positions mentioned and any associated analysis are related to my personal experience and expertise, and is not intended to be a recommendation to buy or sell. As everyone has their own risk tolerance, goals and needs, it is important that you perform your own due diligence.
Disclosure: I am/we are long F, O.
I wrote this article myself, and it expresses my own opinions. I am not receiving compensation for it (other than from Seeking Alpha). I have no business relationship with any company whose stock is mentioned in this article.