By Raul de Frutos
Just about two weeks ago, we pointed out that something was rotten in the Q1 base metals rally: The most-liquid and the most-used industrial metals were not leading the market rally.
In a powerful turnaround situation, we would like to see Dr. Copper and his esteemed colleagues aluminum and nickel showing strength. Instead, we are witnessing tin and zinc leading this rally.
Copper Erases Gains for the Year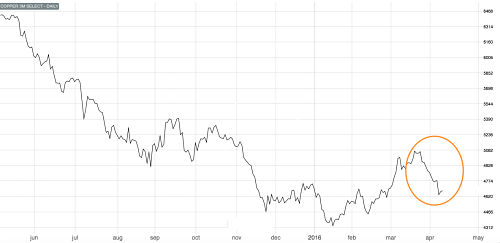 Three-month LME copper coming under renewed bear attack. Source: MetalMiner analysis of Fastmarkets.com data.
Last week, we saw copper prices coming under a renewed bear attack. The gains made in Q1 have already begun to shrink.
Investors are probably still concerned that demand in China won't be enough to absorb the supply surplus while producers keep on reducing production costs rather than cutting production.
Aluminum: China Ramps Up Output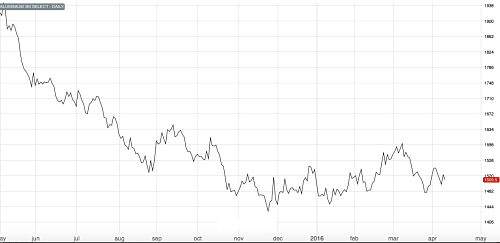 Three-month LME aluminum trading sideways. Source: Fastmarkets.com.
Although aluminum prices stopped from falling this year, we can't call this a rally. Prices are just hovering above lows, lacking any upside momentum so far. There are rising expectations that Chinese smelters are restarting idled plants, which would add to the abundant global supply that has put downward pressure on aluminum markets.
Nickel Flat Despite Anti-Dumping Actions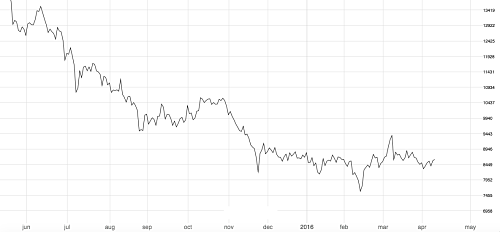 Three-month LME nickel moving sideways. Source: Fastmarkets.com.
On March 25, the U.S. International Trade Commission made a unanimous preliminary determination that unfairly-traded imports of stainless steel sheet and strip are causing injury to U.S. stainless producers.
With the threat of anti-dumping petitions looming, Chinese mills have been canceling open orders with U.S. customers, pushing domestic lead times for cold-rolled stainless steel beyond 8-12 weeks. However, nickel, the main driver for stainless prices, is simply moving sideways, lacking any upside momentum so far.
What This Means For Metal Buyers
To believe this bear market is over, we would need to see these metals making significant upside moves. So far, we are not seeing that. The latest decline in copper prices supports this view.