Those who follow me know that Chicago Bridge & Iron (NYSE:CBI) is currently my firm's largest holding. While the energy market has been hammered over the past year or two this business, as well as Trinity Industries (NYSE:TRN) (my second-largest holding), have been what I call my "fortress holdings". They are much larger than my other holdings and are the two companies that allow me to sleep soundly most nights because I believe the risk associated with them is relatively small.
Well, in the past, I wrote an article about CBI and its Technology segment, a key part of the company's operations moving forward, but I have yet to write in any real detail about its other operations. In this article, I decided to do just that, writing about the company's Capital Services segment, and I have come to a conclusion; management should sell this set of operations.
What makes up Capital Services?
CBI's Capital Services segment is, more or less, a catchall for the business. According to management, the segment provides a complete suite of management services, environmental engineering and remediation, infrastructure, EPC services, program management, and disaster response and associated recovery functions for both the private sector and the government. In addition to providing services to businesses like Occidental Chemical, a subsidiary of Occidental Petroleum (NYSE:OXY), Entergy (NYSE:ETR), and Exelon (NYSE:EXC), CBI's segment works with the U.S. federal government's Department of Defense, Department of Energy, EPA, and FEMA.
As of the end of 2015, Capital Services had backlog totaling $5.68 billion, making up roughly 25% of CBI's total backlog. Of this, approximately 65% is geared toward operations and maintenance services, 15% is classifed as environmental services, 10% is in the form of construction services and the remaining 10% is under the umbrella of program and project management. Approximately 80% of contracts are cost-reimbursable in nature, which is very positive in my opinion, while the other 20% are fixed priced.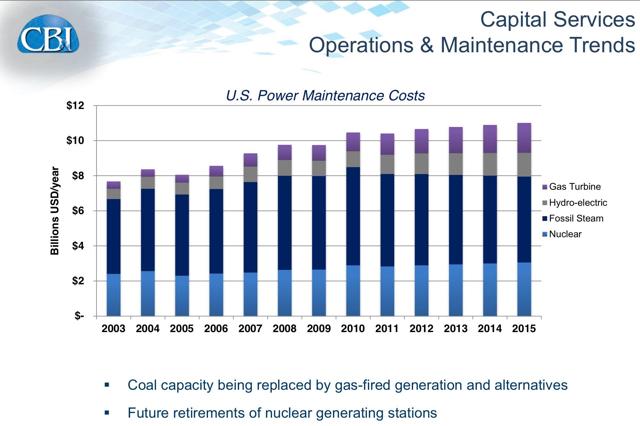 Click to enlarge
In the image above, you can see that times have been well for companies operating in the operations and maintenance services industry. In all but three years, total expenditures on this category managed to increase and, in 2015, came out to about $11 billion. Based on CBI's backlog data, this implies that the company has a nice chunk of the pie. In the graph below, you can see what the recent trend has been for environmental services between 2011 and 2014 (2015 data is not yet available). During this period of time, the amount spent in the industry has risen by 44% (or 12.9% per year), due largely to regulatory compliance increasing.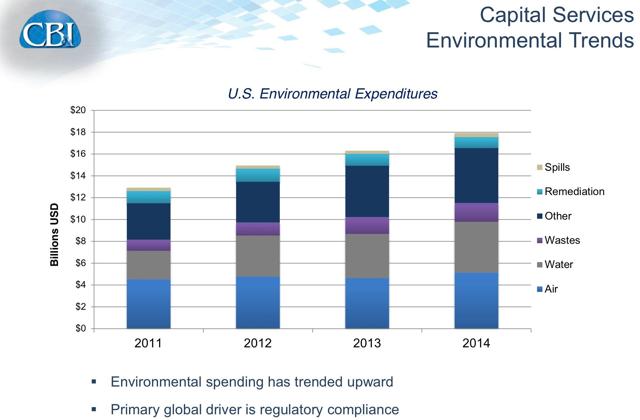 Click to enlarge
But would selling these operations create more value?
At first glance, the trends for the bulk of the Capital Services segment look positive, especially when it comes to environmental services. However, there are a number of problems associated with these operations. First and foremost is the fact that, between Capital Services and CBI's Engineering and Construction segment, $1.1 billion (how much is supposed to go to Capital Services is not disclosed) of the company's backlog is subject to subsequent government funding. In the image below, CBI lays out how the rise of the debt/GDP ratio in this nation may make such funding and funding growth contentious, which creates risk for CBI and its shareholders.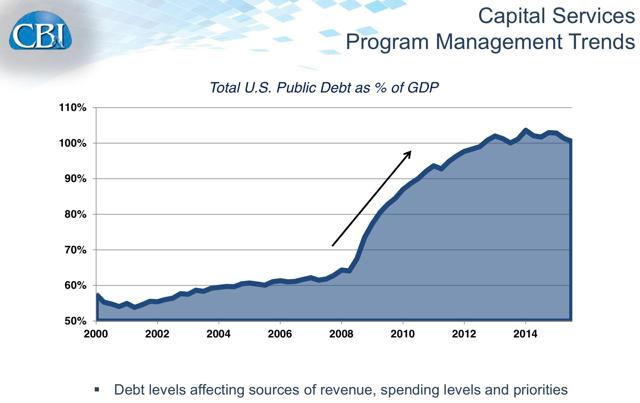 Click to enlarge
Besides just this though, there are economic reasons why I believe Capital Services should be divested of in some way, shape, or form. In the table below, you can see that, while sales growth in the segment has been impressive over the past three years, rising by 40.6% from $1.70 billion in 2013 to $2.39 billion last year, the profitability has been lackluster. With operating income of just $74.06 million in 2015, Capital Services has averaged a segment operating margin of only 3.1%. The average over the past three years has been 3.2%. In addition to being a low-margin segment, the company's return on assets (again using the segment operating income, which excludes general corporate expenses and taxes) was just 4.4% in 2015 and has averaged just 4% each year between 2013 and 2015.

Click to enlarge
All-in-all, this set of operations doesn't seem to do much for CBI. Despite making up 18.5% of the company's sales last year, it accounted for only 6.9% of its segment operating income (after adding back in impairments from another segment). Furthermore, the asset value here could be significant. While the entire Capital Services segment does have goodwill amounting to $884.6 million, total assets stand at $1.70 billion, leaving about $815.4 million in tangible assets. Selling anywhere between tangible asset value and total assets (but preferably higher) would generate a tremendous amount of cash flow that can be allocated to CBI's other segments. This would preferably go toward the company's Technology segment but could also go elsewhere. On top of this, with about $2.60 billion in total debt, CBI could go the route of paying that down to some extent, effectively lowering its annual interest expense.
Takeaway
As of this moment, CBI's Capital Services segment is quite large in terms of backlog, assets, and sales, but management has little to show for its efforts. For years now, the segment has performed very poorly from a profitability perspective and I believe it would be in the best interests of shareholders for management to divest this segment from the overall enterprise. Of course, it wouldn't be a bad idea for CBI to consider keeping some of the operations insofar as they aide meaningfully to operating efficiencies, but I think that at least some (perhaps most) of these assets could reasonably go and would, in effect, generate significant shareholder value. Even if management does not go this route, I believe CBI's potential upside to be very significant but making a choice such as this would help to increase value in the long run in my opinion.
Disclosure: I am/we are long CBI, TRN.
I wrote this article myself, and it expresses my own opinions. I am not receiving compensation for it (other than from Seeking Alpha). I have no business relationship with any company whose stock is mentioned in this article.