We think Mead Johnson (NYSE:MJN) is a great company, but we have concerns that recent regulatory changes in China could negatively impact its growth prospects. Because of this, and the fact the share price has now broken through the target price we laid out in our previous note, we have decided to close our position and reallocate funds elsewhere.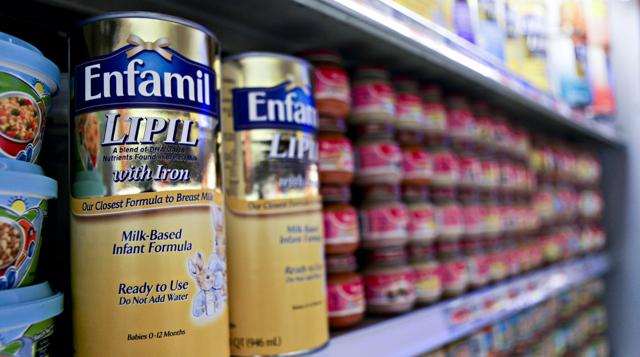 Click to enlarge
When we last recommended Mead Johnson at the end of January, we gave a price target of approximately $82.00 on the stock. The main catalyst for this and future growth was the potentially explosive growth that may lay ahead thanks to the insatiable demand coming from Chinese consumers for infant formula. Since then, the share price has rallied strongly and put on gains of 16.5%, breaking through our price target.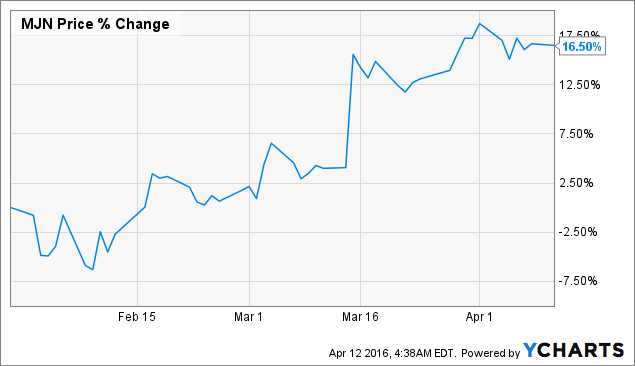 But this insatiable demand is likely to be tested in the near future following the announcement of regulatory changes by the Chinese government. Just last week, there was a new 11.9% value-added tax introduced on foreign goods bought over the internet. This has long been expected and we were not overly concerned by it. Chinese consumers are more than willing to pay high prices for infant formula manufactured overseas. Ever since the Chinese milk scandal, there has been concern and skepticism over domestically produced formula. Because of this, consumers have sought infant formula manufactured by trustworthy companies overseas. They will buy from overseas stores like the online store of Target (NYSE:TGT), or entrepreneurial importers will arrange shipping containers full and sell them on mainland China at inflated prices. Although not ideal, we think consumers would be likely to absorb the VAT and demand would remain strong.
But further regulatory changes have been announced which could put a dampener on demand. China's finance ministry has just signaled further tightening on foreign goods purchased over the internet on top of the 11.9% value-added tax. Although there is a distinct lack of clarity in the new regulations, importers believe it will result in higher logistics costs. With there being no option but to pass these costs onto the consumer, many expect to see a fall in demand.
It is well-known that the Chinese government would rather their citizens exclusively breastfeed, so this could potentially be its way of quite literally weaning consumers off infant formula. Almost a year ago, it is believed the Chinese government was considering banning the sale of infant formula, so it would not be a surprise to learn that it was going to be heavily taxing it now.
Which is a big blow as we see massive growth potential in China. The Chinese market alone is expected to increase from $18 billion to over $30 billion by 2017. The decision to lift its one-child policy has been a big boost for infant formula producers worldwide. Added to this is the ever-growing middle class which has the purchasing power to buy western manufactured infant formula instead of cheaper locally manufactured products.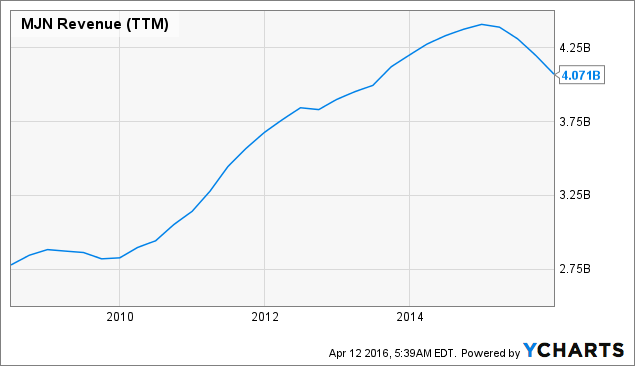 As the population growth in the United States and Europe slows to 0.7% and 0%, respectively, we were looking to the Chinese market as the real growth driver in the future. It may still be the case, but until we can see some evidence of no slowdown in sales there, we are hesitant to hold on especially now that we feel the shares have reached fair value. Because let's be honest, as you can see on the chart above, the company needs something to boost its ailing revenue.
We still believe that a conservative price-to-earnings ratio of 23 times earnings is about right for Mead Johnson. Because of what we have discussed today, we have revised down our full-year forecast from $3.60 to $3.54 earnings per share. At this earnings multiple, we arrive at a target price of approximately $81.50. As the share price is now $84.45, we see little upside for the stock at present, hence, our reason to close our position.
There is still a chance the company will surprise. The weakening of the US dollar will take some pressure off the currency headwinds the company has faced and demand in China may remain strong. We will be watching on intently when the company announces its first quarter results in just over two weeks.
Disclosure: I/we have no positions in any stocks mentioned, and no plans to initiate any positions within the next 72 hours.
I wrote this article myself, and it expresses my own opinions. I am not receiving compensation for it (other than from Seeking Alpha). I have no business relationship with any company whose stock is mentioned in this article.