A week rarely passes at this point during which Alibaba (NYSE:BABA) doesn't either make a large investment/acquisition, or is rumored to be planning one. The latest event is a $1B deal to buy a controlling stake in Southeast Asian e-commerce firm Lazada, via new shares and purchases from existing investors. Alibaba might further up its Lazada stake in time, thanks to put-call agreements with Germany's Rocket Internet and U.K. supermarket chain Tesco, two of the firms selling Lazada shares to Alibaba.
Not surprisingly, Alibaba highlights the potential for existing brands/merchants on its platform, such as the millions of active Chinese sellers on the Taobao and Tmall marketplaces, to sell via Lazada, which operates in Indonesia, the Philippines, Malaysia, Vietnam, Singapore, and Thailand. It also notes only 3% of Southeast Asia's retail sales are currently done online.
The Lazada purchase follows a $249M 2014 deal to buy a 10.35% stake in Singaporean postal service SingPost, which is now a major logistics/delivery service provider in Southeast Asia (clear synergies with Lazada). Alibaba's Southeast Asian strategy has some things in common with its strategy in India, which also has low e-commerce penetration rates. The company has bought stakes in top Indian e-commerce marketplace Snapdeal (Private:DEALS) and online payments/e-commerce firm Paytm, and has launched efforts to drive trade between Indian and Chinese small/mid-sized businesses.
Alibaba's M&A history
But Alibaba's investment/acquisition activity goes much further, of course, than just efforts to grow its e-commerce position in neighboring markets. The company's two-year M&A spree has also led it to acquire:
Leading Chinese online video provider Youku Toudu

The South China Morning Post, an English-language Hong Kong newspaper

Chinese online mapping/navigation services firm AutoNavi

Leading Chinese mobile browser developer UCWeb

A 50% stake in Chinese soccer club Guangzhou Evergrande

A large minority stake in messaging/VoIP app Tango

A ~20% stake in top Chinese microblogging platform Weibo (NASDAQ:WB)

A reported 30% stake in Chinese financial media firm China Business News

A ~20% stake in major Chinese electronics retailer Suning

Large stakes in studios Beijing Enlight Media and ChinaVision Media

A 15% stake in major Chinese hospitality IT firm Beijing Shiji

A 5.6% stake in Groupon (NASDAQ:GRPN)
Recently, Alibaba also joined a buyout group for Chinese chat/dating app Momo (NASDAQ:MOMO), and was rumored to be interested in upping its Weibo stake (Weibo jumped on the rumor). There was also a rumor last month Alibaba is investing up to $150M to develop a fresh food e-commerce brand. The news/rumors come after Alibaba took out a $3B loan to add to a cash stockpile that totaled $18.3B (partly offset by $8.3B in borrowings) at the end of 2015.
Reasons to diversify
While many of the deals bring with them synergies - for example, UCWeb can be used to promote various Alibaba properties, and Weibo helps drive Taobao/Tmall transactions - Alibaba's shopping spree also has the collective impact of diversifying its revenue and asset base at a time when Taobao/Tmall GMV growth has been slowing rapidly. Over the course of 2015, Alibaba's Chinese retail marketplace GMV growth slowed from 40% Y/Y in calendar Q1 to 34% in Q2 to 28% in Q3 to 23% in Q4.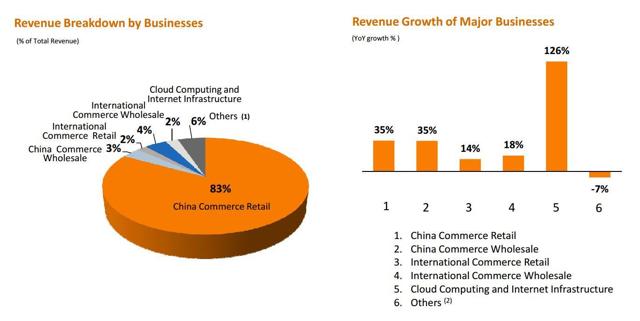 Click to enlarge
Alibaba's calendar Q4 sales breakdown. Source: earnings presentation.
Chinese retail commerce revenue growth (35% in calendar Q4) has been outpacing GMV growth thanks to improving monetization rates, particularly for mobile. However, with Alibaba's mobile monetization rate (2.88% in Q4) now almost even with its total monetization rate (2.98%), the rate of improvement will likely slow.
Meanwhile, Alibaba's sheer size - Q4 Chinese retail marketplace GMV totaled $149B - is acting as a growth headwind. As are share gains by rivals such as JD.com (NASDAQ:JD), which saw a 69% Q4 GMV growth and is benefiting from its large internal fulfillment/logistics infrastructure, and China's economic slowdown.
All of that gives Alibaba extra motivation to diversify - both via internal investments in offerings such as international commerce sites (AliExpress/Alibaba.com) and the AliCloud cloud infrastructure platform, and a flurry of big investments/acquisitions in Chinese and foreign firms. Given Alibaba's war chest and the amount of spending that's needed to meaningfully lower the company's Taobao/Tmall dependence, more big deals could be on the way.
Disclosure: I/we have no positions in any stocks mentioned, and no plans to initiate any positions within the next 72 hours.
I wrote this article myself, and it expresses my own opinions. I am not receiving compensation for it. I have no business relationship with any company whose stock is mentioned in this article.