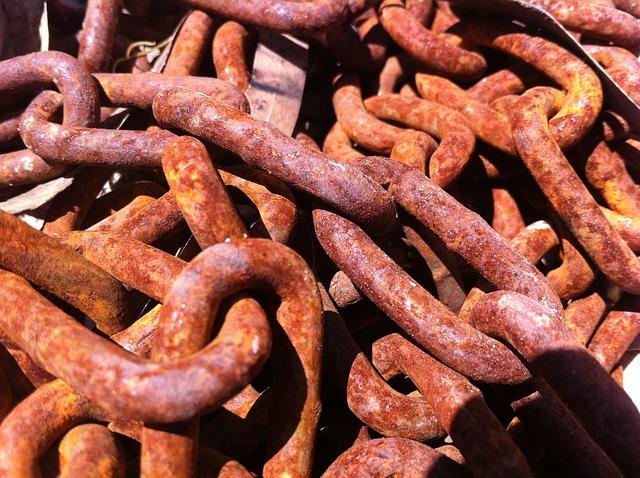 Cliffs Natural Resources (NYSE: CLF) is on the rise once again. This time, the stock did not react to new highs in iron ore prices - as there were none. Instead, the stock is reacting to a change of mood towards commodity producers. This fact, together with short covering, may produce a significant rally.
Iron ore prices
Earlier this year, I laid out my views on why the iron ore price was not the major determinant for Cliffs' future. That said, one should not underestimate market's beliefs. Thus, when the market pays close attention to iron ore prices, we should take them into account as well.
April started, and iron ore has yet to correct below $50 per ton. A move that initially seemed a temporary spike is finding support. My bet is that this support comes from the weaker dollar. I follow various commodities, and the more I think about recent moves, the more I believe that we see a sell dollar/buy everything else trade.
In this light, the key to forecasting the next move in iron ore - related shares becomes the ability to accurately forecast the future of the dollar. I don't like to be temporary dependent on a signal determinant which also happens to be an FX exchange rate, but it is what the market tells us, so we should listen.
Futures have recently become more optimistic about year-end prices. Iron ore prices still fall below $40 per ton when we look at 2017 quotes, but November 2016 and December 2016 quotes are improving and slowly closing the gap with front-month contracts. I'll reiterate my worries about the potential impact of Vale's S11D project on iron ore prices in the fourth quarter of 2016, but the market seems to shrug off the worst-case scenario.
These developments are especially favorable for Cliffs' Australian segment, which is more vulnerable to spot price fluctuations. The segment's performance will be hit by rising Australian dollar in the first quarter, but I'd argue that improvements in iron ore prices outweigh the negative impact from less favorable exchange rate. All in all, the stability of iron ore prices increased confidence in Cliffs' future even while the iron ore pricing itself is not the major driver for the company's long-term prospects.
Steel industry is faring better
As expected, the tariff decision has provided a tailwind for steel producers. Shares of steel producers like AK Steel (NYSE: AKS), U.S. Steel (NYSE: X) and Nucor (NYSE: NUE) are flying regardless of whether a company uses blast furnaces or EAF. Speaking about EAF, recent improvements in the steel market may facilitate Cliffs attempts to supply DR grade pellets. As Cliffs makes the transition from the survival mode into the growth mode, DR grade pellets production will likely be a serious driver.
Cliffs will report its first-quarter earnings on April 28, and I hope to hear more comments from the company regarding the progress on the DR grade pellets front. The company cannot downsize forever, and, at some point, it will have to grow to attract additional investor interest.
Mass buying could trigger a short squeeze
Commodity-related equities are in big demand now. The first wave of commodity buying was seen in early March, when speculative money flowed into the most speculative (or outright junk) names like Ultra Petroleum (NYSE: UPL) or Breitburn Energy Partners (NYSE: BBEP). This time, higher quality equities are in demand while the restructuring candidates are left fluctuating near all-time lows.
This is bad news for those who bet on the decline of Cliffs' shares, as the short interest remained high through this year and it is increasingly evident that the company is not going bankrupt. The topic of the elevated short interest in Cliffs' shares has been discussed multiple times here on SA in the comments sections of Cliffs articles.
As far as I remember, some people argued that market participants could have hedged their bets on Cliffs bonds via a short on Cliffs common stock, hence there will be no short squeeze. I don't really buy this argument, and the abovementioned short interest data suggests that traders who were betting on Cliffs' decline closed their bets as the stock rose in February and early March.
I suggest that the next wave of buying might ultimately trigger a serious short-squeeze, as the buying is supported by both market forces and fundamentals.
Bottom line
The unexpected stability in iron ore prices together with improvements in the steel market and a notable short interest could trigger a significant and fast rally in Cliffs' shares. The potential "rally breaker" could be a sudden and sharp strength in the U.S. dollar. Long-term, I remain bullish on Cliffs' shares.
Disclosure: I am/we are long CLF, AKS.
I wrote this article myself, and it expresses my own opinions. I am not receiving compensation for it (other than from Seeking Alpha). I have no business relationship with any company whose stock is mentioned in this article.