Facebook (NASDAQ:FB) rolled out its expected Messenger chatbot platform at its F8 developer conference today. It also unveiled an A.I.-based service (known as the Bot Engine) for creating bots that become more intelligent as they take in more information, opened up its live streaming platform to drones and other connected devices and - in a potential challenge to both Microsoft's (NASDAQ:MSFT) HoloLens and Google Glass (NASDAQ:GOOG) (NASDAQ:GOOGL) - revealed long-term plans (a 10-year horizon was suggested) to create eyeglass-like headsets that deliver both virtual reality and augmented reality experiences.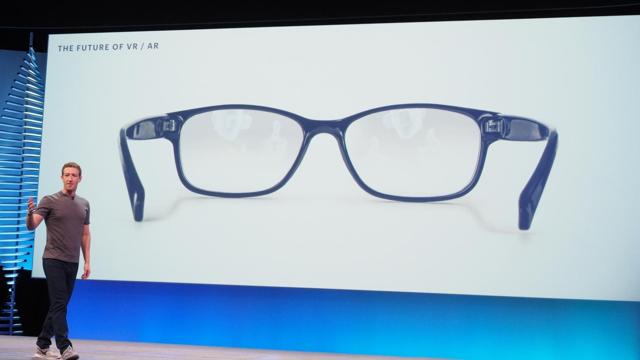 Click to enlarge
What Facebook wants VR/AR headsets to look like in 10 years.
Source: Engadget
The company also launched a Save to Facebook button for articles on other sites, as well as a feature that lets users quickly share quoted article text on Facebook and a service for developers (known as Account Kit) that lets users log in with just a phone number. And it released - with hopes the product will be used to shoot videos that end up on Facebook's site/apps and VR headsets - an open-source, 360-degree, video camera design. The last move is a mild negative for GoPro (NASDAQ:GPRO), which has launched a 360-degree camera rig for video professionals. Nokia (NYSE:NOK) offers one as well, but the product hardly registers for a company of its size.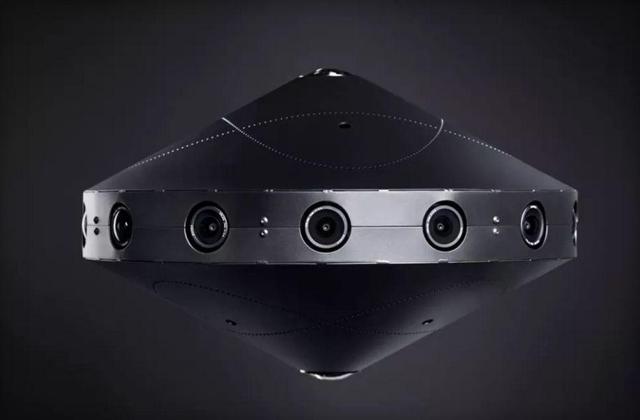 Click to enlarge
Facebook's 360-degree camera design.
Source: The Verge
One big unanswered question is to what extent major app developers and publishers will embrace the Messenger chatbot platform, given its potential to create services that remove the need to access third-party apps. Not surprisingly, the platform has quickly sparked accusations Facebook is trying to create another walled garden. And those looking to add A.I.-driven bot services within their own apps can do so via Microsoft's just-launched Bot Framework. However, unless its name is Google, it's quite unlikely a developer/publisher has 900M monthly active users for its app, as Messenger does.
Regardless, compared with past F8 conferences, Facebook appears more focused this time around on enabling new and richer experiences on its own site and apps. Whereas last year's conference featured the launch of (in addition to a Messenger app platform) an embedded video service for other sites, a mobile ad exchange for inventory on third-party apps, and new SDKs for Facebook's Parse mobile app development platform - Parse will soon be shuttered - this year's announcements (outside of Account Kit and some app analytics improvements) have revolved around features and services meant to make Facebook's own site/apps more useful, interactive, and/or entertaining for users. Indeed, F8's marquee announcement involved something Mark Zuckerberg proclaimed would often remove the need for users to download third-party apps.
The company's 10-year roadmap (also revealed at F8) arguably drives home Facebook's near-term focus on its own products. FB declares it wants to strengthen its core service over the next three years, and strengthen major Facebook apps/services (such as WhatsApp, Instagram, Messenger, and Video) over the next five. The initiatives that could potentially have a big impact on third-party apps in addition to Facebook's - global web access, A.I./deep learning, and VR/AR platforms - are things it wants to accomplish over 10 years.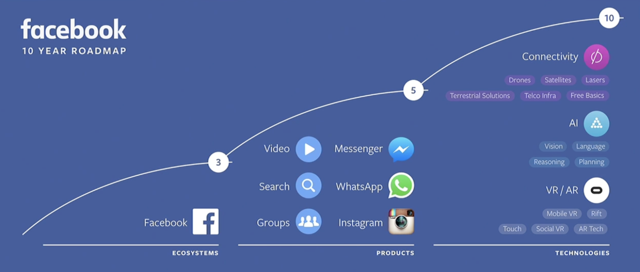 Click to enlarge
It's Facebook's world. The company's publisher and developer partners are just living in it. Just ask Instant Article readers.
Disclosure: I/we have no positions in any stocks mentioned, and no plans to initiate any positions within the next 72 hours.
I wrote this article myself, and it expresses my own opinions. I am not receiving compensation for it. I have no business relationship with any company whose stock is mentioned in this article.