Prologue
It was nine months ago that I had named my A-Team; a group of 5 high-yield dividend stocks that investors should stick to over the long-run and not let go.
The original group consisted of the following five stocks: ARCC, ARI, GAIN, MAIN and STWD. I also took advantage of the opportunity to nominate (back then) PSEC as a top candidate to enter my A-Team.
PSEC, together with four new names - HTGC, LADR, NEWT and NRZ - are now part of my A-Team that turned from being a "Fab Five" into a "Top Ten".
I'm starting a series of articles that will break my A-Team into pieces. Each article will focus on a different company that is part of my A-Team. Every team/group needs a leader, a main (wo)man that will take and push everybody alongside him. My A-Tem is no difference and as the Captain of my team I pick MAIN, a well-worth company that certainly deserves the honor of being the first one to open this series.

Company Profile
Main Street is a principal investment firm that provides long-term debt and equity capital to lower middle market companies and debt capital to middle market companies. Main Street's portfolio investments are typically made to support management buyouts, recapitalizations, growth financings, refinancings and acquisitions of companies that operate in diverse industry sectors throughout the United States. Main Street seeks to partner with entrepreneurs, business owners and management teams and generally provides "one stop" financing alternatives within its lower middle market portfolio. Main Street's lower middle market companies generally have annual revenues between $10 million and $150 million. Main Street's middle market debt investments are made in businesses that are generally larger in size than its lower middle market portfolio companies.
Main Street's common stock trades on the New York Stock Exchange ("NYSE") under the symbol "MAIN." In addition, Main Street has outstanding 6.125% Notes due April 2023, which trade on the NYSE under the symbol "MSCA."
MAIN's Main Strengths
Sustainability: The most sustainable name you may find in this list. Went public in 2007 on NASDAQ (and then listed on NYSE in 2010) this company already faced rough times in the markets and it has proven its ability to break through. Great track record thus far, making it quite easy for the company to maintain its current dividend yield of 6.95%.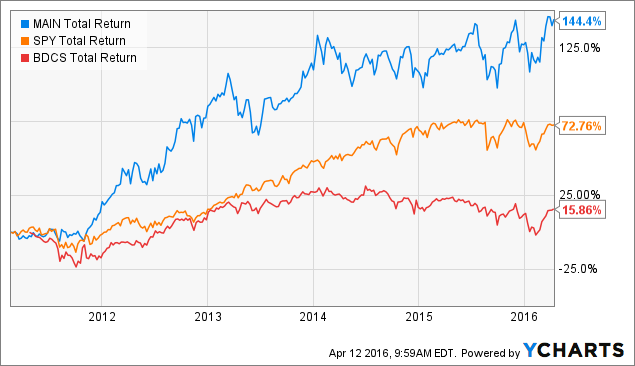 MAIN has comfortably outperformed both the S&P 500 (NYSEARCA:SPY) as well as the BDC ETF (NYSEARCA:BDCS) it relates to
Consistency: The name of the game. Both the stock price and the payouts are extremely consistent, distributing dividend from day one since it went public.
MAIN Distributions
Amounts in cents, per share
Period
Monthly Payouts
Special Dividend (**)
09/2015 onwards
18.0
27.5
03/2015 - 08/2015
17.5
27.5
09/2014 - 02/2015
17.0
27.5
12/2013 - 08/2014
16.5
27.5 + 25.0
09/2013 - 11/2013
16.0
03/2013 - 08/2013
15.5
20.0
09/2012 - 02/2013
15.0
35.0
06/2012 - 08/2012
14.5
03/2012 - 05/2012
14.0
09/2011 - 02/2012
13.5
03/2011 - 08/2011
13.0
09/2008 (*) - 02/2011
12.5
(*) Until and including August 2008 MAIN paid quarterly. Monthly payouts started on September 2008.
(**) Starting in 2013, MAIN is also distributing a special bi-annually dividend, normally during the middle of the year (June or July) as well as at the end of each calendar year (December).
Excellent management team that keep doing the right things in the best interest of shareholders. MAIN is an internally-managed BDC and this is a distinct advantage for both BDCs and REITs, as can be seen/proven through one of Brad Thomas' recent articles. The quality of the management team is so good that this alone can justifies the stock price trading at a significant (around 40%-50%) premium to BV; not a common view, generally speaking and especially not nowadays.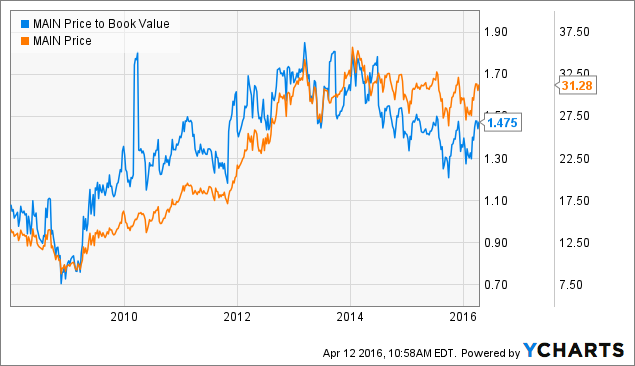 Total investment income and distributable net investment income keep growing at a significant pace.
The company is also well positioned for a higher interest rate environment, with 63% of its debt at fixed rates, and 60% of its debt investments linked to floating rates. A rise of more than 100bps in interest rates should provide for a significant increase in Net Interest Income ("NII").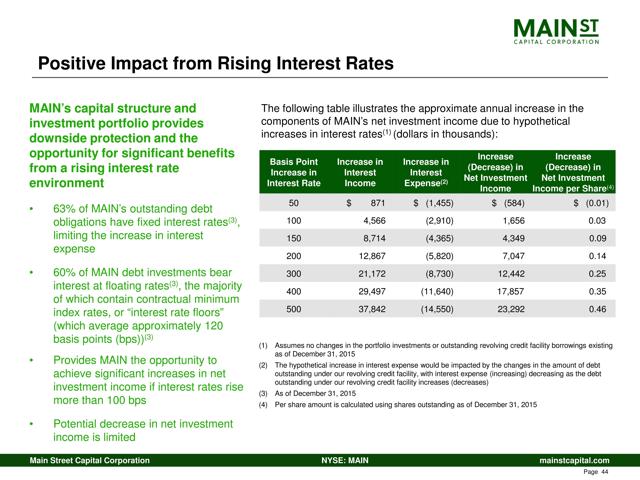 Click to enlarge
Trading Recommendation
When it comes to MAIN things are very-very simple, the exact same way as the company itself is. Looking at MAIN price chart over the past five years tells you everything you need to know.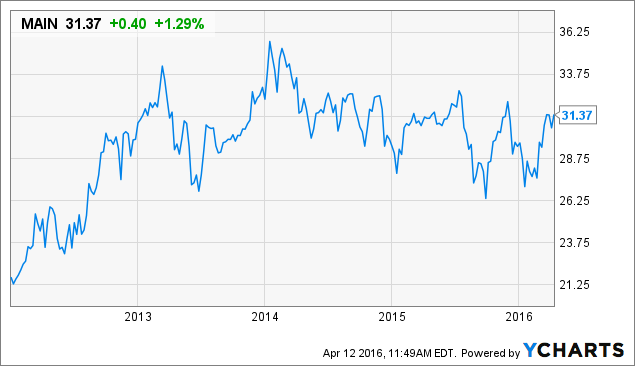 Based on this chart and the stock price action my trading recommendation when it comes to MAIN is as follows:
MAIN Investment Recommendation
Share price
Rating
>35
Strong SELL
>32.5
SELL
27.5 - 32.5
HOLD
<27.5
BUY
<25
Strong BUY
Easy to follow, easy to do. This is my very simply trading pattern when it comes to MAIN.
It's also easy to see that at the current stock price, $31.37, MAIN isn't cheap but it's not yet too expensive either. Sitting comfortably within the "HOLD" zone though getting close to the dangerous "SELL" zone.
Don't Let Go ≠ Endless Love
Many investors believe that by saying "don't let go" they should stick to a stock no-matter-what. That reminds me of my very recent article regarding Realty Income (NYSE:O). O is THE-darling REIT and by recommending to sell/trim/hedge against it I've been attacked (as expected) by many "love at all costs" investors. Well, folks, my personal "love at all costs" only refers to my wife and kids; none of my stocks can get it or deserve it.
We don't want to but we do mix trading with emotions. The real trick is to know that you do and to try separate the mind/logic from the heart/feelings. Identifying a problem is already half-way towards solving it.
Every asset has a price when it should get sold, even those "endless love" stocks. It can be 10%, 20%, 50% or 100% higher than the current stock - that is a very subjective decision based on each investor personal taste, goals and hopes - but there is a price to anything.
Unlike those Realty Income investors who refuse to acknowledge this very basic facts/rules, I do realize that "even" MAIN, my main man, has a price where it should get sold.
It's worthwhile mentioning that MAIN is scheduled to report its earnings on 5 May 2016. Based on 5analysts' forecasts, the consensus EPS forecast for the quarter is $0.53. The reported EPS for the same quarter last year was $0.51.
Epilogue
MAIN is a "boring" company in the good sense of the word. When it comes to MAIN you know that there will be no bad surprises and no drama. Here. in SA, you can read a lot of comments describing MAIN (and its stock price) as "You pay for what you get", "Best of breed", "Top quality management", "A Sleep Well At Night company", "Best in class", "The No. 1 BDC", etc. etc.
It's all true and MAIN earned all those titles/adjectives on justified ground. Nevertheless, every stock has its limits and every asset has the "right price" where it deserves to get sold.
MAIN has served me very well and I'm sure that it will keep serving me for many years to come. Nonetheless, as much as it may sound sad and as much as I love you my dear MAIN: Captain, oh my captain, at 32.5 I'll let you go!...
Disclosure: I am/we are long ARCC, ARI, PSEC, HTGC, GAIN, MAIN, STWD, LADR, NEWT AND NRZ.
I wrote this article myself, and it expresses my own opinions. I am not receiving compensation for it (other than from Seeking Alpha). I have no business relationship with any company whose stock is mentioned in this article.
Additional disclosure: - I'm SHORT O through both a short sale as well as selling Call options - I have no positions in the SPY or BDCS